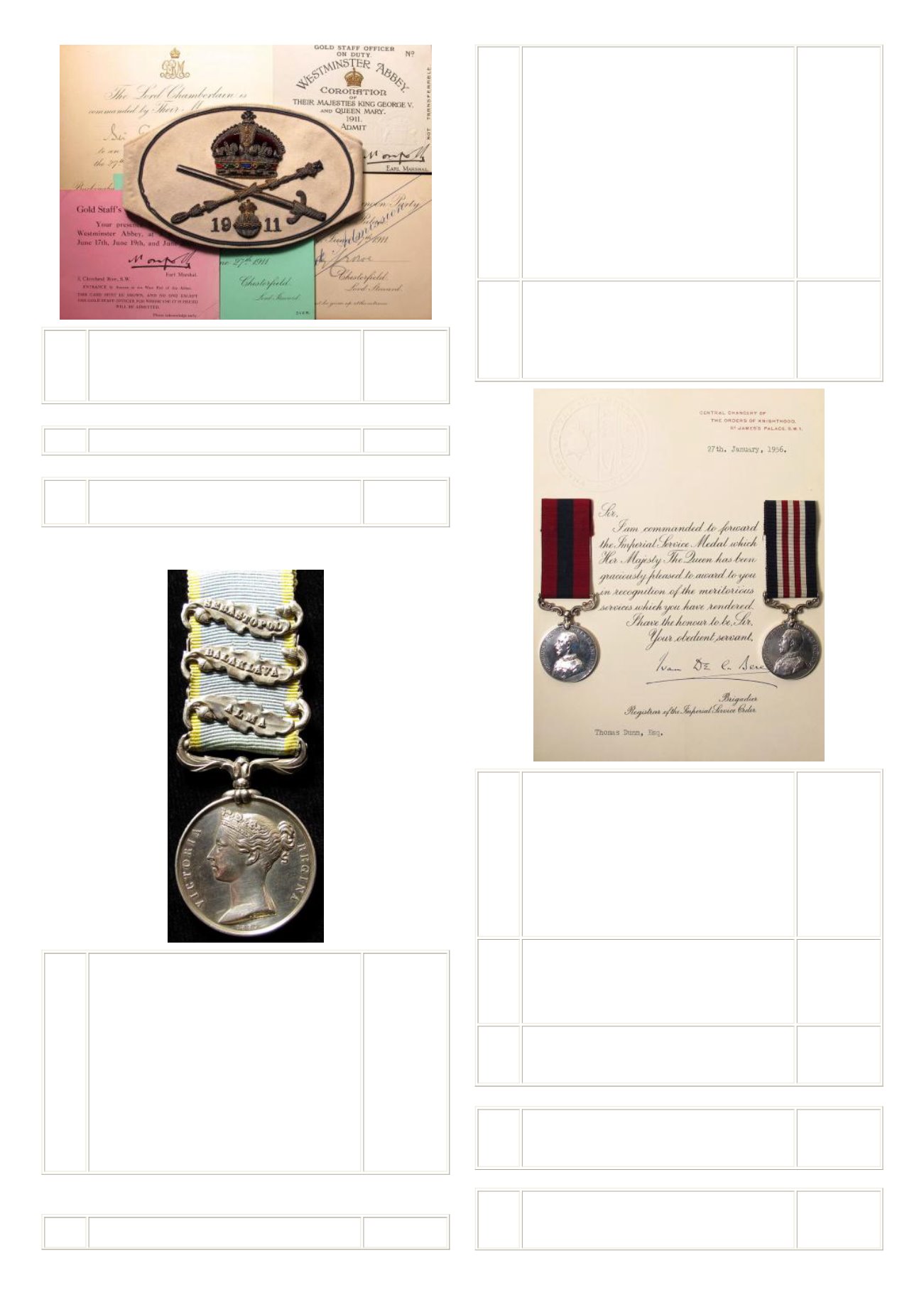 10
170
Coronation 1911 Armband with original ephemera,
attributed to Sir Eyre Crowe GCB. Including
Buckingham Palace Afternoon Party 1911, Westminster
Abbey Coronation Ticket, Rehearsal Ticket, Carriage
Ticket, with original Ortner & Houle box
£80 - £120
171
Coronation Medal 1902 in silver (only 3493 issued) GVF
£90 - £100
172
Crimea Medal no bar, engraved to 100co T Bateman
R.M.L., comes with copied medal roll, served HMS
Britannia. VF
£160 - £170
173
Crimea Medal with bars Alma/Balaklava/Sebastopol
engraved in the usual style fro this regiment to 576 Wm
Doyle 17th Lancers. William Doyle is noted as being
slightly wounded in the Charge of the Light Brigade.
Born Dalganny, Ireland. He was in Scutari 8/11/1855
and invalided to England. Died whilst on furlongh
27/7/1856. A moving letter from one of Florence
Nightingale's nurses about Trumpeter Brittain on his
death bed can be seen at the regimental museum in
Grantham. In the nurses letter she describes how badly
wounded poor Billy is and how popular he was. She also
describes a visit to his bed by Cardigan and Scarlett and
a humorous encounter with an Irish Soldier called Doyle
who conned her into giving him a medicinal measure of
brandy !. GVF couple of light contact marks. The
medal is not noted as having been on the market before.
£3000 - £3500
174
Crimea Medal with Sebastopol clasp engraved to Pte
Edm'd Navan 57th Ft. VF
£200 - £220
175
D-Day Para interest, the medals of 1437691
Signalman/Sgt Stanley Taylor S.Staffs Regt whose
effects were sold in our rooms recently. His awards were
displayed at the OMRS Convention 2014 and are
offered here with supporting original paperwork and
photographs. 1939-45, Africa, F&G & Burma stars,
Defence & War medals, He enlisted into 1st Bn S.Staffs
in 1941 joining 7th Light Infantry Bn (Airborne) S.Staffs
in 1943 as a signaller, he landed June 5th-6th at
Ouistreham on D-Day and served through most of the
N.W.Europe campaign inc Opn Varsity. (see researchers
notes with the group inc being captured but managed to
escape) He possibly also served with the SAS / LRDG in
the Desert but this is unconfirmed, joined Canadian
Sp.Ops with O.S.E.N.S briefly being lucky to survive a
costly mission, later served in Java. Post War a
Signalman at New St Station Birmingham, GVF
£350 - £380
176
Damaged medals, discs only, test marked, etc - ISM GVI
to Henry Charles Edwards, ISM GV to Walter John
Shepherd, Egypt Medal (undated) 490 L/Cpl D Snow
Welsh Regt, Nelsons Flagship medal (copper), St Johns
Medals to Blakeley, Crispin, Jones, plus Canadian
Service Medals to Huyton and Clow, plus an enamelled
1821 crown (10)
£70 - £80
177
DCM & MM pair Geo.V 10388 L/Cpl / Pte T.Dunn
R.Scots a 1939 Official reissued pair with DSM style
naming, fixed suspenders, with supporting original
paperwork inc Church magazine which states " For
conspicuous Gallantry on patrol. When his Officer was
hit and unable to move he took command and after
carrying his officer to safety returned to the patrol. Later
he went out again to search for a missing man". Cpl
Dunn has served for about nine years in the army and
went to the front from India. He was wounded at Loos.
He applied for a re issue of medals in 1939-40, medals
GVF Sold a/f
£450 - £500
178
Death Plaque and Casualty Scroll to Lieut Reginald
Arthur Butler Royal Engineers & 55th Sqdn RAF. An
Observer on Probation he was listed as Missing. Lot
includes copied service records, and original photos.
Buried Niederzwehren Cemetery, Kassel. Parents lived
Runnymede Rd, Egham, Surrey.
£200 - £220
179
Death Plaque to 103441 Pte Victor William Hovell "D"
Coy 10th Bn Notts & Derby Regt. Killed In Action
13/10/1918. Born Norwich. Buried Montay-Neuvilly
Road Cemetery. Unique name
£50 - £55
180
Death Plaque to 11160 Pte Robert Wearmounth 24th
Casualty Clearing Station, RAMC. Died Italy
3/11/1918. Born Coundon, Durham. Buried Arquata
Scrivia Communal Cemetery. Unique name
£60 - £65
181
Death Plaque to 14322 Pte William Frederick Henry
Sear 4th (Queens Own) Hussars, Killed In Action
7/2/1916, Born Chesham, Bucks. Buried Vermelles
British Cemetery. Scarce
£120 - £140