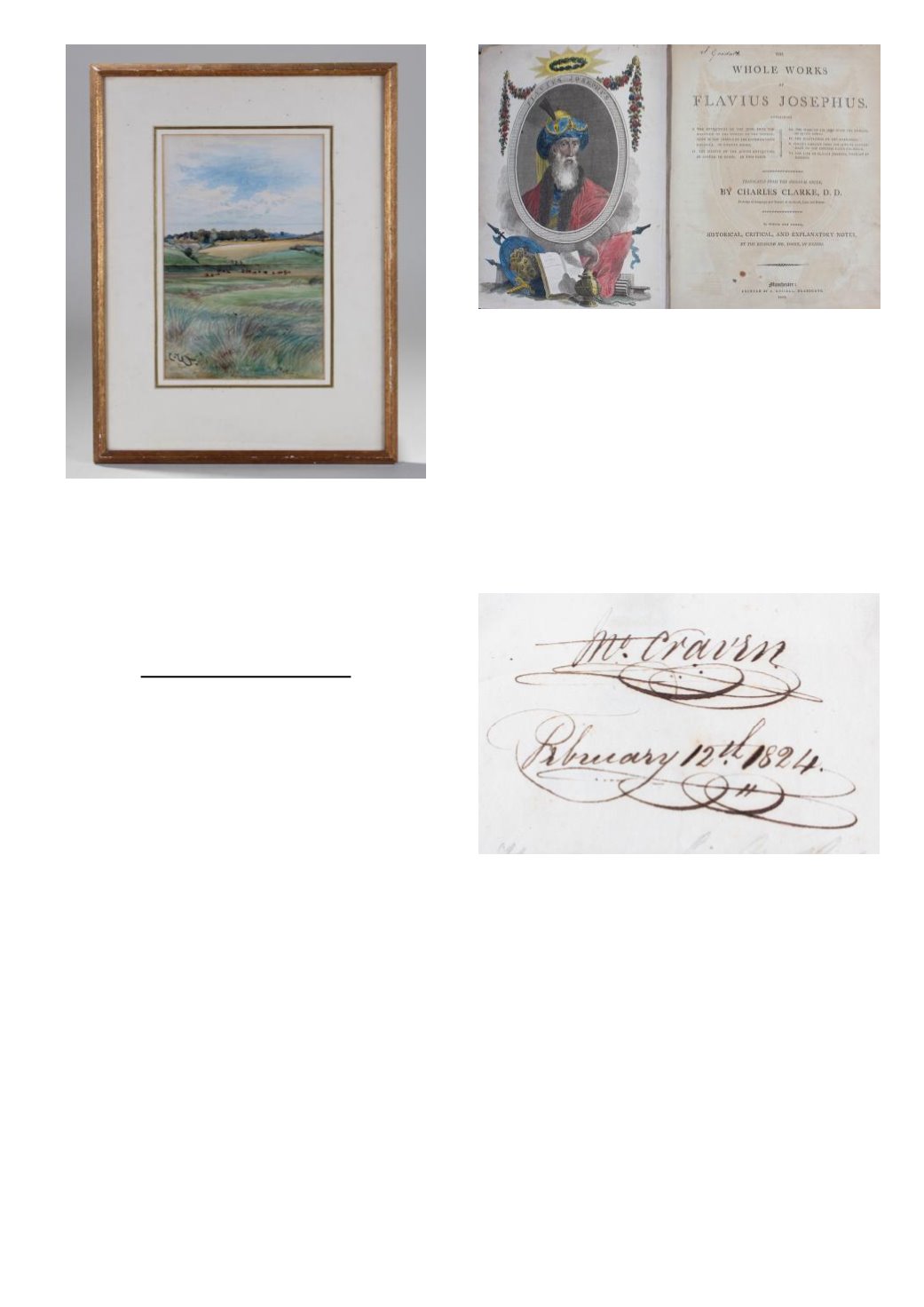 69
716
Charles Whymper, (1853-1941) Open
lanscape with cattle, watercolour,
monogram, 17.5cm x 27cm
£100 - £150
717
Painted on glass portrait of young girl
with cat and dog dated 1899
£40 - £50
Books, Maps & Ephemera
718
A series of hand written letters/notes
reference supplies and stores for the
British Army in Hong Kong during the
Victorian years of 1877-1883, c.55,
showing their age and some with old
cellotape repairs, an interesting and
unique archive of the workings of the
British Army during the hay-day of the
British Empire, held together in a
contemporary folder with cloth ties,
c.55
£250 - £300
719
East Anglian Magazines pts. 3 and 4
very scarce, March-April 1814, plus a
cloth bound Vol.3 East Anglian Notes
and Queries, 1869 on title page, actual
dates are 1866-1868, plus 7 complete
ditto 1889, 1890, 1893 to 1896, 1906, plus
Gillingwater's Lowestoft 1897 and two
bound facsimiles of East Bergholt
interest:- "A Terrier East Bergholt 1731
by William Brasier " and Award of the
Commissioners of Esast Bergholt
Inclosure 1817, these two modern bound
cloth [13]
£100 - £120
720
Poems by Richard Chenevix Trench
D.D. Archbishop, New edition Volumes
I and II, 1886, 18.5cm high
£30 - £50
721
The whole works of Flavius Josephus
translated by Charles Clarke, 1803, 27cm
high
£100 - £150
722
No lot.
-
723
Narrative of a Voyage to the Southern
Atlantic Ocean in the Years 1828,29,30
by W.H.B.Webster, 1834, Volume I only,
of Ipswich interest and inscribed to
Charles Silburn of Carr Street, Ipswich
and signed by the author together with
an archive of furniture photographs,
presumably of Hatfield and Green of
Ipswich, before WW II, [2 items]
£100 - £150
724
John Fawcett, D.D, An Essay on Anger,
fifth edition, 1822, 19.5cm high
£50 - £75
725
Greek Lyric Poetry, A complete
collection of the surviving passages from
the Greek song-writers by George S.
Farnell, M.A., 1891, 22cm high
£30 - £50
726
A list of military gentlemen 'To be
Ensigns by purchase' these presented to
Queen
Victoria
'The
General
Commanding in Chief', 'Most Humbly
submitted to Your Majesty', Alfred
Cottee, Gent 18th. Foot', 'William
Green, Gent 42nd. Foot', 'Edward
Charles Pemberton Pigott - Gent 44th.
Foot, Charles John Burgess Gent 46th.
Foot', signed by Queen Victoria,
'Victoria R', folded and with old
cellotape repairs which do not effect the
signature
£100 - £150