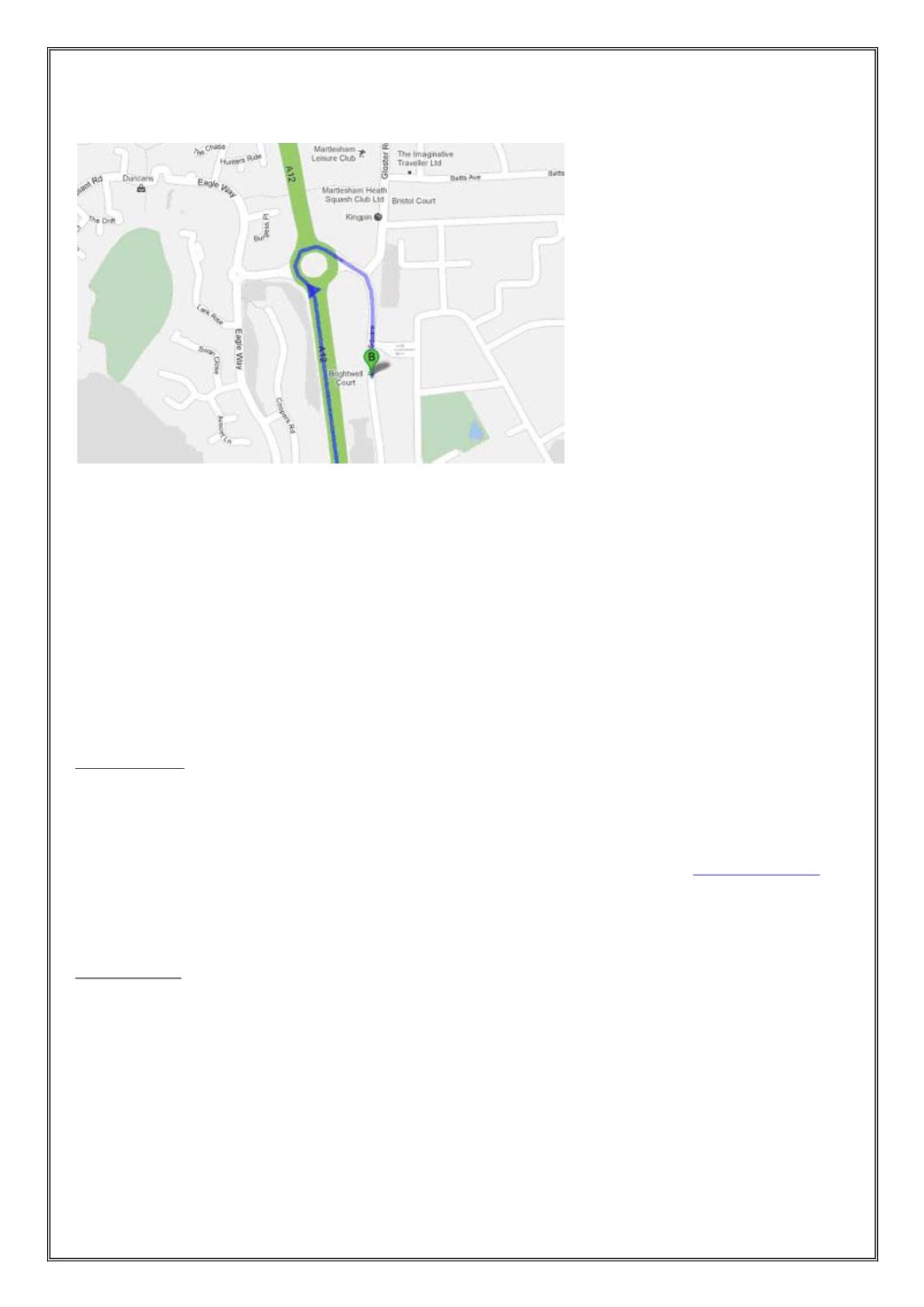 2
The Fine Sale, Auction
#
125: 10
th
- 11
th
June 2015
Lockdales, 52 Barrack Square, Martlesham Heath, Ipswich, Suffolk, IP5 3RF
From the West
: Take the A14 round the
outside of Ipswich, go over the Orwell
Bridge.
Continue on the A14 and take the turnoff
onto the A12 towards Woodbridge.
Barrack Square is opposite the BT Adastral
Park Tower (a square-topped tower you
will see from miles away)
You will drive past the BT tower on your
right. Double-back round the roundabout
as per illustration. Now the tower will be
on your left.
52 Barrack Square is past the 3 war
memorials.
See back cover for a photo of
our premises. Free parking in the area.
COMPLIMENTARY TEAS & COFFEES AVAILABLE.
VIEWING ON THE AUCTION DAY FROM 8.00am.
We strongly recommend viewing prior to the auction days, available from Monday 1
st
June during business hours.
Special evening viewing will be available on Monday the 1
st
and Monday the 8
th
of June until 7.30pm.
We ask that customers wait until after 3pm Friday 12
th
before making post-sale enquiries. Information will be
unavailable before that time. Invoices will be sent out in due course.
We do not open on bank holidays.
The Buyers Premium is 15%+VAT
Valuation Days
We conduct special valuation days at venues all around the UK. No appointment is necessary at such events, and valuations
are provided free of charge. We look forward to meeting all our customers in person, and hope to see you soon. We are
always keen to consign goods to auction, or to make cash purchases.
Many events will be scheduled throughout the year. Up-to-date details of events are on our website
www.lockdales.com
Valuations are available at our Martlesham premises,
please call first to make an appointment
. In the case of high
value collections we are happy to send one of our representatives to visit you. We will travel overseas to collect your goods
if you have guaranteed that you will consign to our auction, or will accept a purchase offer agreed prior to travel.
Returns Policy
Please inspect thoroughly all lots purchased upon collection or postal receipt. Returns can only be made within 7 days of
receipt, with written explanation of the reasons why. Items can only be returned if significantly mis-described, or if proven
to be inauthentic when sold as genuine. Bulk lots cannot be returned and thus we strongly advise viewing such lots in person.
The nature of what constitutes a bulk lot is determined at Lockdales' discretion. Returned lots will only be accepted if
returned in the same condition they were received in. We seek to stress by these terms: that the practices and etiquette of
sale by auction are different from those relevant to sale by private treaty. Items in our auction are not sold "on approval".
Bidders should be certain of the nature of each lot before bidding. We do not refund postal charges.
*We do not guarantee books, clocks, watches or cameras. These are sold as seen, and non-returnable.
*Weights and measurements are only approximate.
*Condition reports are only a guide, and bidders are advised to view in person.
SEE BACK OF CATALOGUE FOR FURTHER TERMS & CONDITIONS