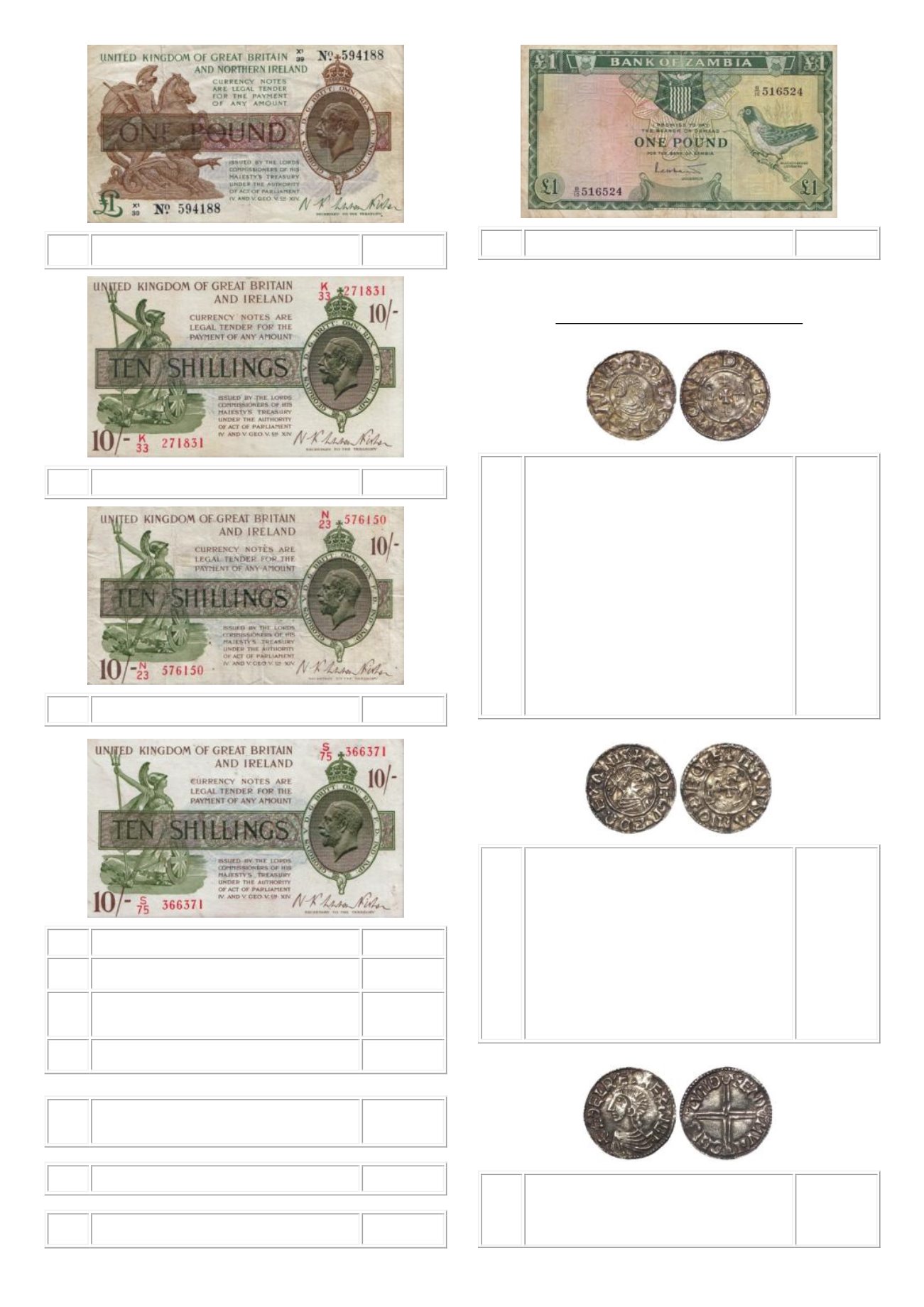 46
1211
Warren Fisher One Pound T34 "X1 39" GF small 5mm
tear centre top
£25 - £30
1212
Warren Fisher Ten Shillings T30 "K33" GVF
£90 - £110
1213
Warren Fisher Ten Shillings T30 "N23" GF
£25 - £30
1214
Warren Fisher Ten Shillings T30 "S75" GVF
£120 - £140
1215
World in three albums , a mixed assortment with GB &
Scottish noted.
£200 - £250
1216
World (25) includes Ireland £1 (30/9/1976), Switzerland
50F , Canada Dollar (George VI), Rhodesia etc. Mixed
grades with some GVF - GEF
£60 - £80
1217
World (approx 1860) all seem to be high grade (mostly
Unc). Duplication noted
£600 - £650
1218
World (approx 43) strengh in pre Euro French (500F &
200F seen), includes obsolete Swiss 100F x 2. From
circulation
£120 - £140
1219
World (approx 720) from circulation with some better
£150 - £180
1220
World , a small assortment mainly from circulation but
with better types & redeemable currency seen
£100 - £120
1221
Zambia One Pound Pick 2 (1964) Fine +
£60 - £65
Ancient & Hammered Coins
1222
Aethelred II silver penny, Last Small Cross Issue with
additional crosses in quarters of reverse, Spink 1154var.,
obverse reads:- +EDELRAED REX ANGLO ['AE' and
'NG' ligulated], reverse reads:- +PELGIST MON
DEOD ['M' of rounded form, 'D; with thorn], Thetford
Mint, moneyer Welgist [also Walgist], this moneyer used
engraved additional [as present piece] and punched in
the die extra reverse crosses, see Sadler The Ipswich
Mint, Vol.1, p.132 for a study of this variant. Six coins
known, two with dies as present coin and three in
museums, this coin for years has had the wrong
provenance, it is not from Polish Hoard, Glendining
14.3.1973, lot 24, this coin is in Norwich Castle Museum,
see SCBI Museums in East Anglia, 1220 but it is Ex.
Capt. Peter Arnot Collection, Buckland, Dix and Wood
21.3.1995, lot 182, with three old tickets with the piece,
including a much fuller pedigree, some patches of
weakness to marginal legends, peck marks reverse, lightly
crinkled, cabinet tone reverse, extremely rare, VF
£600 - £700
1223
Aethelred II silver penny, Last Small Cross Issue, BUST
RIGHT, Spink 1154A, wt. 1.21g. obverse reads:-
+AEDELRAEDREX ANGX ['AE's' and 'NG' ligulated]
reverse reads:- +MANNA M!O DEOTE ['D' with
thorn], Thetford Mint, moneyer Manna, 4 known to the
cataloguer this moneyer, 2 of which are in museums [BM
and Stockholm], the other was in the W.J.Conte
Collection, CNG Auction 58, lot 1775 [same dies as
present piece], provenance of present coin, Ex. Irish
Collection, Co Wicklow 2013, Ex. Spink Auction 212,
28-29 March, 2012, lot 438, Ex. Spink NC 3.1993 item
999, Ex. Sotheby 10.4,1992, lot 635, with an old Spink
ticket, full, round, well centred, peck marks mostly within
reverse inner circle, extremely rare, VF
£700 - £800
1224
Aethelred II silver penny, Long Cross Issue, Spink 1151,
obverse reads:- +AEDELRAED REX ANGL. [both
'AE's' and 'NG' ligulate, first 'D' with thorn], reverse
reads:- +EADMVND M/O LVND, London Mint,
moneyer Eadmund, full. round, well centred, VF
£250 - £280