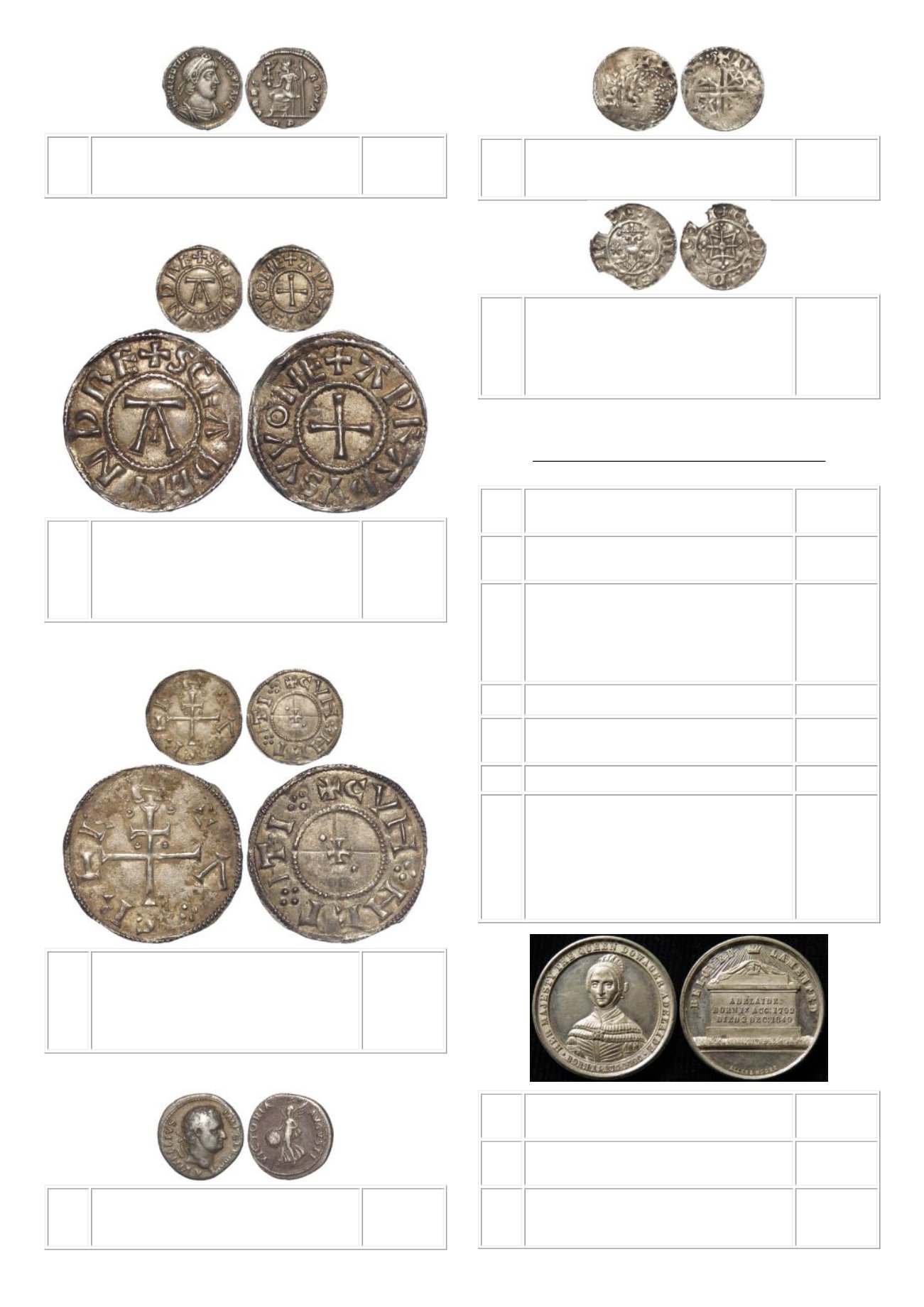 61
1473
Valentinian II silver siliqua, reverse:- Roma seated on
throne, holding Victory on globe and long sceptre, Rome
Mint, officina R P in exergue, Sear 20229, large full flan,
hairline crack up into portrait [hardly visible], GVF
£80 - £90
1474
Viking East Anglia silver penny, St. Edmund memorial
coinage Spink 960, produced by the 'fine detail die sinker'
with a known moneyers name, obverse reads:- +SC
EADMVND RE, reverse reads:- +ADRADVS VVONE
['M' upsidedown] moneyer Adradus, the cataloguer
known of only one other struck from the same reverse die,
full, round, near as struck, GEF
£550 - £600
1475
Viking York, Cnut silver penny, Spink 993, obverse
reads:- +V trefoil of pellets CRTE quatrefoil of pellets N
['V' on its side as a 'C', 'T' on its back], reverse reads:-
+CVN quatrefoil of pellets NET quatrefoil of pellets ITI
quatrefoil of pellets, CVNNETTI around small central
cross, a pellet in first and fourth quarters, full, round, well
centred, uncleaned, near as struck, GEF
£550 - £600
1476
Vitellius silver denarius, Lugdunum Mint. Reverse:
VICTORIA AVGVSTI., Victory alighting left, wings
spread. RIC 99, Sear 2191 for type, VF (rare of this mint,
usually seen of Tarraco Spain).
£240 - £260
1477
William I of Scotland 1165-1214, silver penny, late and
posthumous, Phase B, c.1205-c.1230, reverse reads:-
+HV[E WAL]TER:. without mint name, Spink 5029,
full, very round, weak on legends, portrait visible, GF
£200 - £240
1478
William I Penny, Two Stars Type, Spink 1254, reverse
reads - +GODRED ON DTI (D with thorn), Thetford
Mint moneyer Godred, thought presently to be the only
piece of these dies, 2 others being recorded, Ex C
Hopkins collection, a little edge damage at obverse 7
o'clock & little area of weakness on legend, well centred
& struck, rare VF
£240 - £260
Exonumia : Tokens & Medallions
1479
Amsterdam Photography Exhibition 1891 Medal, silver
d.53mm, prize medal unnamed, toned EF, some
scratches.
£80 - £90
1480
Ancient Order of Druids 1947 silver hallmarked medal,
Patroness Medal (gilt), Grand Lodge Medal, and a silver
hallmarked Triangle (4)
£25 - £30
1481
Austrian Commemorative Medallion, pewter d.45mm:
MAR.
THERESIA.
PIA.
AUGFEL.
REI.
METALLURG. RESTAURATRIX., portrait of Maria
Theresa r. / AUREA CONDET SECULA over Roman
personification Moneta with coining press behind, below
PRAESENTE AVGUSTI NUMINE. MDCCLIV
(1754) XVI. MAII., grade VF
£30 - £40
1482
Badges (54), Forgeries & Reproductions (89), and British
& Commonwealth Cupro-Nickel Crowns (50)
£50 - £60
1483
Balloon Medallion - Panorama de Paris 1878. Souvenir
de Mon Ascension Dans Le Grand Balloon Captif a
Vapeur de Mr Henry Giffard'. Gilt bronze (51mm)
£45 - £50
1484
Blue Whitman Folders, empty, various (12)
£22 - £24
1485
Books HB, The Ipswich Numismatic Society Notes, Vols.
1978-1991 complete set of 12, bound in red morocco
with tooled gilt lettering, including Line Drawing of Late
Anglo-Saxon Coins, Aethelred II and ditto Cnut, plus
The Gold Anglo-Saxon Coinage found at Coddenham,
Suffolk and the Anglo-Saxon Metalwork from
Coddenham, Suffolk, by D.R.F.Cummings and
J.C.Sadler, never more than 25 of these were produced,
near as new, Ex. R.L.Dye Library [12]
£100 - £125
1486
British Commemorative Medalet, white metal d.26mm:
Death of the Queen Dowager Adelaide 1849, EF, a few
surface marks.
£30 - £40
1487
British Commemorative Medallions (2) the official small
silver and bronze issues for the Coronation of George VI
1937, nEF
£30 - £35
1488
British Commemorative Medallions (2), the offical Royal
Mint large bronze issues for Queen Victorias Diamond
Jubilee 1897, and the Coronation of Edward VII 1902,
both EF with original cases.
£50 - £60