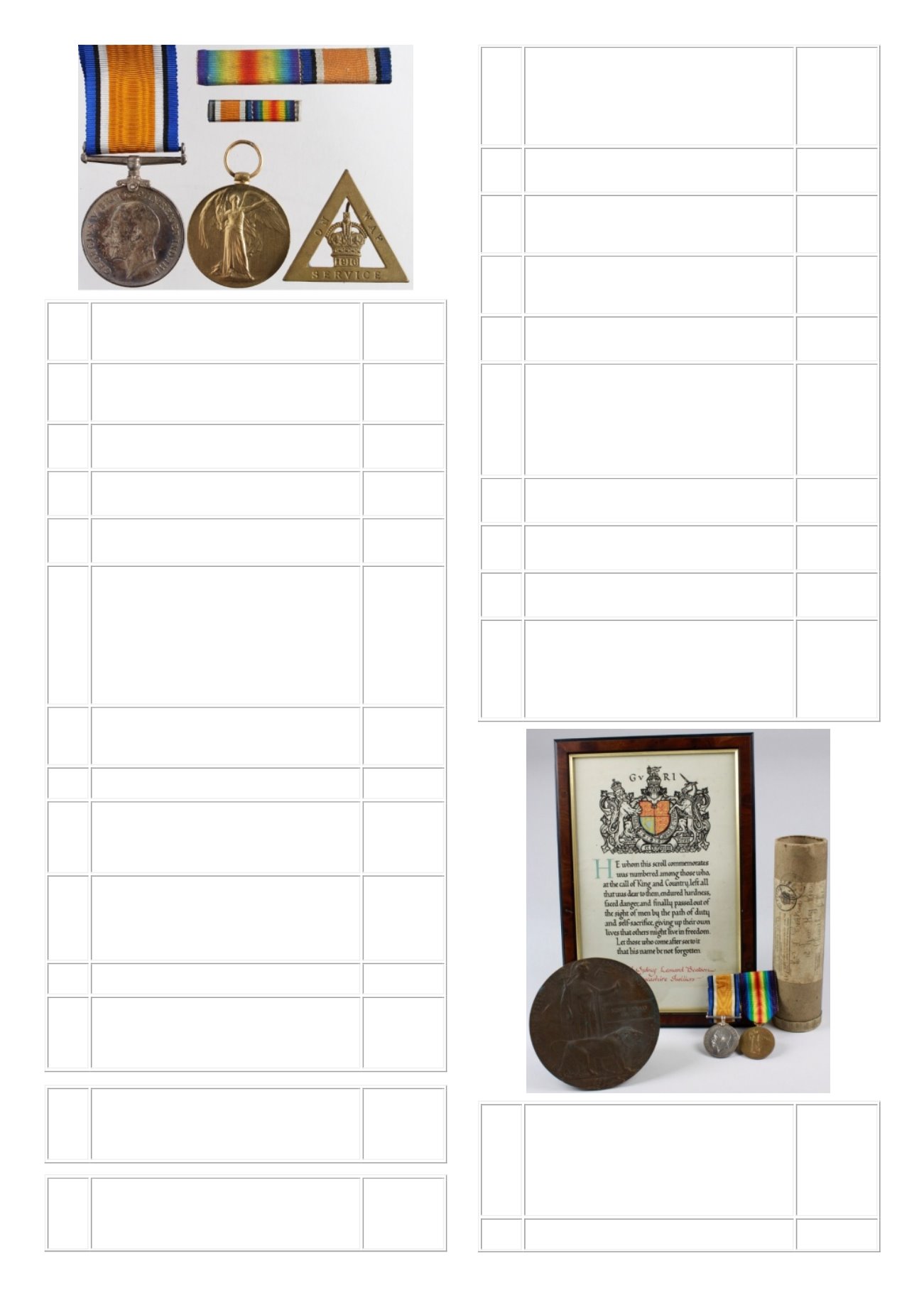 11
227
BWM & Victory Medal to BZ10979 W Austin ORD
RNVR. With box of issue, On War Service badge and
copy service records. Born Marston Green, Birmingham
(qty)
£30 - £35
228
BWM & Victory Medal to F.10303 T Gissing
A.M.1.RNAS. Collectors note: served as a rigger on
Airships. In civilian life was a Policeman at Theberton,
Suffolk. VF (2)
£30 - £35
229
BWM & Victory Medal to L/17908 Gnr C Whittle RA,
a Victory Medal to 8940 Pte T G Knight S.Staff.R, plus
3x cap badges (6)
£35 - £40
230
BWM & Victory Medal (2378 Pte W King KOYLI), and
GSM GV with N.W.Persia clasp (4736903 Pte WKing Y
& L R). With MiD but this is NOT confirmed. nVF (3)
£100 - £120
231
BWM & Victory Medal (M.20067 B Evans
ERA.4.RN)
,
1937 Coronation Medal, and GV Naval LSGCM
(M.20067 B Evans ERA.1. HMS Curlew. nVF (4)
£70 - £75
232
BWM & Victory Medal + Death Plaque to 113523
2.A.M. Robert Arthur Pye RAF. 10th Balloon Company,
RAF. Killed In Action 13th August 1918, by enemy
aircraft bombing. Pye first enlisted into the South Lancs
Regt, then served overseas with the 3/8th Manchester
Regt. He then transferred to the RFC in August 1947. He
was from Clayton-le-Moors, Lancs. Buried Duisans
British Cemetery, France. With a photocopy of his
newspaper obituary. nEF plaque with small edge bump
(3)
£200 - £250
233
BWM & victory medals with memorial plaque in heart
shape frame with portrait photo in locket to G/20203 Pte
Ralph Alfred Austin R W Kent Reg K in A 26-10-1917
f&f born Plaistow Essex
£200 - £220
234
BWM & Victory medals, 39-45 Defence medal, 15786
F.Wallis Suff R mounted as worn, GVF
£50 - £60
235
BWM (PO.4268 Pte J W Poppy RMLI) and GV Royal
Fleet Reserve LSGCM (CH.4268 B.599 J W Poppy Pte.
RFR). This medal possibly a late / replacement issue as
incorrect style of naming. With copy service papers, born
Hautbois Margna, Norfolk. (2) a/f
£40 - £45
236
BWM/Mercantile Marine Medal pair to Lt. David F.F.
Lawrence. David Frederick Focken Lawrence served
Cyclops for pilotage duties at Kirkwall and Lerwick.
Rated in 1919 as not temperate, unreliable and not
recommended for further employment. This his full
entitlement.
£40 - £45
237
BWM/Victory pair and Cap Badge to M2-139458 Pte.
J.B. Clapham A.S.C.
£24 - £26
238
BWM/Victory Pair and Memorial Plaque to 113092
Gnr. Robert Wikinson 260th Siege Battery Royal
Garrison Artillery b. Manchester, e. Stockport, l.
Cheadle, Cheshire Died F & F 28/10/1918. Buried St.
Sever Cemetery Extension Rouen.
£100 - £120
239
BWM/Victory pair and Silver War Badge No. 469059 to
2373 Wkr. D.I.H. Townsend Q.M.A.A.C. Dorothy Irene
Helen Townsend enlisted 24/07/1917 and discharged
Medically Unfit 13/10/1919 lived 89 Fortune Gate Rd.
Willesden
£60 - £65
240
BWM/Victory pair plus I.G.S.08 with bar Afghanistan
N.W.F. 1919 to 26325 Pte. J. F. Anderson High. L.I.
James Fyfe Anderson born 11 St. Clair St. Glasgow
20/07/1895 served in India attached to the 1st Durham
Lt. Inf.
£100 - £110
241
BWM/Victory pair to 134524 Spr. H.A. Booth R.E. plus
France and Germany Star, Defence and War Medals.
Hubert Arthur Booth served in the Royal Engineers in
WW1 discharged sick 23/01/1918 he was awarded a
Emergency Commission also in the Royal Engineers
during WW2 L/G 16/07/1940. 2nd Lt. 22/06/1940
and W.S. Lt. 22/12/1941.
£40 - £45
242
BWM/Victory pair to 141338 3. A.M. F.H. Green
R.A.F. Francis Henry Green born Bewwell, Newcastle
06/03/1899 served with 111 Sqn.
£35 - £40
243
BWM/Victory pair to 148211 Spr. F.C. Munfield R.E.
plus Imperial Service Medal (GeoV, Crowned bust) to
Frederick Charles Munfield, pair only entitlement, ISM
as Sorting Clerk and Telegraphist, Farnham.
£40 - £45
244
BWM/Victory pair to 200484 Spr. G. Hind R.E. plus a
Mercantile Marine Medal named to George Hind. Born
Sunderland 1887, he served in the R.E. and M/Marine
and lived 25 Chandos St. Durham Rd. Gateshead.
£50 - £55
245
BWM/Victory pair to 221508 Dvr. J. Hunter R.A. WW2
Defence Medal and Special Constabulary L.S. Medal
(GeoVI Ind. Imp.) to James Hunter (4)
£40 - £45
246
BWM/Victory pair to 251480 1 A.M. R.S. Warren
R.A.F. WW2 Defence Medal and Exemplary Service
Medal Police (GeoVI, Fid. Def.) to Const. Reginald S.C.
Warren. Reginald Sydney Clifford Warren was an
Armourer in the RAF serving in 88 Sqn. He was born
Hinxworth, Herts, 02/07/1899 and entered the RAF
aged 18 he lived 43 Skelton Rd. Diss, Norfolk and Died
in 1980.
£60 - £65
247
BWM/Victory pair to 28989 Sjt. R.R. Milburn Leic. R.
Robert Richardson Milburn served 12th Bn Leic. Regt.
Born Cleadon, South Shields in 1880.
£34 - £36
248
BWM/Victory pair to 306680 Pte. J. Addison Tank
Corps. Joseph Addison lived 158 Hyde Park St.
Gateshead, Durham. Served in F Bn. Tank Corps.
£60 - £70
249
BWM/Victory pair to 59532 Pte. D.R. Mills Leic. R.,
WW2 Defence Medal and Special Constabulary L. S.
Medal (GeoVI Ind. Imp.) to David R. Mills (4)
£44 - £46
250
BWM/Victory pair to T4-044076 Dvr. S. Hadfield
A.S.C. plus WW2 Defence Medal with Silver ARP badge
on Ribbon and an Imperial Service Medal (GeoVI Ind.
Imp.) to Samuel Hadfield. With research Lived 99 Pikes
Lane Glossop, served 55th Divn. Train ASC. ISM
awarded for Postman, St Annes Office, Blackpool L/G
14/07/1944.
£44 - £46
251
BWM/Victory pair, Memorial Plaque, Framed
Illuminated Scroll with Issue Tube to 25746 Pte. Sydney
Leonard Beatson 10th Lancashire Fusiliers e. Manchester
K.I.A. F & F 13/05/1917, on the Arras Memorial.
Comes with Research and copy photo of him. Beatson
was born June 1893 in Chorlton. He was a brokers
assistant and married on 29/03/1915 with a daughter
Joyce born in March 1916.
£100 - £120
252
Cadet Forces Medal KGVI named to Act Fg.Off
A.Liddell RAFVR (T). GVF
£80 - £90