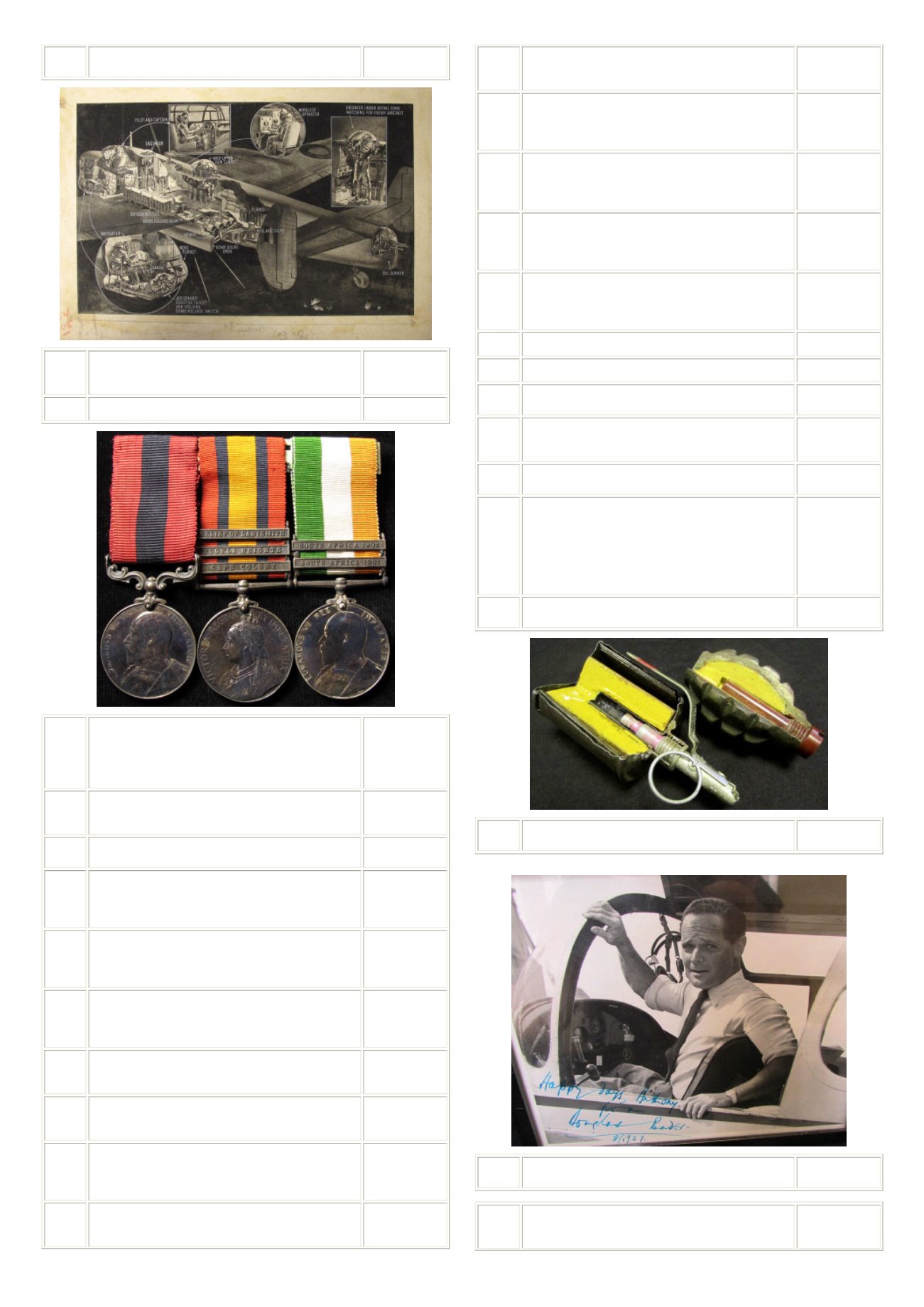 14
316
CSM. with Northern Ireland bar to 24110273 RFM K R
Hircook RGJ
£90 - £100
317
Cutaway illustration of WW2 Halifax Bomber. Ink
Wash/White Gouache, Signed. Produced for a wartime
publication or instructional poster. Scarce
£100 - £150
318
C.S.M. no clasp to 24422446 Pte S A Jagger DWR. a/f
£50 - £55
319
DCM Edward VII, QSA with Relief of Ladysmith,
Tugela Heights, Cape Colony bars, plus KSA. and bars
SA01/SA02. Naming has been erased. Mounted as
worn. Dark toned overall. All are original issues. Good
condition. a/f
£300 - £350
320
Dealers ex stock mixed Soviet badges with price tickets
(approx 30) plus 2x German SS cap badges and 2x
modern Iron Cross displays (qty)
£40 - £45
321
Dealers ex stock of West/East German Medals, with
price tickets (approx 11)
£80 - £85
322
Death Plaque in old frame to 10332 Pte Alonzo Burrows
"A" Sqdn 9th Lancers. Died of Wounds 10th August
1918. Born Mexborough, Yorks. Buried Villers-
Bretonneux Military Cemetery
£40 - £45
323
Death Plaque in old frame to 37175 Pte Frank Lawrence
Starbuck "C" Coy 2nd Bn Lanc Fus. Killed In Action
12th Oct 1916. Born Cropwell Butler, Notts. Listed on
the Thiepval Memorial
£40 - £45
324
Death Plaque to 10/1398A Pte Clarence Arguile,
Wellington Regt NZEF. Died 8th Aug 1915. Buried
Chunuk Bair (New Zealand) Memorial. Family from
Anstey, Leicester, England. Unique name
£55 - £60
325
Death Plaque to 1105 Pte Leonard Foy 13th Bn London
Regt. Died of Wounds 5/4/1915. Born Holloway.
Buried Boulogne Eastern Cemetery. Unique name
£50 - £55
326
Death Plaque to 12078 Pte William James Hellewell 4th
Bn Middlesex Regt. Died 23/2/1917. Born Marylebone.
Buried Chocques Military Cemetery. Holed at top VF
£40 - £45
327
Death Plaque to 16965 Pte Sidney Jeffreyes 8th Bn
Somerset L.I. Killed In Action 1/7/1916 (1st Day
Somme). Born St Marys, Taunton. On the Thiepval
Memorial. Unique name
£130 - £140
328
Death Plaque to 201014 Corpl Stanley Dolphin "C" Coy
2/6th Bn R.Warwick Regt. Killed In Action 5/9/1917.
Lived Bromsgrove. On the Tyne Cot Memorial. GVF (1)
£40 - £45
329
Death Plaque to 235023 Pte Percy Herbert Bready 8th
Bn Suffolk Regt. Killed In Action 31/7/1917.
Remembered on the Ypres Memorial.
£50 - £55
330
Death Plaque to 41907 Pte Arthur Ernest Budge 2nd Bn
K.O.S.B. Died of Wounds 31st July 1918. Buried Aire
Communal Cemetery. Born Newington, Edinburgh.
Unique name
£50 - £55
331
Death Plaque to 43036 L/Cpl George Thomas L(ouis)
Shaw 16th Bn Manchester Regt. Died of Wounds
4/12/1917, Born Great Strickland, Cumberland. On the
Tyne Cot Memorial. VF
£40 - £45
332
Death Plaque to 60378 Pte Percy Cheesewright 7th Bn
Cheshire Regt. Killed In Action 23/7/1918. Born
Wisbech.
Buried
Raperie
British
Cemetery,
Villemontorie. Unique name
£50 - £55
333
Death Plaque to 875801 Gnr George Frederick Charles
Hague 7th Indian Div Amm Col RFA. Died
30/10/1918. Born Heyham, Norfolk. Buried Haifa War
Cemetery. Unique name
£50 - £55
334
Death Plaque to Henry Richards VF
£40 - £45
335
Death Plaque to Joseph Withers VF
£40 - £45
336
Death Plaque to Robert Randell, two recorded, with
HMS Laurentic RNR or Tank Corps
£50 - £55
337
Death Plaque to R/8904 Rfm Ernest John Mallabone
KRRC, Killed In Action 8/9/1918. Born Bacup, Lancs.
Listed on the Vis-En-Artois Memorial. Unique name
£50 - £55
338
Death Plaque to William Bareham, two recorded, with
Warwickshire Regt or 1/2nd London Regt
£50 - £55
339
Death Plaques to 38242 Pte Sidney Frank Waller 10th
Bn R.Warwick Regt, Died of Wounds 4/6/1918, born
Cambridge, Buried Sezanne Communal Cemetery. And
9126 Segt Harry Waller 1st Bn E. Lanc Regt, Died of
Wounds 10/11/1914, Born Bury St Edmunds, buried
Trois Arbres cemetery, Steenwerck. Enlisted Cambridge.
(2)
£100 - £110
340
Derbyshire Police, possibly belonging to Sgt Toombs of
Clay Cross, 19x items, late 1940's to 1970's
£40 - £45
341
Different patterns of Russian section grenades
deactivated (2)
£50 - £55
342
Douglas Bader - a super hand signed photo dated
8/1/57, in small frame
£30 - £40
343
Efficiency Medal GV with India clasp to Pte E V A
Jellowitz I.E.I.FY.R, A.F.I. Small correction to naming
and test mark, otherwise GVF
£35 - £40