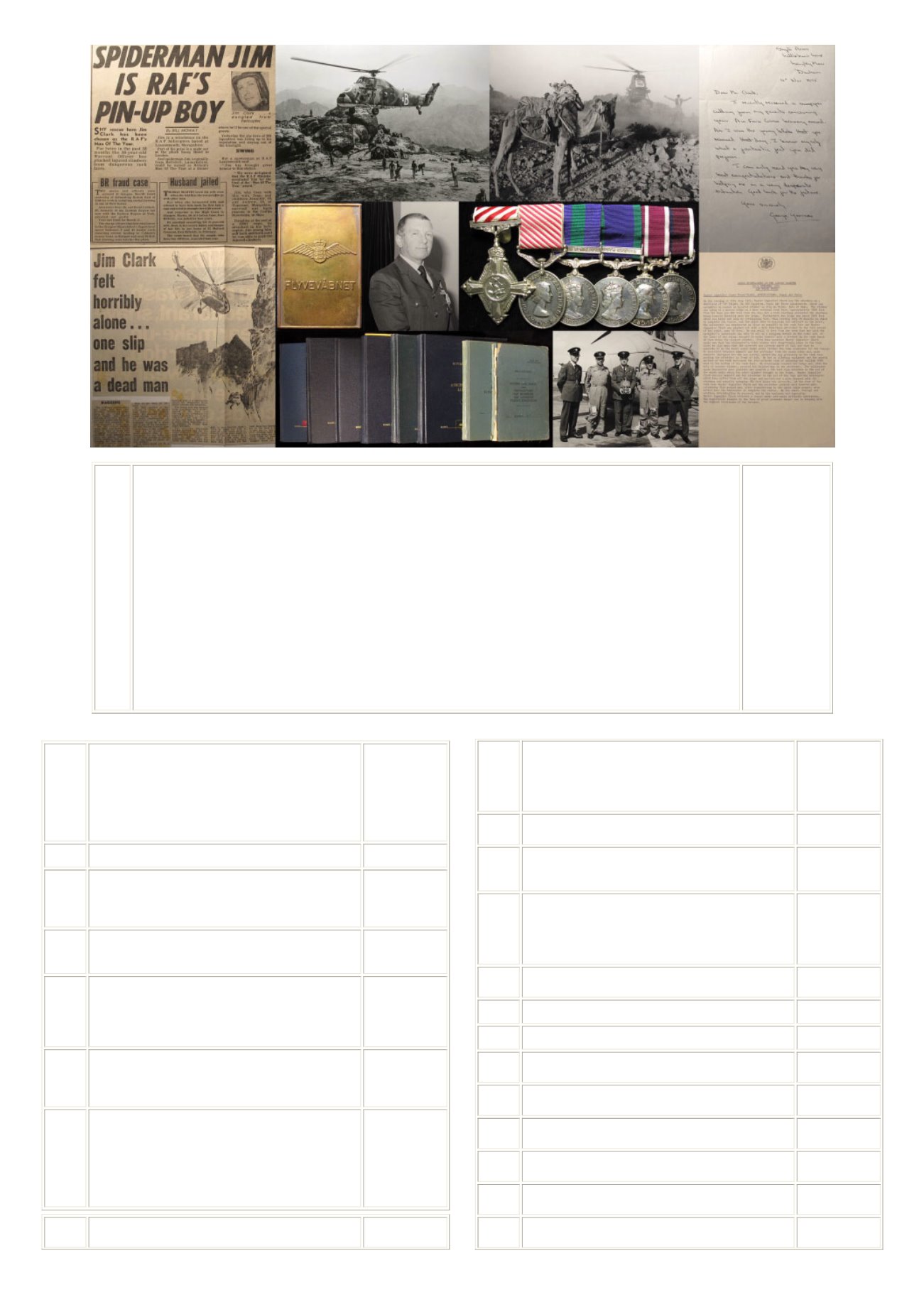 7
82
An outstanding group to Master Air Signaller J F Clark RAF. Medals mounted as worn - Air Force Cross QE2 dated 1975
(unnamed as issued), Air Force Medal QE2 (X4167956 F. Sgt J F Clark RAF), General Service Medal QE2 with Arabian
Peninsula clasp (4167956 Sgt J F Clark RAF), Campaign Service Medal QE2 with South Arabia clasp (X4167956 FS. J F Clark
RAF), QE2 Meritorious Service Medal (DEI: GRATIA:) (M Air Sig J F Clark (X4167956) RAF) and QE2 RAF LSGC Medal
(DEI: GRATIA:) (M.Sig. J F Clark (X4167956) RAF), with bar to RAF LSGC Medal (loose in box of issue). His MSM was listed
in the Queens Birthday Honours 1987. Voted RAF Man of the Year 1976 while serving at RAF Lossiemouth 'D' Flight, 202
Sqdn. James (Jim) Frood Clarks AFC was L/G 4/11/1975 for rescuing a climber on 17/7/75 from Sron na Ciche, Isle of Skye
who was lying on a narrow ledge on a near vertical rock face approx 1000 feet from base, Clark pushed the stretcher up the rock
face to the injured climber having detached himself from the helicopter which was short of fuel and dangerously close to the rock
face. His Air Force Medal was L/G in the Birthday Honours List 1973 for his outstanding service as an instructor during a recent
tour at Valley. RAF LSGC Medal awarded 1973. The lot includes several original newspaper cuttings, photos, and other
documents including Report on the Helicopter Rescue in Moray Firth 22nd April 1973, several telegrams re Awards, letter from
rescued climbing accident victim. Cases for AFM and AFC, named ID Tags and eight RAF Flying Log Books. The Log Books
start on 10/11/1955 with 228 Sqdn including operation 'NIGNOG' Sharjah - Bahrain. From April 1959 served with 42 Sqdn,
March 1960 served with 205 Sqdn, Nov 1962 served with 204 Sqdn. Served with 78 Sqdn in Aden on operation 'Icarus'. His
final Log Book entry was for October 1990. Clark is also mentioned in books 'Drama In The Air by John Beattie' (Chapter 2),
and 'From Borneo to Lockerbie' by Geoffrey Leeming (Chapter 18). This superb and very unusual modern grouping is seldom
seen on the market. GVF-EF (6)
£6500 - £7500
83
Armistice rare original Naval WW1 signal, message on
RN Naval signal paper, Board of the Admiralty desire to
express to all Officers & Men of the RN & RM their
thanks on a triumph of no parallel and with the successful
internment of the German Fleet etc the paper dated
6/14 , message 23-11-1918 addressed to several inc
Senior Officer Submarines, VF
£90 - £100
84
Army cloth trade badges, various (approx 19)
£20 - £25
85
Army LSGC Medal QV named to 8753 Pte W Young
Gren Gds. With copy service papers, born Wells,
Somerset. This medal his only entitlement. Few small
edge bumps, GVF
£80 - £85
86
Army LSGC Medal to 495 Serjt Chas Ford Royal
Engineers. A Miner, born at Sandhurst near
Wokingham. Few edge bumps noted VF
£60 - £65
87
Army LSGC Medal to 6452 Qr.Mr Sergt Henry Richard
Fletcher Grenadier Guards. With copy service papers,
photo, and Original Letters. Born Mary Abbotts,
Kensington, London. Lived Broomgrove, Hastings. NEF
(1)
£100 - £150
88
Army LS&GC Victoria impressed 756 Corpl.
T.Rockingham 2-22nd Foot (Cheshire Regt) with full
papers, he served at Malta, Mauritius and The East
Indies, no campaign medals missing, GVF
£170 - £180
89
Army LS&GC Victoria (Large lettered Reverse) 997
Robt.Clarke 60th Rifles and dated 1855, Robert Clarke
was awarded his LS&GC whilst on Malta in 1855 with
£5 gratuity, only eight 1855 dated LS&GC medals to
60th Rifles. Suspender replaced with ornate wide flat
suspender, with copy LS&GC roll confirming the above,
VF
£170 - £180
90
Artillery Officers high quality gilt belt buckle, Victorian
crown, and 'Ubique' clasp
£40 - £50
91
ATS Pair medals Service documents with soldiers pay
book and release book 1942 dated diary autograph
album to W/343014 Marjorie Emily Brett enlisted 30-
11-1942 also comes with selection of documents, photos
to Capt A S KEEFE WRAC
£60 - £65
92
ATS Service and pay book Defence and War medals
photo etc to W1141 Peggy Dipple enlisted 23-11-1938
£35 - £40
93
ATS Soldiers Service and pay book Defence and War
medals with photo album with some good ATS photos all
to W/57376 Janet W R Ivens trade Clark att'd RAOC.
£70 - £75
94
ATS WW2 Ladies group, 39-45 Defence & War medals,
W/Y4092 Alice Janosevic, served 1941-1952 discharged
on marriage by request, rank Sgt, possibly Polish or
Czech ? With cap badge & ATS sweetheart badge, book,
GVF
£40 - £50
95
Australian WW2 War Medal named to E. N. O'Brien
R.A.N.R. (Nursing Medal)
£20 - £25
96
Aviators or Motoring early leather gloves, 2 pairs
£30 - £35
97
Badges - pair of T/15/London blackened should titles (2)
£30 - £35
98
Badges a 5th Royal Inniskilling Dragoon Guards "set" of
cap, collars (pair) and shoulder titles 1929-1939, VF
£30 - £35
99
Badges a colonial assortment mostly of shoulder titles,
mostly VF
£40 - £50
100
Badges a good selection of Cavalry shoulder titles,
possibly odd repair, in collectors case
£90 - £100
101
Badges a good selection of shoulder titles, possibly odd
repair, in collectors case
£90 - £100
102
Badges a good selection of shoulder titles, possibly odd
repair, in collectors case
£90 - £100
103
Badges a good selection of shoulder titles, possibly odd
repair, in collectors case
£90 - £100