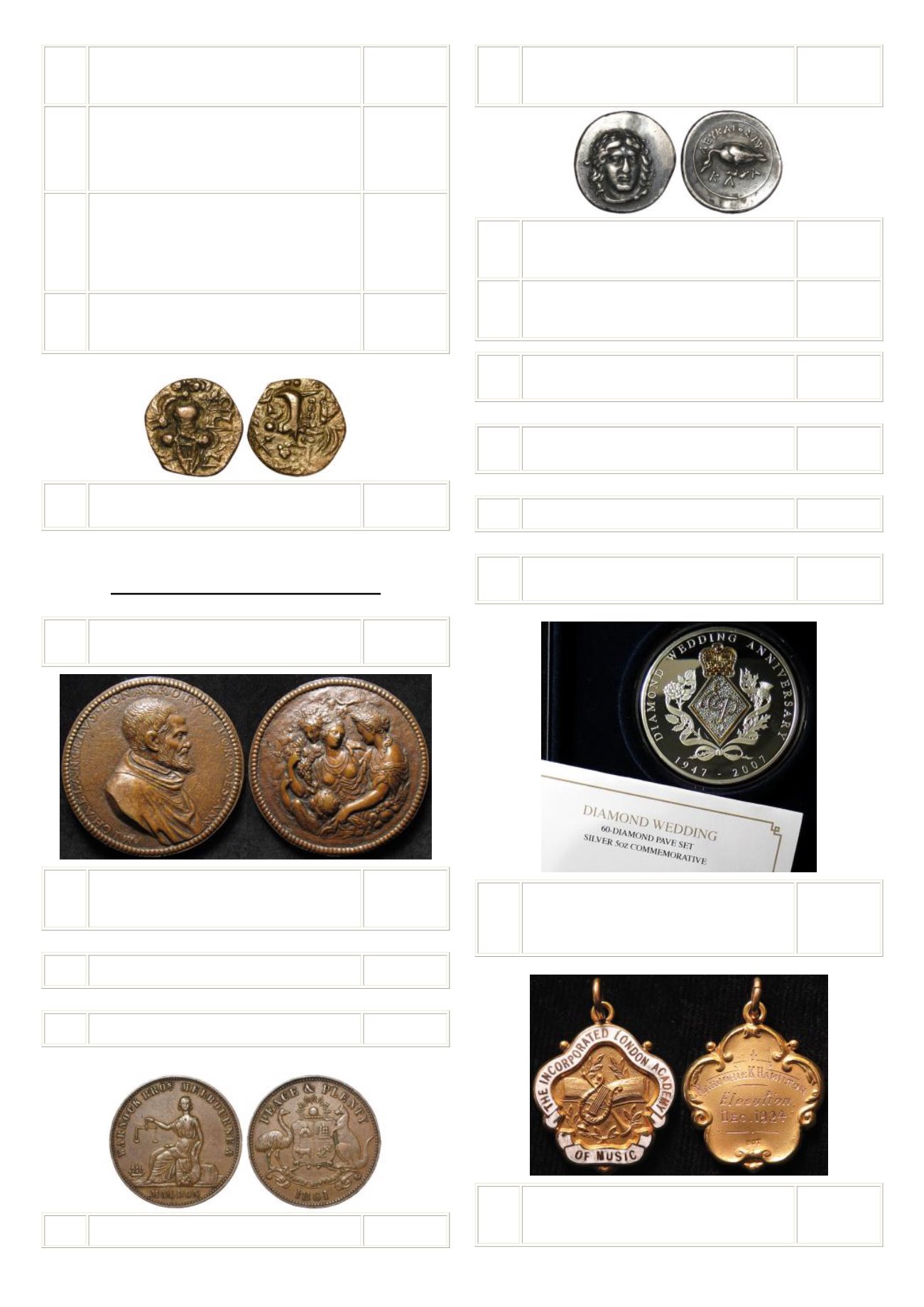 53
1234
Tiberius silver denarius, Lugdunum Mint c.16 A.D.,
reverse reads:- PONTIF MAXIM around a seated figure
of a female, good metal, obverse slightly off centre, light
scuffs in reverse field, GF
£60 - £80
1235
Trajan brass sestertius, Rome Mint 106 A.D., reverse
reads:- S P Q R OPTIMO PRINCIPI S C, Annona
standing left, holding corn-ears over modius and
cornucopiae, prow of ship to right, Sear 3195, very small
ancient pits with overall hard, dark, green patina, well
struck up, with nice portrait, VF
£150 - £180
1236
Trajan copper dupondius, Rome Mint 100 A.D., obverse
reads:- IMP CAES NERVA TRAIAN AVG GERM P
M., reverse reads:- TR. POT. COS. II S C, Abundantia
seated left on seat formed of two cornucopiae, holding
sceptre, a spear like object from seat at knee height, Sear
- , RIC Vol. II, p.272, 385, well centred with even milky-
green patina, VF
£65 - £85
1237
Two handaxes and a Bronze Age tang and barb
arrowhead in a box, plus a polished axehead c.4'' [chips],
plus a flaked point of similar size and three other pieces,
two of which are arrowheads [8]
£50 - £60
1238
Indian debased gold stater, wt. 6.31g. of Jammu and
Kashmir Kidara, of c.500 A.D., unknown ruler, sold with
full ticket by Roger Vezin, VF
£300 - £400
Exonumia (Tokens & Medallions)
1239
Argentinian Commemorative Medallion, bronze
d.50mm: 11th Universal Postal Congress Buenos Aires
1939 by Musetti and Piana, VF, a few edge nicks.
£30 - £40
1240
Art Medal, cast bronze d.98mm depicting Michelangelo
Buonarroti, a large impressive piece, date of manufacture
unknown. GVF with an old case by Bravingtons, Kings
Cross. Ex-DNW.
£100 - £120
1241
Australia, Miller & Dismorr Penny Token, 19thC, KM#
Tn173, rare, Fine.
£100 - £110
1242
Australia, Tasmania Penny Token 19thC: G. Hutton
Ironmonger, Hobart Town, Fine.
£30 - £35
1243
Australia, Warnock Bros. Halfpenny Token 1861, KM#
Tn261, VF, rare, a few light scratches.
£120 - £130
1244
Austrian (?) Academic Medal, bronze d.44mm: 1885
medal celebrating Gustavus Eques de Hoefken,
mentioning 'Vindobonae' hence Vindobona (a Roman
military camp in modern day Vienna??), nEF
£30 - £40
1245
Becker early 19thC forgery or fantasy of an Ancient
Greek silver didrachm of Ionia, Klazomenai, featuring
three-quarter facing head of apollo / swan l. with legend
surrounding, deeply toned VF, plugged.
£30 - £40
1246
Belgian Commemorative Medallion, bronze d.50mm:
Public Works Entrepreneurs Jubilee for the 50th Year of
Belgian Independence 1830-1880, by Wurden, VF-GVF
with edge knocks.
£30 - £40
1247
Belgian Commemorative Medallion, bronze d.51mm:
Leopold Duc of Brabant 1853 by Dubois, VF/GVF,
edge knock.
£30 - £40
1248
Bolivian Commemorative Medalet, bronze d.29mm:
Antonio de Sucre 1895 / Centenary of Ecuador and
Bolivia, VF, corrosion on reverse.
£25 - £30
1249
Box of various old pin badges, enamelled lapel badges,
medals, etc etc. Military noted (qty)
£40 - £45
1250
Britannia Commemorative 5oz silver Medallion 2004
depicting the Queen Mary Liner. Proof FDC boxed with
certificate
£60 - £70
1251
Britannia Commemorative 5oz silver Medallion 2007 to
commemorate Queen Elizabeths diamond wedding
annivesary . An impressive piece with the reverse having
"EP" in gold gilt surrounded by 60 Diamonds . Proof
FDC boxed with certificate
£100 - £150
1252
British Academic Medalet, enameled 9ct gold d.27mm,
7gms: The Incorporated London Academy of Music
medal for Elocution Dec, 1924 to Marjory K. Hamilton,
GEF
£60 - £70