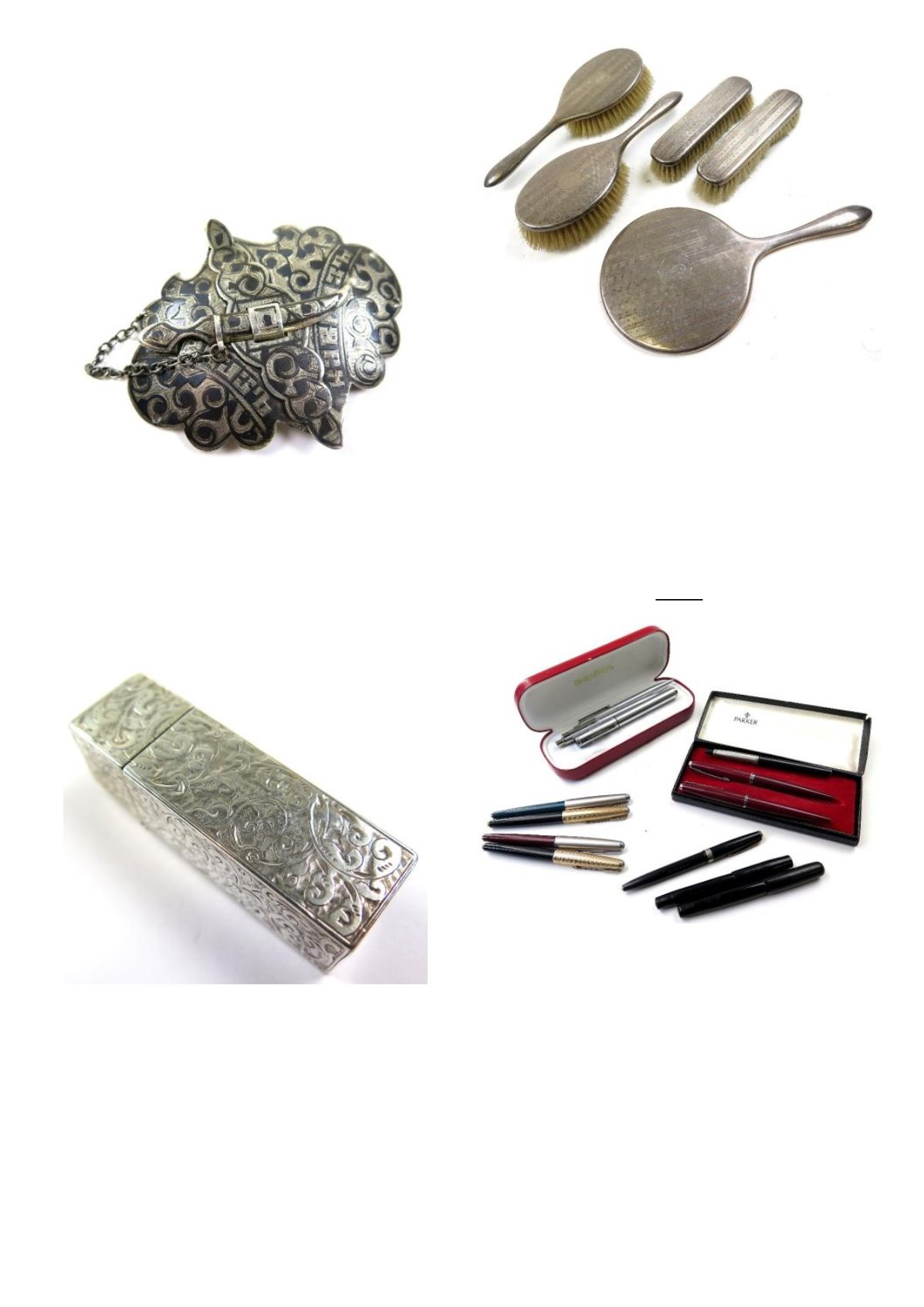 84
750
Four Silver hallmarked Cigarette cases -
various dates - 12 ounces approx
£100 - £110
751
Silver
backed
small
Brush-set
comprising hairbrush, clothes brush,
mirror and comb. Hallmarked for
Birmingham, 1950
£25 - £30
752
Silver Belt Buckle with black enamelling
fastened by means of an ornate Dagger
£30 - £40
753
Four hallmarked silver topped glass
items, (three jars and one sugar shaker)
+ hallmarked silver Flower Tube.
Various dates. Weighable silver - 2
ounces approx.
£20 - £25
754
Lovely silver engraved perfume
container (still has its little stopper)
hallmarked in 2 places (both date letters
too rubbed to read but has a Victorian
head duty mark so must be pre-1890.
also marked J.J.& S Birmingham
£40 - £50
755
Assortment of mixed silver cutlery
includes a pair of William IV Dessert
Spoons, child's Georgian knife and
fork.Six x 800 grade Continental
Spoons etc. Gross weight - 8 ounces (
includes Mother of Pearl handles).
£50 - £60
756
Silver backed Brush Set comprising two
hair brushes, two clothes brushes and a
silver backed mirror. (Initial "S" on all
pieces). Hallmarked for Birmingham,
1924.
£50 - £60
757
Mixed Lot of four hallmarked silver
Thimbles , an unmarked silver
Atomiser, two silver Propelling Pencils
unmarked and a silver plated Pencil
£30 - £35
Pens
758
Fountain Pens etc, nice lot inc 2x
Sheaffer Pen, 1x Fountain Pen 'm' nib.
Parker x3 various coloured bodies 2
with rolled gold nibs (one a Parker 61),
Wyvern No60C 14ct nib, Swan Self
filler 14ct nib, Conway Stewart 68 14ct
nib (13)
£80 - £100
End of Auction