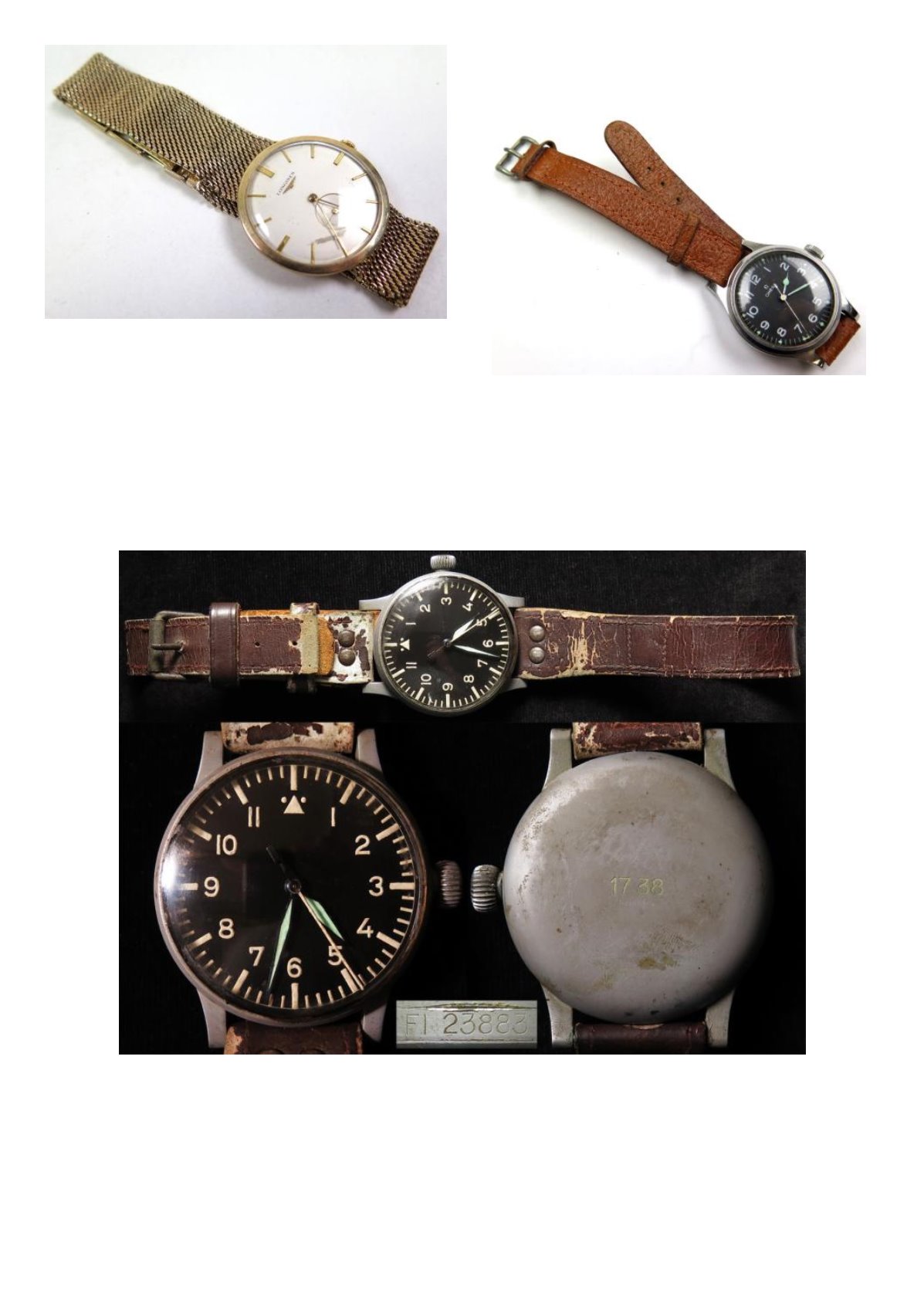 29
297
9ct gold cased gents Longines
wristwatch, the champagne dial, with
baton markers and subsidiary seconds
dial on a 9ct gold Longines bracelet
£300 - £350
298
H. Golay & Son Limited, London
navigation watch, no. 684. the case back
with H (broad arrow) S4 engraving.
approx 62mm
£200 - £300
299
Gents Tudor (Rolex) Oyster Prince 34
(circa 1954) stainless steel wristwatch on
a later "Rolex" style bracelet
£200 - £300
300
Gents stainless steel Military issue
Omega watch (RAF), the black dial with
Arabic numerals, the back of the case
engraved A.M 6b/159 3341/56. On a
brown leather strap
£300 - £400
301
Ladies 18ct white gold with diamonds
dress watch on a black leather strap
£80 - £120
302
World War II German military Luftwaffe B.Uhr pilot/ navigators watch circa 1940, ref fl23883. The black
dial with luminous Arabic numberals and baton markers and still on its original strap. Vendor States : The
watch was acquired from a 17 year old Luftwaffe pilot after his plane was shot down when attacking an
arms dump in the Berlin area on the last day before the end of the war. It was owned since by my father in
law who at the time was a senior army officer who was involved in making the peace in the Berlin area.
£2000 - £2500
303
Ladies Tudor (Rolex) 9ct wristwatch on
a leather strap
£30 - £40
304
Baume 9ct gold cased gents wristwatch,
the cream dial with gilt baton markers
on a non gold expandable bracelet.
engraved on the back of the case
£40 - £50