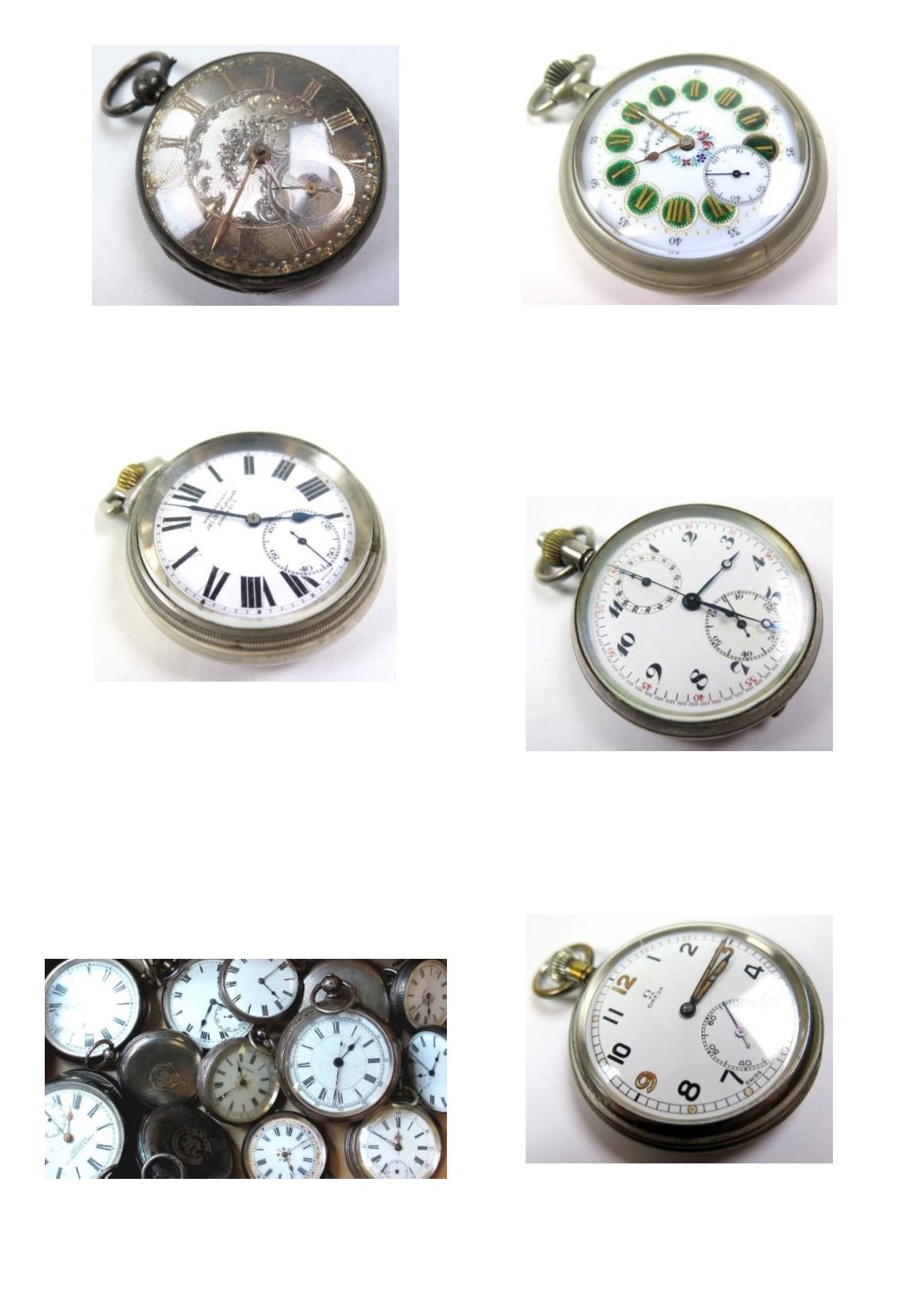 36
354
Silver open face pocket watch,
hallmarked London 1854, the silver dial
with Roman numerals and subsidiary
second dial at 6 o'clock. approx 48mm
dia
£30 - £50
355
Railway chrome cased open face pocket
watch, the white enamel dial having
black roman numerals, bordered by a
minute track, subsidiary second dial set
at six o`clock, signed "Winegarten`s,
455. Bishopgate, London E.C.2.", blued
steel hands, the back case engraved
"Winegarten`s Railway Regulator".
Approx 55mm dia
£60 - £80
356
Silver open face pocket watch,
hallmarked Birmingham 1927, approx
48mm dia
£25 - £30
357
Fourteen silver pocket watches of
various sizes, includes Victorian
examples
£150 - £200
358
Large Doxa Nickel Railway Watch,
white enamel face with Roman
numerals highlighted by green enamel
with a second hand minor enamel
crazing
£100 - £150
359
Gun metal open face pocket watch, top
wind with alarm
£25 - £35
360
Silver open face chronometer pocket
watch, the white dial with two subsidiary
dials, the outer with 1/5 seconds
tachometer track with winding
stop/start reset push button, 925 and
export marks date letter for Glasgow
1929
£50 - £60
361
Omega British Military Issue General
Service Time Piece (GSTP). Marked on
the back G.S.T.P Y01376 with Arrow
mark
£50 - £70