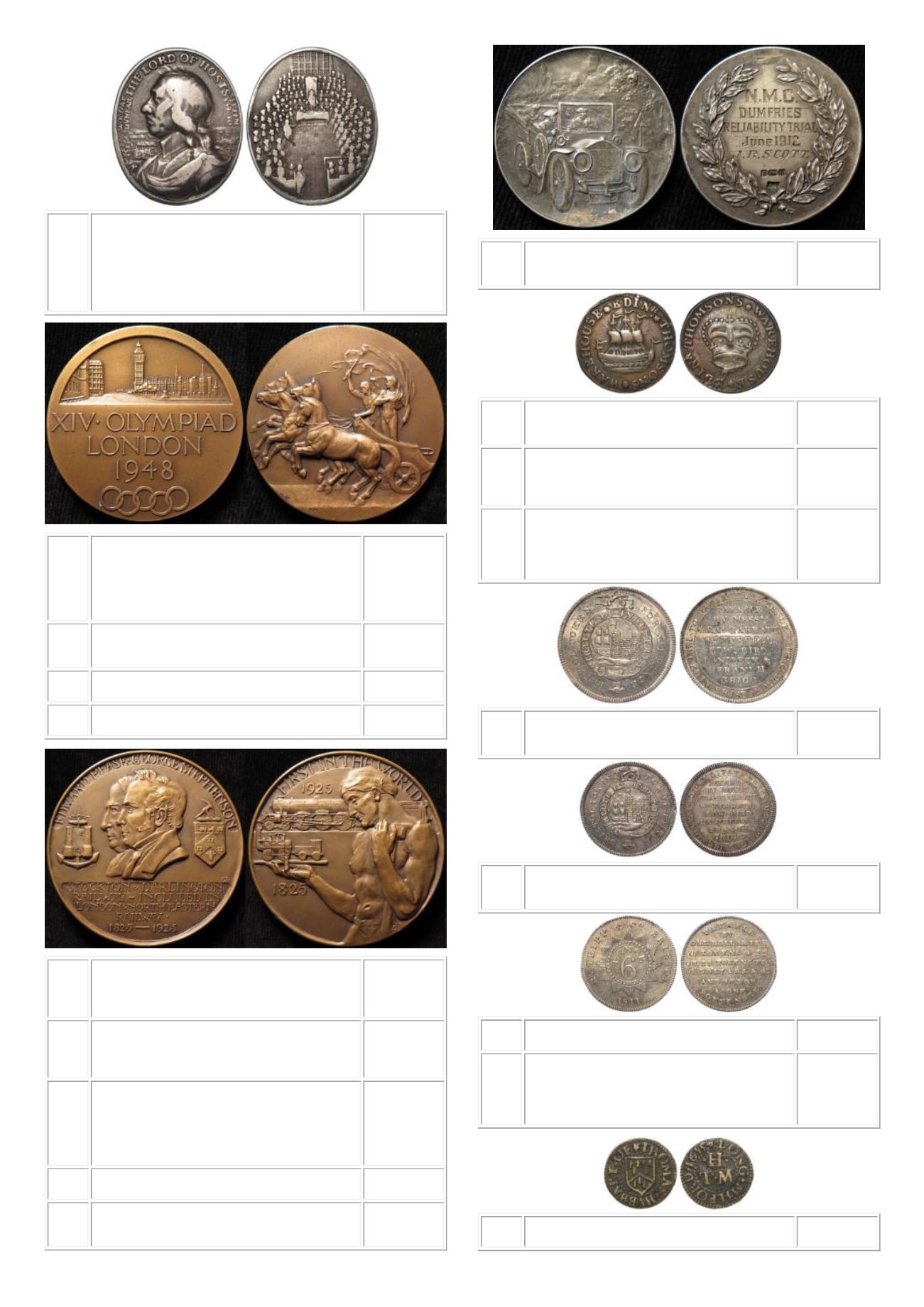 105
2338
Oliver Cromwell, silver medalet, Battle of Dunbar 1650,
obverse reads:- THE LORD OF HOSTS [above]
WORD AT DUNBAR [before] SEPTEM Y3 1650
[behind], bust of Cromwell left, battle in background,
THO SIMON FE on truncation, reverse:- The
Parliament Assembled in one house with the Speaker,
Eimer 181a2, GF
£150 - £170
2339
Olympic Participation Medal: London 1948 bronze
participants medal d.51mm, Obv: View of the Houses of
Parliament and Big Ben, XIV OLYMPIAD LONDON
1948, below- the five Olympic rings. / Rev: A quadriga
advancing, driven by two standing figures; by B.
MacKennal for J.R. Pinches, Eimer no. 2076, GVF
£130 - £160
2340
Papal Medalet, yellow metal d.16mm, 1.5g, PAVLUS.
VI. PONTIFEX. MAXIMVS portrait r. / A. JUB. 1975,
GEF
£20 - £30
2341
Para-numistatics, a collection of mixed Medallions to
include boxed and silver examples
£150 - £180
2342
Para - Numistamics, a box full of interesting medallions,
bagdes, etc. Needs careful sorting
£250 - £350
2343
Railway Centenary Medal, Stockton & Darlington
Railway 1825-1925, large bronze version 77mm by G.
Bayes, Eimer no. 2001, EF (with remainder of original
card box)
£80 - £100
2344
Reproduction of the Italian Renaissance bronze Isotta
degli Atti / Malatesta Elephant medal of 1446 by Matteo
de' Pasti, Rimini; two halves cast in base metal, joined,
with a bronze coating.
£20 - £25
2345
Rochdale Infirmary Nurses Badge to D. Smith
22.10.1922 - 22.10.1925 + 9ct. Gold & Enamel medal for
Rochdale Infirmary named to Dinah Smith & dated
1925, marked WJD 9.375 Birm. 1925. Weight of medal
with ribbon and unmarked gold bar 20.4gms in fitted box
marked for Rochdale
£230 - £240
2346
Rosbach 5th Nov. 1757 Medals (various sizes and
condition) (4)
£40 - £45
2347
Russia, Nicholas I bronze medal 1828 d.39mm, the
Capture of Varna, by G. Loos and H. Gube, EF, a few
spots of verdigris.
£80 - £85
2348
Scotland, Dumfries, hallmarked silver price medal, of
39mm., for Reliability Trial, June 1912, won by
J.R.Scott, a scarce, early motoring award, toned, EF
£40 - £60
2349
Scottish 18th. century farthing token of Edinburgh for
Thomsons Warehouse, Sailing Ship / Crown, D & H
129, scarce VF
£60 - £80
2350
Silver hallmarked fob L.B.C. 2nd Prize medal to Miller ?,
small silver & enamelled Golfing Medal engraved
'M.G.C. W C Reid 95-24-71 8th Feb 1919, plus a silver
button pin badge engraved to W C Reid (3)
£24 - £26
2351
Small lot inc Crompton Parkinson Ltd (Chelmsford firm)
long service badges, 2x hallmarked silver & enamel
(named), plus 3x gilt, in presentation boxes. With a silver
medallion 'Toogood & Sons' Southampton named &
dated 1900, and an Agricultural Workers Badge (7 items)
£24 - £26
2352
Somerset, Bristol silver 18th. century shilling token 1811
by Fras. Garratt, Wm. Terrell, Edwd. Bird, Lant.Beck
and Frans. H. Grigg, GEF
£85 - £95
2353
Somerset, Bristol silver 18th. century sixpence token 1811
by Fras. Garrett, Wm. Terrell, Edwd. Bird, Lant. Beck
and Frans. H. Grigg, GEF
£65 - £75
2354
Somerset, Bristol silver 18th. century sixpence token 1811
by R.Tripp & Co., EF
£70 - £80
2355
Suffolk, Bury St Edmunds, 17th. century token, by John
Purcus, 1664, D.72, well centred, VF/NVF, togeher with
a ditto but by Martin Seyden, 1666, D.73, a small piece
of edge taken by next flan, GF/NVF, both with old tickets
[2]
£25 - £30
2356
Suffolk, Long Melford, 17th. century farthing token, by
Thomas Hubbart, 1655, D.239, with old ticket, GF
£25 - £30