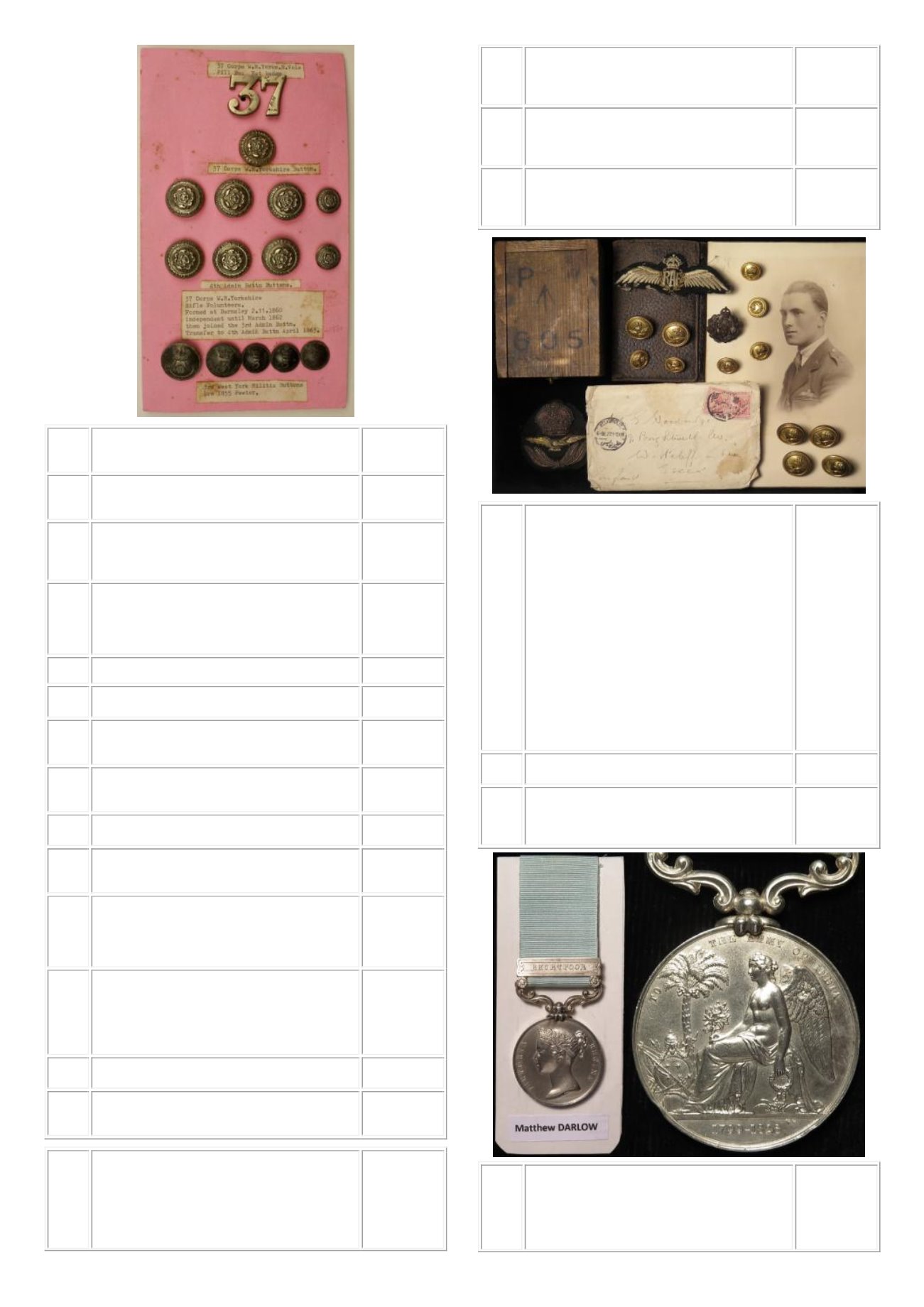 6
42
37th Yorkshire, West Riding Rifle Volunteer Corps, inc
Pill Box Hat Badge and buttons, plus 3rd West Yorks
Militia buttons pre 1855 in pewter (15) Rare
£100 - £120
43
42nd Foot (Royal Highlanders, The Black Watch) large
unmarked silver medal. Inter-Company Shield 1906 won
by "E" Coy, L.Sergt R Burnett. Weight 29.2 gms
£60 - £65
44
A box of modern books (9 hardback, 5 paperback)
dealing with the Cavalry in the Peninsular War and in
Belgium to Waterloo. All in good condition, most brand
new. Buyer collects.
£20 - £25
45
Abyssinia War Medal to 716 Corpl. J. Craney 26th Regt.
(Cameronians/Scottish Rifles) Joseph Craney served for
20 years and 347 days in the Army and appeared in the
Regimental Defaulters book 7 times and was tried by
Court martial 4 times.
£350 - £400
46
Adolf Hitler's 1939 German edition of mine Kamp
£45 - £50
47
Adolf Hitler's Mein kampf scarce English illustrated
edition by Hutchinson London
£25 - £30
48
Afghanistan Medal 1881 with Ahmed Khel clasp named
to 1360 Sowar Narain Singh 19th Bl Lancers. Contact
marks nVF
£100 - £110
49
Afghanistan Medal 1881 with Ali Musjid clasp, named to
195 Subadar Jeewan Singh B S & M. Confirmed to roll.
GVF
£100 - £110
50
Afghanistan Medal 1881 with Kabul clasp named to Lce
Duffr Bhag Singh 5th Punjab Cav'y. Tiny edge nick GVF
£100 - £110
51
Afghanistan Medal with bar Ali Musjid to 2153 Pte. C.
Hampshire 4th Bn Rifle Bde. Charles Hampshire was
born 1856 Wormshill, Kent.
£280 - £300
52
Afghanistan Medal with bar Charasia to 1973 Corpl. C.
Baillff 92nd Highrs. (2nd Gordon Highlanders) Papers
confirm slightly different spelling Charles Henry Balieff
was born Gibraltar enlisted in Dublin 28/09/1868 aged
14. Comes with full research.
£280 - £300
53
Afghanistan Medal with bar Kandahar to 511 Lce.
Corpl. A. Shaw 65th Foot (York and Lancs R) served as
a Signaller on Lines of communication thus only 22 men
from the Regt. entitled to this bar. Austin Shaw was born
Heeley Sheffield and attested age 20 years 9 mths on the
18/09/1876.
£280 - £300
54
Afghanistan Medal with bar Peiwar Kotal to 5656 Gr. P.
Ryan G/3rd R.A. Patrick Ryan verified to Roll
£280 - £300
55
Afghanistan Medal with bars Charasia and Kabul to
7952 Sergt E. McCanlis G/3rd R.A. Edward McCanlis
bars are verified to Roll
£380 - £400
56
Africa General Service Medal EDVII with Somaliland
1908-10 clasp (PO.11045 Pte G Slade RMLI HMS
Philomel), and Naval GSM GV with Persian Gulf 1909-
1914 clasp (PO.11045 LCE. Corpl G Slade RMLI HMS
Philomel). With copy service papers, born Bournemouth.
Medals and naming very polished but visible, otherwise
nVF, light contact marks (2)
£140 - £150
57
African General Service medal with Kenya bar and
general service medal with Cyprus bar both named to
Lieut J C Kirkland Gloucester reg comes with large
amount of research
£330 - £340
58
Air Force Cross: An exceptionally fine contemporary
tailors copy of the A.F.C. Reverse with the cypher of
George VI with its correct post 1919 ribbon. A quality
copy. Full size and weight.
£120 - £130
59
Air Ministry stamped Escape whistle RAF interest plus
"O" very fine enamelled sweetheart & a "B" Bombardiers
sweetheart in silver, last two possibly mess dress quality ?
GVF
£55 - £65
60
Albert Edward Woodbridge Royal Flying Corps - an
interesting and unique lot of personal items including
Portrait Photo, Wallet with photo, letter posted to Mrs S
Woodbridge of Brightwell Lane, Westcliffe on Sea, RAF
Wings, RAF peaked cap badge, and various buttons, with
a silver collar. Born Southend on Sea, educated at
Westcliff & Mercers School. It is believed that one of the
four Albatross
D.Vs
he and Donald Cunnell claimed on
6/7/1917 was piloted by Manfred von Richthofen who
was wounded in the head in the morning. Woodbridge
was himself Wounded In Action on 31/7/1917 but
rejoined his squadron going on to score three more
Victories. On 29/12/1917 2nd Lieut Woodbridge
received the Royal Aero Club Aviators Certificate 5696
on a Maurice Farman biplane at Ruislip. During a
London to India flight in 1929 he and two others were
killed when the Imperial Airways mail plane he was
piloting crashed in flames at Jask.
£150 - £200
61
American WWII stars & stripes flag, marked USN 1942,
maker Norfolk Virginia
£65 - £75
62
Army Air Corps, 1st and 6th Airborne, Parachute
Regiment and Combined Operations WW2 printed and
embroided cloth formation sign badges, shoulder titles
and rank insignia (8 items)
£70 - £80
63
Army of India Medal with bar Bhurtpoor to M. Darlow
14th Foot (W. Yorks Regt.) Matthew Darlow served in
the 4th Coy. of the 14th Foot and was born Odill,
Bedfordshire in 1798. Enlisted 24/05/1813 and served
23 years and 350 days until 20/09/1831. Comes with full
research.
£1000 - £1200