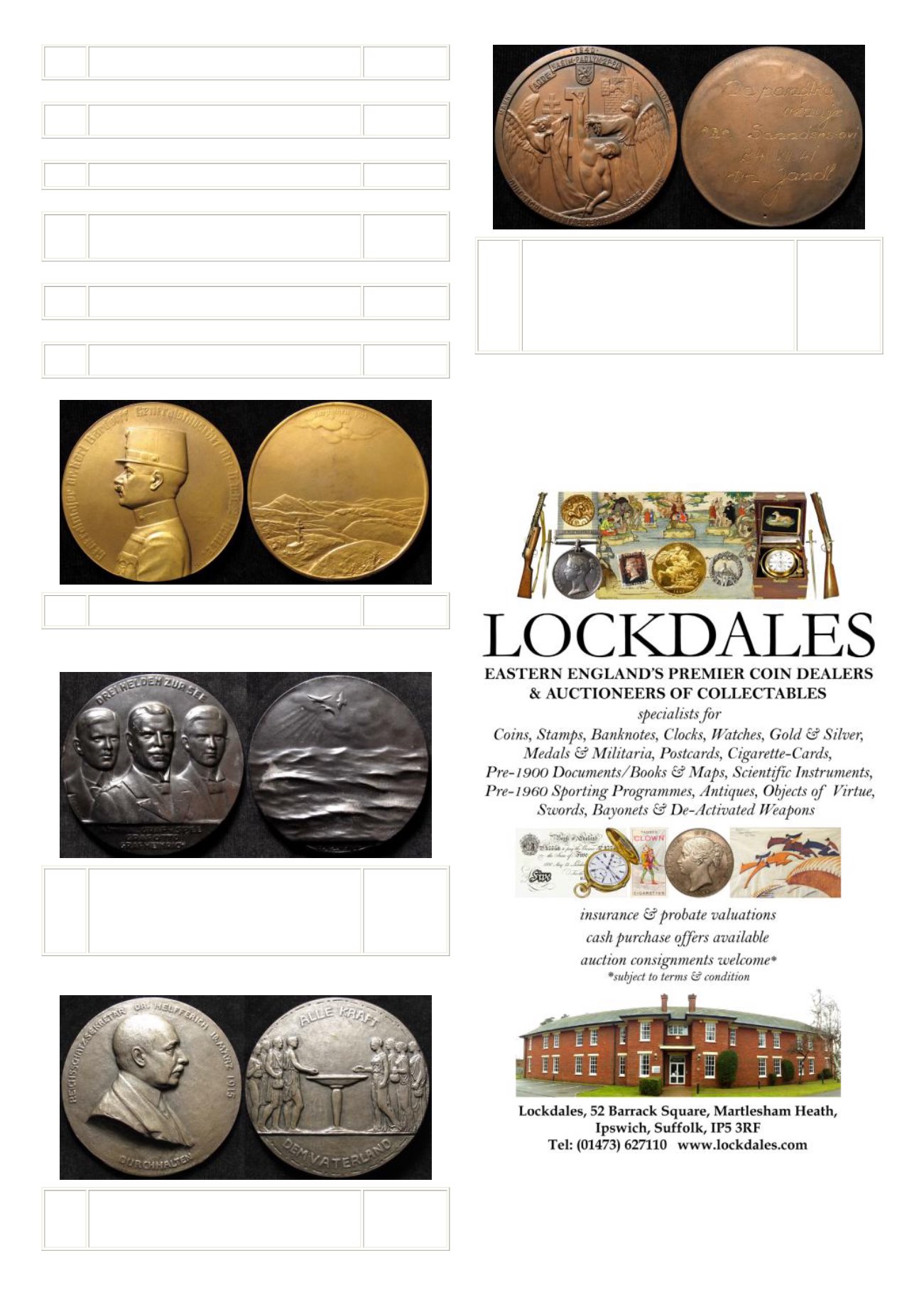 58
1413
Token, 19thC: Walsall, Joseph Parker druid head copper
penny 1811, very rare, GF
£60 - £70
1414
Token, 19thC: Walthamstowe / Landore industrial
copper penny 1812 VF, a few surface marks.
£30 - £35
1415
Toy money and gaming counters (39) assorted European.
£45 - £65
1416
Treasures from the Royal collection. A 26 piece set of
gold plated on silver replica stamps, some with patchy
toning and housed in a plush box with certificate
£100 - £120
1417
USA Hard Times Tokens (2): Webster 1841 VF, and
Liberty Head 1837 VG
£20 - £30
1418
West African 'Kissi Penny' iron bar currency (20) late
19thC
£50 - £70
1419
WWI Austro-Hungarian Medal bronze d.65mm: Major
General Karl Von Bardolff 1915 by O. Thirde, EF
£40 - £50
1420
WWI German Naval Memorial Medal, black metal
(bronzed cast iron?) d.108mm, commemorating the
deaths of Admiral Maximilian Reichsgraf Von Spee and
his two sons Graf Otto and Graf Heinrich on 8.12.1914
(at the Battle of the Falklands), EF with a light touch of
rust.
£40 - £50
1421
WWI German Political Medal, cast iron d.102mm:
Secretary for the Treasury of the German Empire Karl
Helfferich 10. March 1915 / 'ALLE KRAFT DEM
VATERLAND' (all power to the fatherland), EF
£40 - £50
1422
WWII propaganda bronze medal d.65mm by the artist
Geza Szobel, made whilst in exile with Czechoslovak
troops based in England. This medal commemorates the
men of the 2nd Czechoslovak Infantry Battalion who lost
their lives in the Battle of France in 1940, featuring an
allegorical image of Czechoslovakia crucified on a
swastika, with angels lamenting. EF with original case,
made in Birmingham.
£40 - £60
End of Auction in Room 2, Day 1