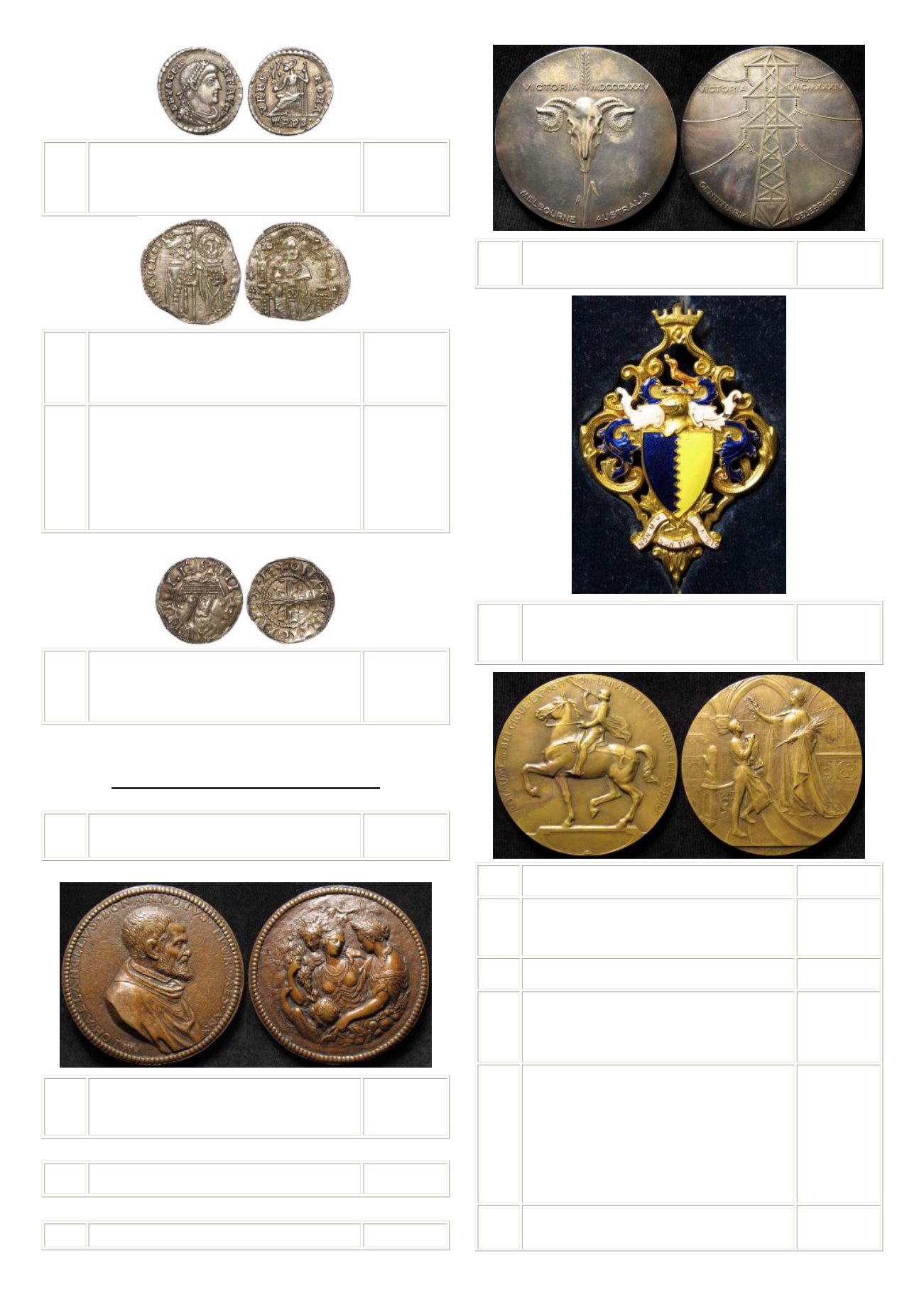 53
1292
Valens silver siliqua, Trier Mint 368-375 A.D., reverse:-
VRBS ROMA, Roma enthroned left, holding Victory on
globe and resting on long sceptre, in exergue TRPS
followed by dot, Sear 19675, full, round flan, well centred
and no cracks, EF
£75 - £100
1293
Venice silver grossoof Antonio Venier 1382-1400,
obverse reads:- 'SM YENETI ANTO VENERIO'around
the Doge on the left, standing right, presenting banner to
St.Mark on right, 'DVX' between, reverse:- Nimbate
Christ facing , Scarfea 131, egg shaped flan GVF/EF
£40 - £50
1294
Venice, Tomaso Moncenigo, soldino, NVF, English
Jeton, Cross fleury in tressure / Cross Moline type, rare,
NVF/VF, French jetons, King under canopy / Cross
fleury and Shield of France / Cross fleury types,
VF/GVF and GF, Boy Bishop token, Mitre / Cross and
pellets type, slight damage down one side, F, 2 x Charles
I Richmond farthings, both dull, VF, ditto but a
Maltravers issue, GF and lastly 4 x Rose farthings, F to
VF all sold with old finds tickets [12]
£60 - £80
1295
William I silver penny, Bonnett Type, Spink 1251,
obverse reads:- +PILLEMV REX, reverse reads:-
OVDGRIM ON EOFE ['D' with thorn], York Mingt,
moneyer Othgrim, sold with old ticket, full, round, well
centred, lightly crinkled and cracked, GF
£350 - £375
Exonumia : Tokens & Medallions
1296
Arabian Commemorative Medals (4) 1970s silver, bronze
and base metal, including Dubai material, with original
cases.
£50 - £60
1297
Art Medal, cast bronze d.98mm depicting Michelangelo
Buonarroti, a large impressive piece, date of manufacture
unknown. GVF with an old case by Bravingtons, Kings
Cross. Ex-DNW.
£125 - £150
1298
Assortment of Silver medallions/stamps on covers. (good
silver content)
£100 - £120
1299
Australia Penny token "Hank & Lloyd" 1855 Tn84 GF
£30 - £35
1300
Australian Commemorative Medal, silver d.63mm:
Victoria Centenary Celebrations 1934, toned EF with
original case.
£200 - £220
1301
Battersea Metropolitan Borough Council medal, in fitted
case, medal named 1937-38 Mrs A Miles. Her husband ?
H W J Miles was Mayor 1937-38. (medal with test marks
to reverse) otherwise GVF
£40 - £50
1302
Belgium, Brussels Exposition Universelle 1910 Medal,
bronze d.70mm, by Devereese, EF patchy tone.
£40 - £50
1303
Birmingham & Swansea [Rose Copper Company] penny
1812, Withers 277, GVF and ditto but Birmingham &
South Wales penny 1812, Withers 180-197, EF with
lustre [2]
£40 - £45
1304
Birmingham, Day's Crystal Palace Concert Hall
Threepence token 19thC brass d.32mm, VF
£30 - £40
1305
Boy Bishop cast leaded token of large size, obverse
depicts a Bishop's mitre, the reverse although of large size
imitates a mediaeval groat, both sides looking to have
pseudo-legends, these have at times been read, sold with
old ticket, large, well centred, scarce, GF
£60 - £80
1306
Boy Bishop cast leaded token with an old ticket which
states of 'Bury St. Edmunds' the piece is roughly of
mediaeval groat size and the reverse similar to same but
superimposed at centre a large cross, no legend being
visible. Again with the obverse no legend is visible but
there is a central mediaeval ship which has lead some
numismatists to reason that these are in fact coin weights.
I think not, you would not produce a coin weight in lead
for obvious reasons, loss of correct weight. It has been
put
£50 - £70
1307
Boys Brigade and Scouting badges, an old range of
enamel badges, BB side hat, and large Scouting banner
(qty) Needs viewing
£80 - £85