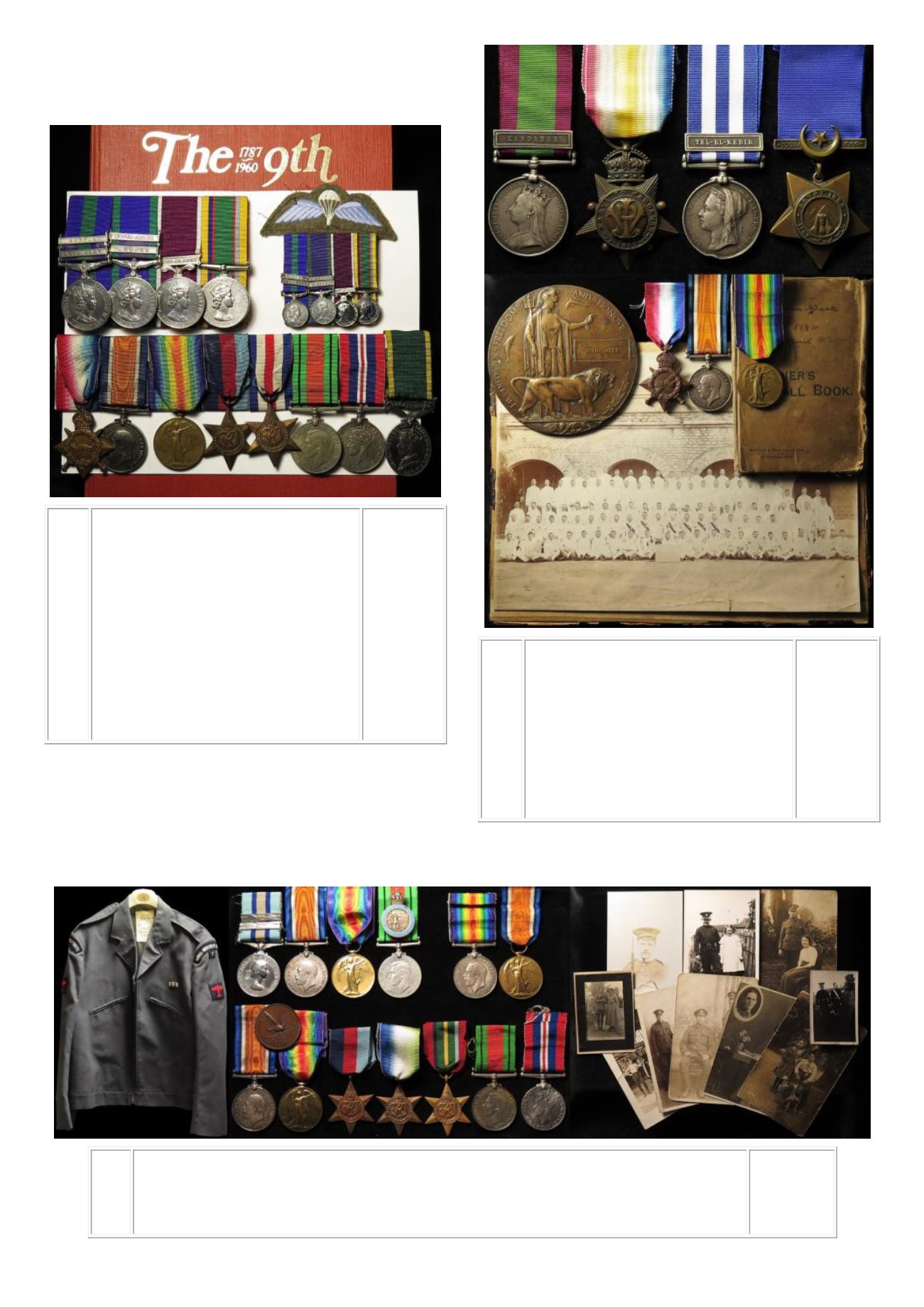 12
228
Family groups - 1) 1915 Star Trio (15522 Pte W J Jones
L'Pool R), 1939-45 Star, France & Germany Star,
Defence & War Medals, GVI Efficiency Medal with
Territorial clasp (Lt.Q.M. W J Jones RE). Group 2) GSM
QE2 with bars Near East/Cyprus (22272828 Sgt B W
Jones RE), CSM QE2 with bars Radfan/South Arabia
(22272828 S.Sgt B W Jones RE), QE2 Regular Army
LSGCM (22272828 W.O.2 B W Jones RE) and Cadet
Forces LSM (Capt B W Jones ACF) + four miniatures.
Brian "Jungle" Jones is mentioned in the book "The 9th"
Royal Engineers by Tom Purves several times including
a photo of him and stating that he was a Signals Sergeant.
Copy of book with lot. Jones left the army in 1973 to
Command a Cadet unit in the Liverpool area before
accepting a Regional appointment. During the Suez
Operation the Squadron was part of the 16th
Independent Parachute Brigade. VF-GVF (12+4)
£400 - £450
229
Family groups - 1) Afghanistan Medal with Kandahar
clasp (58B/2678 Pte W Meek 72nd High'rs), Kabul to
Kandahar Star 1881 (impressed 58B/2678 Private W
Meek 72nd Highlanders), Egypt Medal dated 1882 with
Tel-El-Kebir clasp (502 Drummer W Meek 1/Seaforth
High'rs), Khedive's Star 1882 (engraved Dm'r W Meek
1/Sea: Hrs). With copy service papers, born Airdrie,
Lanarkshire. Group 2) 1915 Star Trio, Death Plaque and
Soldiers Small book to 8194 Pte John Meek Dorset Regt,
Died 25 August 1915 with the 2nd Bn. Buried Basra War
Cemetery, Born Cowes, Isle of Wight. Lot includes
copied research, and two large photos. Small edge bump
to Egypt Medal otherwise VF-GVF (7+1)
£800 - £850
230
Family groups - 1) BWM & Victory Medal to 3785 Sjt Reginald Cripps Herts Regt Died of Wounds 10 July 1917 serving as 266124,
born Hemel Hempstead, buried Lijssenthoek Military Cemetery. 2) BWM & Victory Medal to 205983 Gnr W Cripps RA. 3) BWM
& Victory Medal to 4815 Pte S Cripps Herts Regt plus Defence Medal boxed and Royal Observer Corps Medal with 2x bars, boxed
(Observer S P Cripps). 4) WW2 Naval group (unnamed) 1939-45 Star, Pacific Star (missing a Burma clasp), Atlantic Star, Defence
& War Medals. With an Observer Corps lapel badge, Jacket with cloth badges 7/R.O.C. and a John Dickinson Peace Medal 1919
and various photos (qty)
£250 - £300