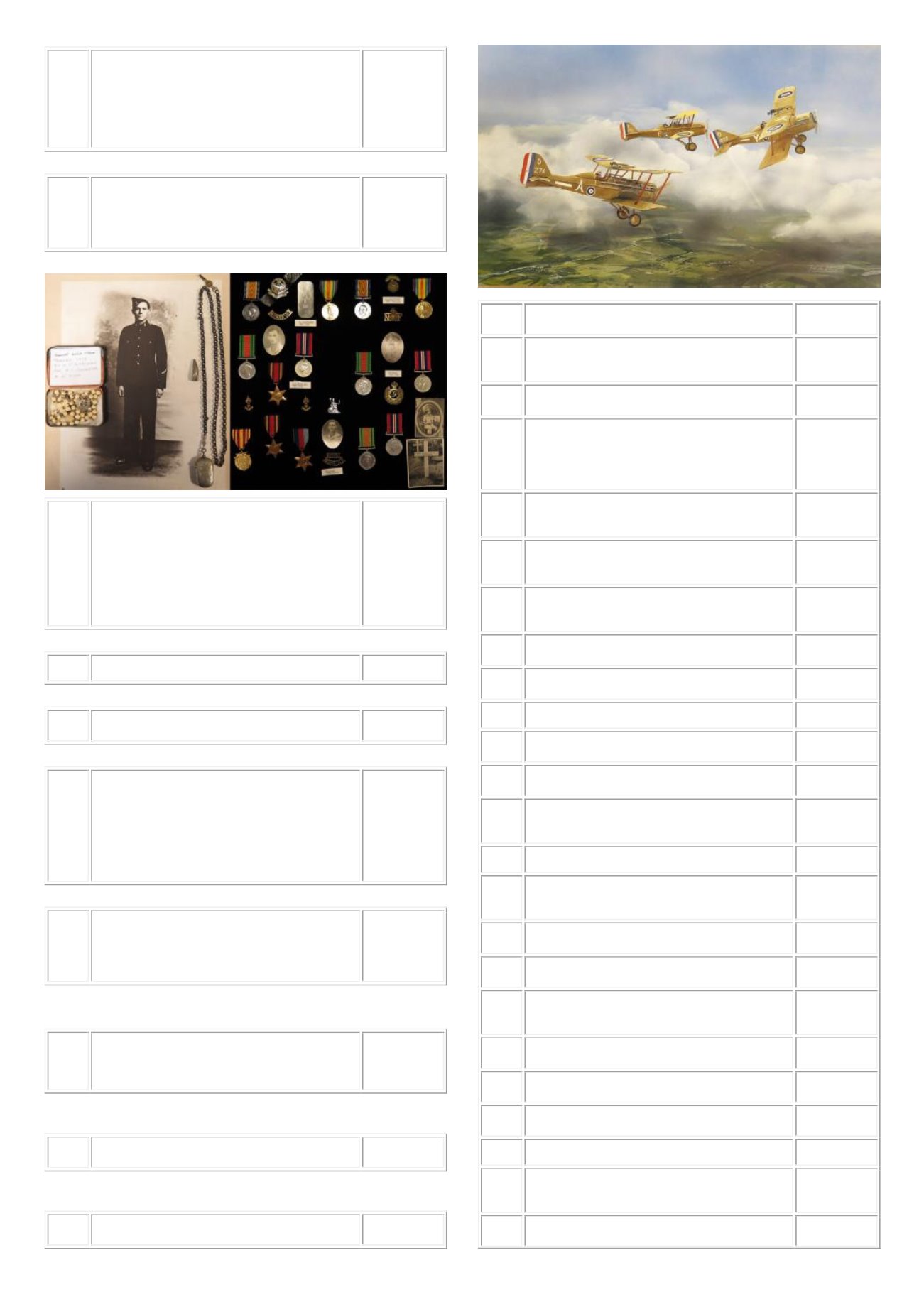 13
231
Family items - BWM & Victory Medal. BWM named
W.O.2. G F W Thomas RNAS, the Victory Medal is
named F.6639 G F W Thomas C.P.O.3.RNAS. With
copy service papers, born Bristol. Together with his
brothers Mentioned In Despatches Certificate 50212 Pte
A E V Thomas 6th Bn S.Lanc Regt, MID 7/2/1919, and
a framed photo.
£70 - £75
232
Family medals - BWM to 18340 Pte T H Colclough
North'D Fus. With Defence & War Medals, GVI
Efficiency Medal with Territorial clasp to 895566 CFN
R Colclough REME. And a Womens VSM cased with
letter dated 1962 to Mrs Colclough, and arm band. (qty)
£40 - £45
233
Family medals - BWM & Victory Medals (14233 Pte H J
Goodman Middlesex Regt), BWM & Victory Medal to
61332 Pte William Henry King Northumberland Fus
(Died of Wounds with the 1st Bn 19/4/1918, born Bow,
London. Buried Lapugnoy Military Cemetery). 1939-45
Star, Burma Star, Defence & War Medal attributed to
5773440 L/Cpl Sidney Arthur King 2/Norfolk Regt
Died 4/5/1944 buried Kohima War Cemetery. And two
other WW2 unnamed groups, plus research (14)
£140 - £160
234
Finland a 1918 War of Liberation medal. GVF
£45 - £50
235
Fire Brigade LS Medal QE2 named STNOFFR Thomas
McCowie. GVF
£30 - £35
236
Flight Lieut Thomas Ralph Spence RN. Lot includes an
engraved German East Africa Coin 7/7/16, plus a 25
Elementary Flying Training Sch medal dated 1944. With
his copied service papers revealing that he was a
'Seaborne Kite Balloon' Officer on anti submarine duty
with HMS Manica. Mentioned In Despatches 3/6/19.
Lived Beckenham, Kent. (see also medal to J B Spence
Colonial Special Constabulary).
£30 - £40
237
Flying leather Helmet No 3, earphones numbered 'REF
No10A/13466'. With Goggles and mouth piece 'REF
No10A/12570'. Plus A/M marked Connector 'REF
10H/4387 Type 2091'. With an adult Flying Overall
'Size 7 22.C/1143' and W/D marked.
£100 - £120
238
Foreign medals, Malaya Kerana Perkhidmatan Am
service medal, Iraq King Faisals War medal, Rhodesia
GSM, Serbia Balkans War 1913, Victory medal WW1
Pautot version all about GVF
£70 - £80
239
Formation Sign Badge to WW2 20th Armoured Brigade
- Scarce
£30 - £35
240
Formation Sign Cloth Badges & Shoulder Titles WW2
and later (approx 150+)
£70 - £75
241
Framed and glazed watercolour by G.W.Hutchins and
signed thus, entitled 'SE5A Patrol', size 28'' x 20''
£150 - £175
242
Framed Collection of Airborne & Special Forces badges
WW2 and later, 68x cloth and metal badges (buyer
collects)
£60 - £65
243
Framed Collection of Commando & Royal Marines
WW2 and later badges (approx 64) Buyer collects
£60 - £65
244
Framed Players Kings & Queens of England 1935 set
with an original Commission Scroll awarded to William
Baverstock, to be Chaplin to the Durham Yeomanry
Cavalry 29 August 1801 (Buyer collects) Items have
moved in the frame a/f
£40 - £45
245
Framed Players Old Naval Prints set 1936 with original
signature of King William IV who served in the Royal
Navy. Plus another Naval frame (2) Buyer collects
£70 - £80
246
Framed Players Victoria Cross set 1914 mounted in
frame with original Victorian Commission Scroll Lieut of
37th Foot 31st August 1855 (buyer collects)
£30 - £35
247
France - Patriotic labels of WW1, Charity, Patriotic,
Regimental, anti-German, etc. Mint colourful lot. Scarce
(approx 114 items)
£30 - £35
248
France a Tonkin Chine (China) & Annan 1883-1885
campaign medal, detail polished. VF
£45 - £50
249
France a WW2 1939 Croix de Guerre and a Giraud 1943
Tunisian campaign Croix de Guerre. GVF
£90 - £100
250
France an Italian 1859 campaign medal in silver. GVF
£35 - £40
251
France St Helena medal for Napoleons veterans of the
Grande Armee. VF
£35 - £40
252
Free French Forces (F.F.L.) WW2 Parachute & Wings
Bullion embroidered badge
£30 - £35
253
Frontier Force ? Regt unmarked silver collar badge, V/M
silver DLI collar badge & Welsh Regt silver & gilt collar
badge (3)
£40 - £45
254
General Service Victorian swagger stick - thimble top
£20 - £22
255
German 13 March 1938 medal in case with award
document to Christian Schwarz 2 battery Artillery
Regiment 46 awarded 17-2-1939
£90 - £100
256
German 13 March 1938 medal with award document to
Oberstleutnant A.D Gottried Heyszl
£55 - £60
257
German 1936 Berlin Olympics pin and lapel badges,
light enamel chips noted (2)
£40 - £45
258
German 25 year faithful service medal with award
document to Postinspektor Alfred Schneider awarded 26
October 1938
£65 - £70
259
German Adolf Hitler bust on wooden Plaque about A5
size. GVF
£45 - £50
260
German Alpine troops Heeresbergsfuhrer enamelled
breast badge with Deschler & Sohn maker marks. VF
£70 - £80
261
German arm shields, a Krim and Cholm, one with
backing plate. GVF
£70 - £80
262
German Army Fallscrimjaeger war badge, toned. GVF
£190 - £200
263
German badge assortment, Ski sidecap badge, a Panzer
Assault badge (white metal) and Demjansk lightweight
shield
£90 - £100
264
German Battle flag, larger size, faint stampings to edge,
inc 1942, worn / used condition
£120 - £130