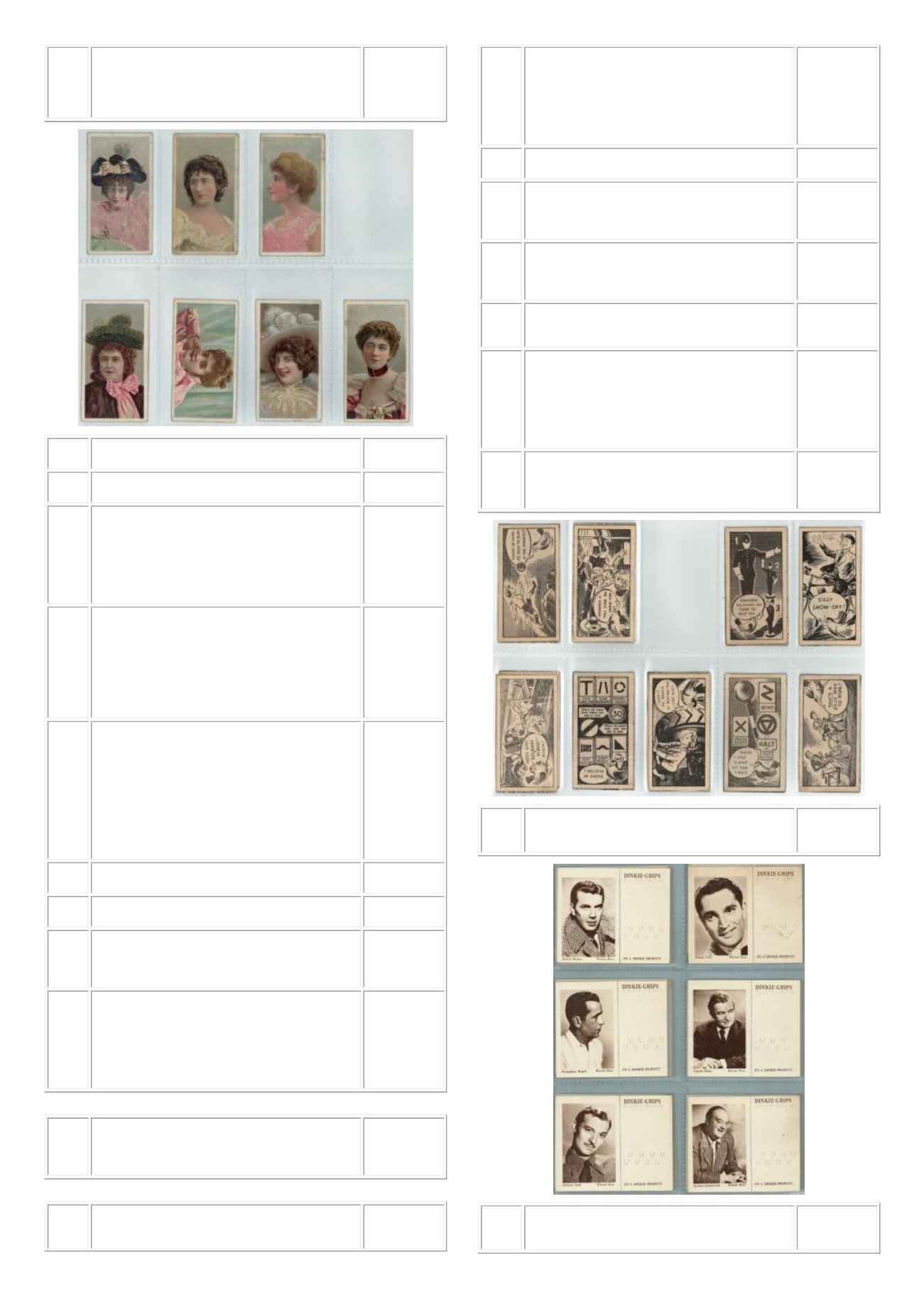 132
2834
Collection of approx 120 early cards contained in pages,
issuers include Ogden, Will's, Woods, Hills, Player,
Smith, Churchman, Cohen Weenen, Lambert & Butler,
Gallaher, Clark's, etc mixed condition but very high cat
value, needs viewing
£70 - £80
2835
Collection of Beauties 'HOL' 7 different, 4 x Lambert &
Butler & 3 x Ogden F - G cat value £215
£30 - £40
2836
Collection of cards contained in pages, mixed condition,
approx 161 cards cat value £638
£60 - £70
2837
Collection of cigarette cards and trade cards complete sets
and part sets housed in 6 modern albums; incl complete
sets Players Ships Figureheads; Morris Measurement of
Time and Victory Signs, United Kingdom Tobacco
Chinese Scenes, Rothmans Beauties of the Cinema, etc,
others by Lloyds, Milhoff, Morris, Moustafa, Murray,
Rothmans, Pattreiouex etc (qty)
£130 - £140
2838
Collection of Gallahers cigarette cards, housed in 2
modern albums with complete and part sets including:
Army Badges, Trains of the World, Signed Portraits of
Famous Stars, Champions of Screen and Stage, Shots
from Famous Films, Film Partners, Film Episodes,
Famous Film Scenes, My Favourite Part, Racing Scenes,
Sporting Personalities, Famous Jockeys, Trains of the
World, plus many more, better noted (qty)
£36 - £38
2839
Collection of Lambert & Butler cigarette cards complete
sets and part sets housed in 2 modern albums, including
complete sets of Motor Cars, Motor Index Marks, Pirates
& Highwaymen, Third Rhodesian, Famous British
Airmen & Airwomen, etc; part sets of Motor Cycles
(49/50), The Thames (45/50), Winter Sports (17/25),
Wireless Telegraphy (22/25), Aviation (19/25), Dance
Band Leaders (20/25), Hints & Tips for Motorists
(15/25), How Motor Cars Work (15/25), Empire Air
Routes (48/50) etc (2 albums)
£48 - £50
2840
Collection of old cigarette cards in early slide in albums,
better noted (4)
£25 - £30
2841
Collection of sets, part sets & odds contained in 4x
modern albums, mixed condition but many G or better
£55 - £60
2842
Collection of Stephen Mitchell cigarette cards complete
sets and part sets housed in a modern album, including
Seals complete set, River & Coastal steamers part set
(39/70) etc
£28 - £30
2843
Collection of Will's early cards in large sheet, Sports of All
Nation x 7 (1 duplicate), Indian Regiments (Overseas
issue) x 3, Soldiers of the World (Ld back) x 1, Loco &
Rolling Stock (with clause) x 1 & Ships (Three Castles
back x 6 & Wills on front x 1) mixed condition (slight back
damage on Ships although fronts VG) viewing
recommended cat value £300+
£40 - £50
2844
Competition/ Advert cards, 10 in total, from various tea
issues, includes Lyons, Barbers, Home & Colonial,
Brooke Bond, Reddings & Hornimans, some scarce
items, mainly G - VG interesting lot
£26 - £30
2845
Complete sets (2) Police related, Cope - The World's
Police VG - VG+ & Will's (overseas issue) Police of the
World mixed condition, mainly F, cat value £375
£70 - £80
2846
Continental trade issues, 2 complete trade sets, La Guerre
Mondiale 1914-1918 issued by J A Laane (Belgium) set of
70 stuck in official album & a set issued by Victoria
Chocolate Biscuits (Belgium) consisting of 240 cards
showing various countries buildings, flag & stamps,
contained in original corner slot album, mixed condition
but unusual as a complete set, worth viewing
£30 - £40
2847
Cope, Lawn Tennis Strokes complete set 1-25 & 26-30,
part set (missing no.26) G - VG cat value £275
£60 - £70
2848
Crate containing large quantity of cards in various tins,
boxes, bags, envelopes, etc not checked for sets, 1000's of
cards, mixed condition, worth looking through BUYER
COLLECTS
£80 - £100
2849
Crate containing quantity of sets, parts set & odds in all
sorts of albums, better items noted (e.g. CWS Poultry),
mixed condition, many G - VG, worth a look BUYER
COLLECTS
£80 - £100
2850
Crate containing sets, part sets & odds in boxes, bags,
envelope, loose, etc worth a sort through! BUYER
COLLECTS
£80 - £100
2851
Crate containing vintage & modern albums with cards in,
several better items noted in the older albums, together
with a box file full of cards many of which are in very good
condition, may well be sets but these have not been
checked, a careful look through will be rewarded, there
are also several empty mint Brooke Bond albums.
Altogether an interesting lot
£120 - £140
2852
Cricket collection sets, part sets & odds from Will's (1901
x 14, 1896 x 1, 1907 small 's' x 71 & large 'S' x 37),
Pattreiouex, Phillips, Smith, etc large quantity in mixed
condition, mainly G - VG high cat value, worth viewing
£100 - £120
2853
Daily Express, Safety First, part set 9/10 (missing no.3) +
3 duplicates, cut from sheet, G - VG not listed or
catalogued scarce/rare?
£24 - £30
2854
Dinkie Products, complete sets in pages, being Stars &
Starlets 1st series & Warner Bros Artists 4th series, VG -
EXC cat value £192
£60 - £80