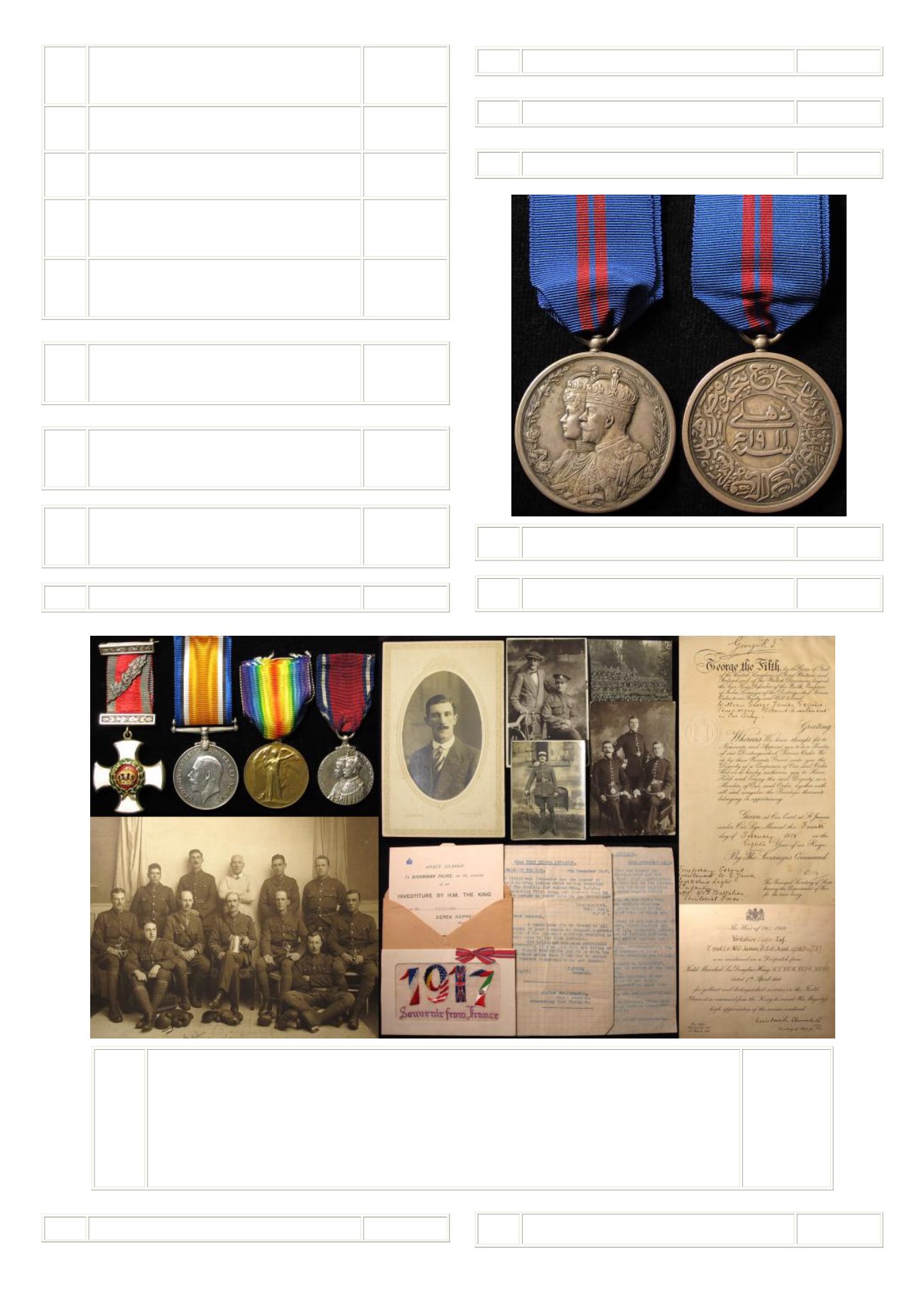 15
354
Death Plaque and Scroll with addressed tube to L/7512
Pte Thomas (Sydney) Patchen 2nd Bn R.Sussex Regt.
Killed In Action 23/12/1914. Born Seaford, Sussex. On
the Ypres Memorial
£50 - £55
355
Death Plaque named George Robert Gray, three
possibles, a Lieut in the RFC, a Pte in the 54th Bn AIF or
a Pte in the 1st Bn S.Wales.B.
£55 - £60
356
Death Plaque to 13679 L/Cpl Benjamin Aves 11th Bn
Suffolk Regt. Born West Row, Suffolk. Killed In Action
17th Oct 1917. On the Tyne Cot Memorial.
£50 - £55
357
Death Plaque to 201014 Cpl Stanley Dolphin "C" Coy
2/6th Bn R.Warwickshire Regt. Killed In Action 5th
Sept 1917. Lived Bromsgrove. On the Tyne Cot
Memorial. (1) Unique Name
£40 - £45
358
Death plaque to 2448336 Pte Frederick Alfred Nicholls
1st Bn Canadian Infantry. Died of Wounds 28th Sept
1918. Buried Bucquoy Road Cemetery, Ficheux.
(Unique name)
£55 - £60
359
Death Plaque to 31007 Pte John Catlyn 1st Bn
Bedfordshire Regt. Killed In Action 6th July 1917, born
Old Buckenham, Norfolk. Buried Roclincourt Military
Cemetery
£50 - £55
360
Death Plaque to 3/4794 Pte Bertram Benjamin Farmer
1st Bn D.O.Cornwalls L.I. Died of Wounds 13/12/1914.
Buried Nieuwkerke Churchyard. Born Bromley-By-Bow,
London. (Unique name)
£55 - £60
361
Death Plaque to 421480 Cpl John Titmarsh 10th Bn
London Regt. Killed In Action 9th July 1917, born Stoke
Newington, Buried Derry House Cemetery No2,
(Unique name)
£50 - £55
362
Death Plaque to Frederick Sanders
£40 - £45
363
Death Plaque to George Jordan. Verdigris to rev and obv
£35 - £40
364
Death Plaque to Harry Parkin
£40 - £45
365
Death Plaque to John William Barr
£40 - £45
366
Delhi Durbar Medal 1911 in silver, unnamed as issued.
GVF
£60 - £65
367
Delhi Durbar medal 1911 named to staff sgt g a griffin s
& t corps
£80 - £85
368
Distinguished Service Order group to Captain William George James 2/5th Bn K.O.Y.L.I. Later becoming a Police
Inspector, Bath City Police, leaving the force 18/11/1945. (Lived Combe Park, Bath. Born Gloucester). Medals - DSO GV
(with case) MID to ribbon with top pin bar, BWM & Victory Medal, 1935 Jubilee Medal (plus Certificate). Lot includes much
original paperwork inc WW1 letters, photos, postcards, DSO Scroll, MID Certificate 7th April 1918. DSO for bravery
November 1917, citation reads "He crept through the enemy wire right up to their trenches, located and marked existing gaps
and cut other gaps. In the attack he led his platoon across about 300 yards of open ground into the enemy trenches, and with
two men killed 18 men of the enemy. Later he took command of the battalion owing to heavy officer casualties, and with both
flanks exposed he held the enemy in check until reinforcements could reach him, he showed splendid courage and initiative".
DSO with minor chipping, rest EF. A superb lot, well worth viewing (see also other family Trio 7866 Sjt Henry Ernest James
Gloucester Regt in this auction)
£1800 - £2000
369
Dunkirk 50th anniversary medal original example
£45 - £50
370
Dutch Orde van Oranje-Nassau, Officers class. Silver
and enamelled. Small chips to enamel noted
£30 - £35