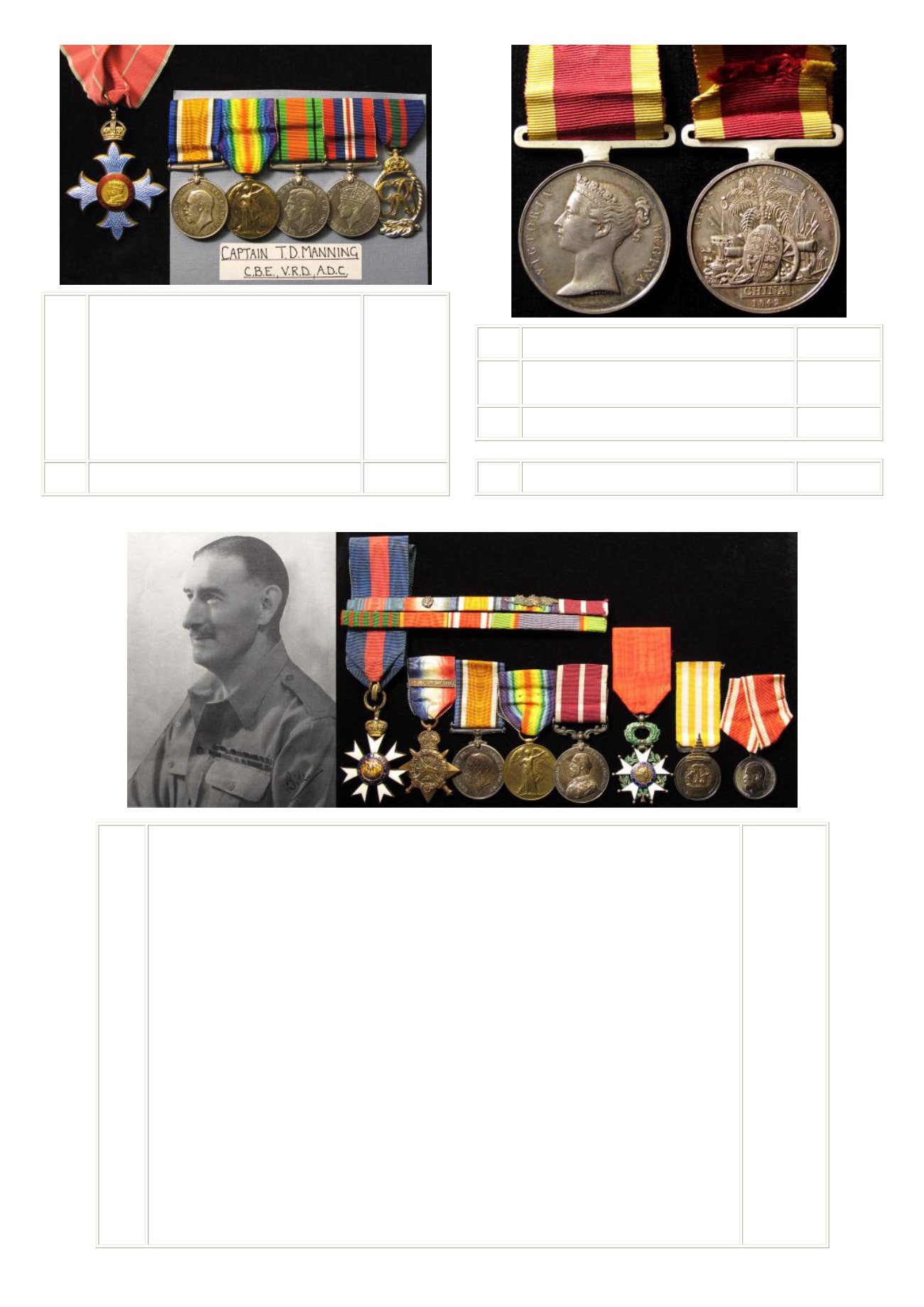 13
309
Captain Thomas Davys Manning CBE, VRD, ADC.
Manning was an Airship Pilot and Intelligence Officer
(RN Airship Station, Polegate), received Royal Aero
Club Aeronaut Certificate No 137 on 19th Oct 1917.
Son of Dr T D Manning of Hoddesdon, Weymouth.
Served Anti-Submarine Warfare during 1940, then as
Assitant to Second Sea Lord. Com. Sussex Div RNVR
1946-51, and an ADC to H.M. 1949-51. CBE (Mily)
1950. With research. Medals - CBE (Mily), BWM &
Victory Medal (Lieut T S Manning RAF), Defence &
War Medals, and Royal Naval Volunteer Reserve
Decoration dated 1939. EF (6)
£600 - £700
310
Cardiff City The Great War 1914-19 Special Police
Medal. Made by Crouch of Cardiff. (32mm)
£20 - £25
311
China War Medal 1842 (later suspension) named to
Jessie Hill 49th Regiment Foot. VF
£400 - £450
312
China War Medal 1900, silver, named 31682 Gnr P
Tracey 62nd Coy RGA. With copy medal roll, Toned
EF
£160 - £170
313
Cigarette case for Winstanstow, Shropshire with initials
GM and "Peace Gift" VF
£30 - £35
314
Cloth should titles, Div patches, Naval badges, etc (qty)
Better noted
£40 - £45
315
CMG group to William Alfred Millner Doll (son of the famous Charles Fitzroy Doll JP who designed the Imperial Hotel in
Russell Square, helped design the India Office in London, later Mayor of Holborn. The family lived at Hadham Towers in
Much Hadham, Herts). Doll was educated at Charterhouse (Scholar), Trinity Hall Cambridge (Scholar), Bonn, Friedburg,
Geneva and Florence, and worked for N M Rothschild & Sons. Served WW1 and was MID, MSM, and awarded orders of St
Anne and St Stanislas 3rd Class. Served Inter-allied Commission in Bulgaria 1925-30, British Delegate 1926-30, Pres 1926
and 1929, Financial Observer State of Parana Brazil 1930-33, negotiated for Metropolitan Vickers financial agreement with
Govt of Brazil for electrification of Central Railway 1933-34, Financial Adviser Ministry Siam 1936-42 (Order of Crown of
Siam 1st Class). Advisory Attaché Bank of England 1942-45, Financial Member of the De La Warr Mission to Ethiopia 1944,
Currency Advisor to Lord Louis Mountbatten's Command. South East Asia 1945-46. Financial Advisor to Siamese
Government 1946-51, Legion d'Honneur 1950. Died 1977. He had two brothers who fought during WW1, Lieut P W R Doll
Machine Gun Officer 1st/8th Bn Liverpool Regt KIA 31/10/1914, and Capt M H C Doll 13th Hussars WIA. Doll was
awarded his MSM for Valuable services in Russia ("E" Dover) L/G 3rd June 1918. CMG L/G 1st Jan 1943. Order of the
Crown of Thailand Grand Cross L/G 10th Jan 1941. 2nd Lieut W A M Doll was originally attached to 1/9th Gurkha
Rifles as an Interpreter in Sept 1914. He was later sent home by the C in C France in June 1915 as it was considered
undesirable that he should remain with any unit in France as he was married to a German lady, and his feelings were
influenced on that account. He arrived in England on the 9th June 1915. He was interviewed on the 17th June and was duly
called upon to resign his commission. He appealed against this decision all the way to the King who was advised by Kitchener
to deny the appeal. On the 3rd August 1915 an application for a temporary commission was submitted by the Mayor of
Fulham, on the application it was stated that Mr Doll had resigned his former commission as he desired to join a combatant
branch of the service. This statement was incorrect and the Mayor was informed. In Oct 1915 Mr Doll requested that his case
be reconsidered, with a view to reinstatement, or as an alternative that he might be permitted to enlist. The case was carefully
reconsidered, Lieut-Col Widdicombe the former C.O. being personally consulted, It was decided that Mr Doll could not be
recommissioned but that no obstacle would be placed in his way if he wished to enlist. In Oct 1918 the G.O.C. in C.
Northern Russia Expeditionary Force reported that a commission had been granted to Sergt W A M Doll. This NCO was
Gazetted to a Temp Commission on the Special List as a 2/Lieut with effect from 16th Oct 1918 (L/G 7/1/1919). It was not
known that Segt Doll was the same former 2/Lieut of the same name. Doll was well respected by the G.O.C in C Archangel.
The lot includes as mass of copied correspondence relating to this very interesting Officer. Medals - Order of St Michael and
St George (Companion) (minor enamel damaged), 1914 Star Trio with clasp (2.Lieut W A M Doll on Star, Captain on Pair).
GV Meritorious Service Medal 111486 A.Sjt W A M Doll RGA (correction to Regt). Legion d'Honneur (minor enamel
damage), King Bhumibol Adulyadej Coronation Medal 1950 (Thailand). Russian Medal for Zeal. VF some with minor
enamel damage/selotape marks. Plus original ribbon bars (8) (see Dolls miniature group also in this Auction)
£700 - £800