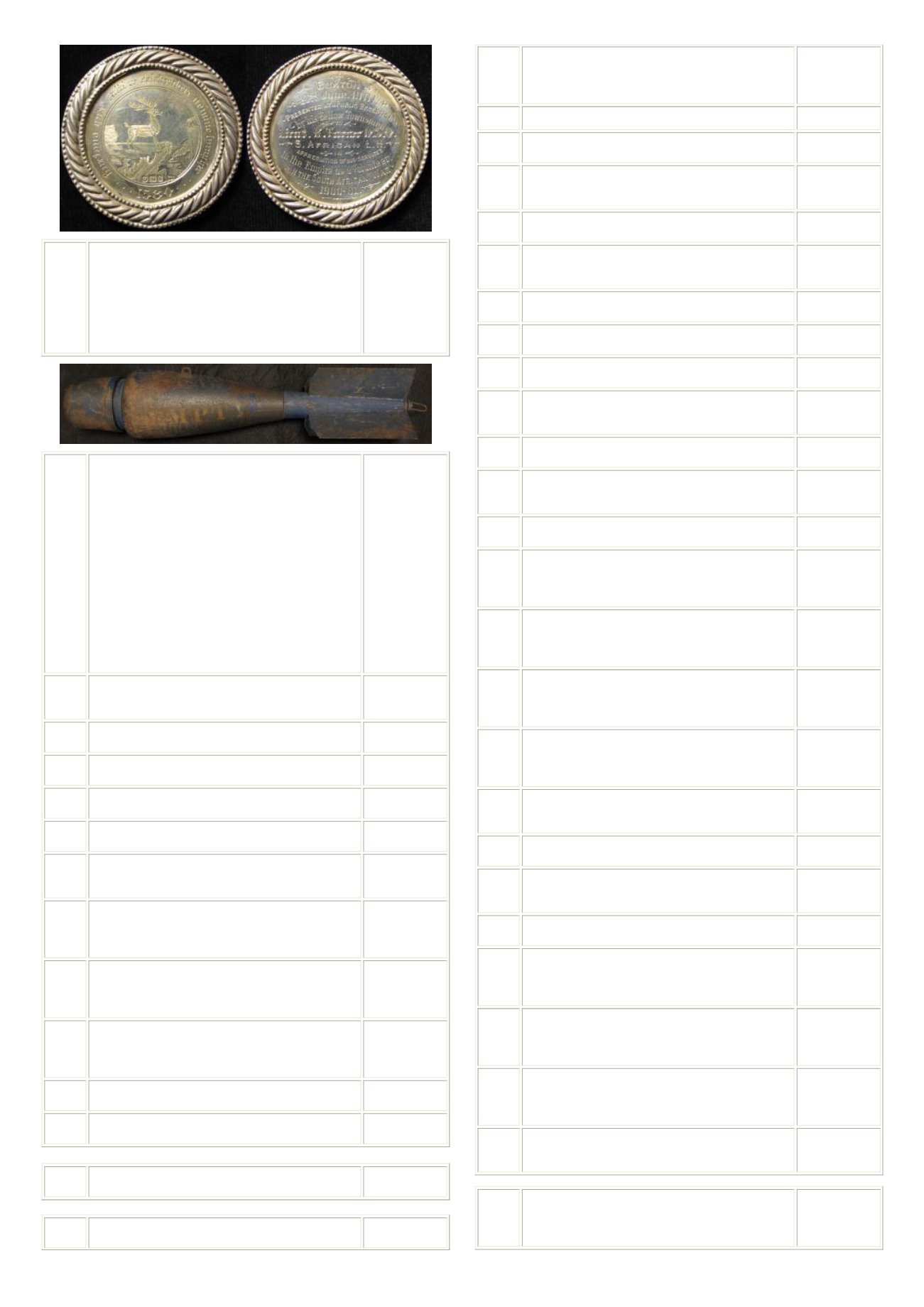 10
174
Boer War Tribute Medal, engraved hallmarked silver
contorniate with a thick decorative border, d.65mm:
Image of a stag at a cliff's edge, 'Buxtona quae ralidae
celebrabere nomine Triumphae(?), 1580' / 'Buxton, 21st
June 1901. Presented at a Public Reception by his Fellow
Townsmen, Lieut. R. Turner D.S.O., S.African L.H.,
Appreciation of His Services In the Empire as a
Volunteer in the South African War 1900-01', EF
£80 - £120
175
Bomb: An extremely rare and fine example of a WW1
British 20 LB Cooper's high explosive, steel cased aerial
bomb. This example is entirely original. It has its original
blue colour and 'EMPTY' is stencilled in white on the
body. The protective nose cone unscrews to reveal the
propeller fuse which in turn unscrews from the main
body. The rear section also unscrews from the main
body, and contains a metal base attached to a wooden
shaft with four metal fins and a screw steel pommel. The
main body has a lug affixed for attaching to the aircraft.
These H.E. bombs were used against infantry, strong
points and transport. This example is complete with no
losses or damage and fully strips down to its component
parts. (take care not to cross thread if taking apart).
V.G.C. Original RAF blue paint with light rusting. A
collectors' grade lot. (buyer collects)
£600 - £700
176
Book The Noble 24th Biographical Records of the Men
of the Regiment who served in the 1877-79 Zulu Wars,
VGC
£20 - £25
177
Booklets a mix of training booklets / pamphlets for
Officers mostly WW2 era, a/f
£20 - £25
178
Books Northumberland (Hussars) Yeo and 15th Kings
Hussars 1914-22 both ex libris
£30 - £35
179
Books Standing Orders for the P.O.Wales South Lancs
Regt & ditto 1st Bn Kings Own Royal Regt both ex libris
£30 - £35
180
Books Standing Orders for the Somerset Light Infantry
& ditto The Northumberland Fus both ex libris.
£30 - £35
181
Books the History of the XIII 13th Hussars 1911 ex
Army Library & the Galloping Third (Kings Own
Hussars) both QGC
£30 - £35
182
Book: An original Monthly Army List for August 1914.
Well rebound in green cloth. A very clean copy (some
pages uncut). Recording the names of all officers serving
in the original BEF.
£40 - £45
183
Book: The Great War Medal Collectors Companion
Volume
2.
Medal
Abbreviations,
Document
Abbreviations and British Army Regimental Numbers
and noted on medal naming.
£25 - £30
184
Book: The Great War Medal Collectors Companion
Volume 3. Location of British Units 1914-18 including
R.E. M.G.C. and cyclists. Scratch to cover. Invaluable
reference work.
£25 - £30
185
Box containing German medals badges documents
photos etc
£80 - £85
186
Box of various militaria including telescope, mallet,
leather holster, etc etc (buyer collects)
£20 - £25
187
Box of various mixed militaria - all sorts (qty) Buyer
collects
£20 - £25
188
Box of various WW2 aircraft items from crash sights
including b of b hurricane etc
£50 - £55
189
Box of WW1 related equipment including binoculars in
leather case bugle 08 webbing belt 03 patt 5 pouch
bandoleer 1915 dated brass trench art gaming board sam
brown shell cases etc
£140 - £150
190
British Air Raid dept shell dressing and carrier.
£20 - £22
191
British Fire services association medal in bronze named
to j o Neil in box of issue
£30 - £35
192
British Officers SD tunic & trousers, Notts & Derby "T"
collars, named H.G.McCloud, 3.1918 with collars etc.
GC
£140 - £150
193
British Officers SD Tunic, Lieut in MGC with MC
ribbon and 3x overseas WW1 chevrons, GC
£190 - £200
194
British Officers tunic & trousers, khaki drill, with named
label Lieut.E.W.Avenell 1 Lanc.Fus, May 16 with collars
etc
£140 - £150
195
British OR"s khaki drill tunic badged to a CSM in
Signals Royal Scots Fusiliers. GC
£60 - £65
196
British OR"s khaki drill tunic & trousers, badged to the
Queens, a signals NCO in GC
£120 - £130
197
British standard fragmentation grenade relic body only.
No identifiable marks
£20 - £25
198
British WW2 hand illustrated cartoon of Hitler etc 'The
Dawn of Another Purge' by J Adams /40 (1940).
23"x16½" approx
£40 - £45
199
BWM's x3 to Boxley RE, Ilott ASC (no suspender),
Mansfield R.Fus (3)
£35 - £40
200
BWM and Meritorious Service Medal to 16923 C.Sjt P
Shone Lan Fus (16923 C.Q.M.Sjt P Shone 18/Lan Fus).
L/G 3rd June 1919 (Seacombe). EF (2)
£100 - £120
201
BWM named to Captain J 'C or O' Anderson. Edge
bumps Fine a/f
£25 - £30
202
BWM to 15347 Pte Alfred Marshall R. Berks Regt.
Killed In Action 24/4/1917 with the 7th Bn. Born
Bucklesbury, Berks. Buried Karasouli Military Cemetery.
GVF (1)
£35 - £40
203
BWM to 20312 Pte John William Cleasby S.Wales.Bord.
Killed In Action 18th Sept 1918 with the 10th Bn. Born
Stockton-on-Tees. Buried Gouzeaucourt New British
Cemetery. EF (1)
£25 - £30
204
BWM to 41670 Pte Kenneth Gwyn Thomas
S.Wales.Bord. Died of Wounds 25/4/1918 with the 5th
Bn. Born Cardiff. Buried Mont Huon Military Cemetery,
Le Treport. VF (1)
£25 - £30
205
BWM to 444 Pte Thomas Grundy S.Staff Regt. Killed In
Action 26th June 1916 with the 1st 5th Bn TF. Born
Aldridge, Staffs. Buried Foncquevillers Military
Cemetery. GVF (1)
£30 - £35
206
BWM to 7016 Pte Alfred Joseph Chorley E.Lan.Regt.
Died of Wounds 10/4/1916 with the 6th Bn. Born
Birmingham. On the Basra Memorial. VF (1)
£35 - £40
207
BWM to F31108 a dixon ac1 rnas comes with copy set of
naval service papers poss only entitlement
£40 - £45
208
BWM to S-2814 Pte Edward Walker A & S Highlanders.
Killed In Action 25th Sept 1915 with the 10th Bn. Born
Dudley. On the Loos Memorial. VF (1)
£25 - £30
209
BWM with IGS waziristan 1919-21 bar to 124226 pte f r
thompson mgc
£120 - £130
210
BWM & GV Naval LSGC Medal to K.1504 H Miller
S.P.O.RN (H.M.A.S Geranium). With copied service
papers, born Fulham, London. Also served HMAS
Penguin. VF (2)
£50 - £55
211
BWM & Victory Medal named 2.Lieut F G Bagley.
Frederick George Bagley served with the Royal Fusiliers.
Lot includes box of issue, Commission Scroll, Army
Forms. EF (2)
£70 - £75
212
BWM & Victory Medal named 33532 Pte Robert John
Kibble Wilts Regt. Died of Wounds 24th July 1917
serving as 27840 8th Bn Som L.I., born Hornhill, Glos.
Buried Etaples Military Cemetery. GVF (2)
£60 - £65
213
BWM & Victory Medal named Lieut G S King. Gordon
Seeley King served with the RFA. Medals in original
boxes of issue. Lived Southport. (2)
£40 - £45
214
BWM & Victory Medal named to 2.Lieut T H
Richardson. Thomas Havelock Richardson served with
the Middlesex Regt. Entitled to the Silver War Badge.
EF (2)
£60 - £65