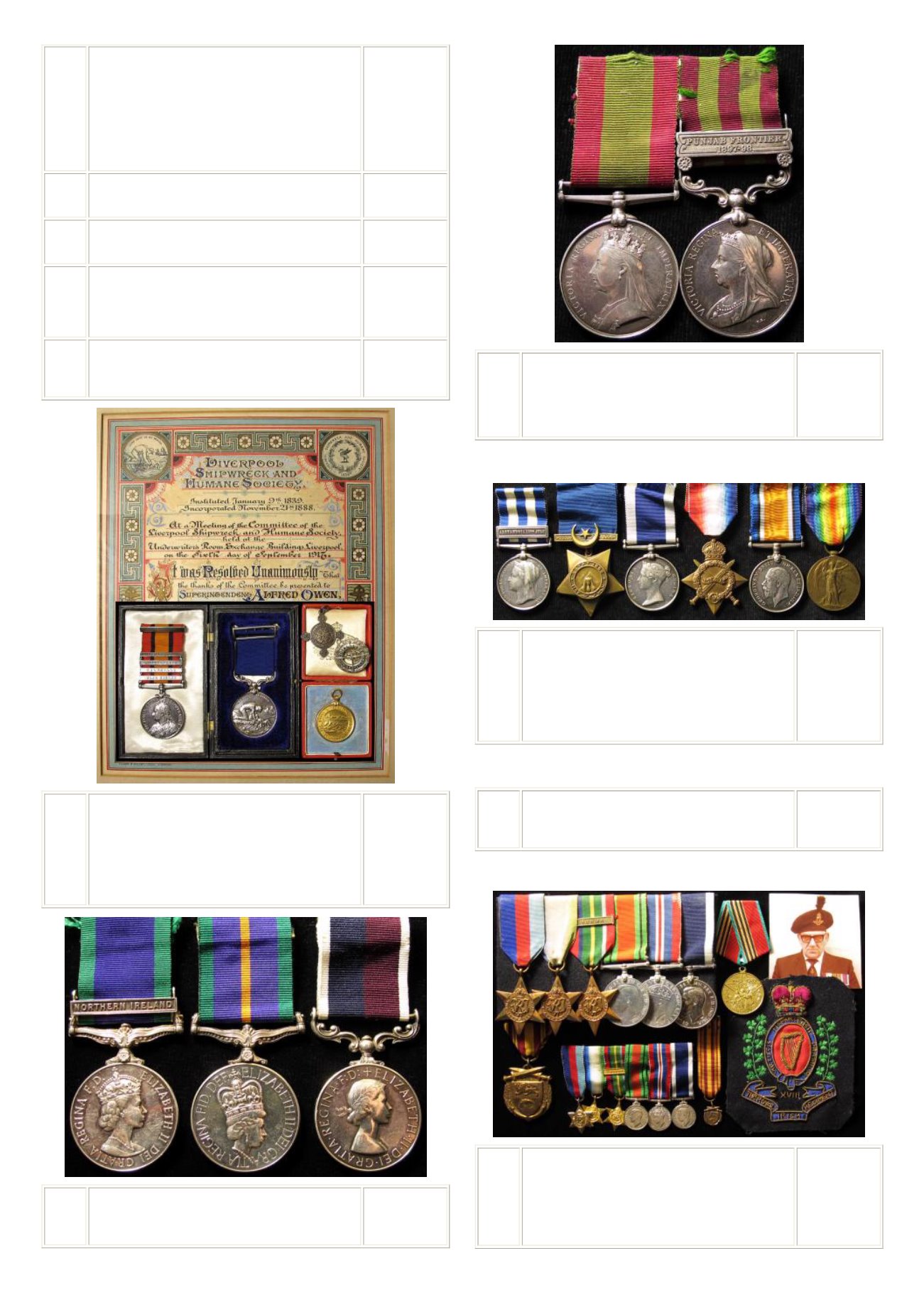 18
428
Group to 598 Tpr G E Clarke B.S.A. Police (pair named
Gnr G E Clarke S.A.H.A.). QSA with single bar
Rhodesia, KSA with bars SA01 & SA02, BWM & South
African Victory Medal. Collectors notes with lot indicate
that he is also entitled to the BSA Company Medal for
Mashonaland 1897, and that he was twice Wounded
during WW1 5/9/1918 Gassed and 23/9/1918
Dangerous GSW. With cap badge. Small verdigris marks
VF (4)
£340 - £360
429
Group to 624635 Cpl J Mc B. Reid RAF. Medals as
worn - Defence & War Medal, GSM QE2 with Malaya
clasp and QE2 RAF LSGC Medal (DG). (4)
£60 - £65
430
Group to 6562269 C.Sjt W E Stanbridge R.B. (Rifle
Brigade). 1939-45 Star, Africa Star, KGVI Efficiency
Medal with Territorial bar. VF (3)
£40 - £45
431
Group to 71 S.Sgt J S Pitts RAMC. BWM & Victory
Medal with Territorial Force War Medal, 1937
Coronation Medal, Defence Medal and GV Meritorious
Service Medal (514056 S.Sjt J S Pitts RAMC). L/G 16th
Oct 1919 for Italy (London). GVF (6)
£200 - £220
432
Group to 8247 Pte G Sinclair 1st Highland Lt Infy -
Medals QSA with bars CC/Witt/Tr/SA02, and 1914
and Bar Trio (19011 Gnr G Sinclair RHA). VF few small
edge bumps noted, star scratched to reverse (4)
£110 - £120
433
Group to 9054 Pte A Owen Scots Gds. QSA with bars
CC/Tr/Witt/SA01. With a silver (38mm) Liverpool
Shipwreck and Humane Society Marine Medal (cased)
named 'To Sup'dt Alfred Owen For Gallant Service at
Llandudno 21st August 1917'. Together with original
large framed Certificate. A Royal Life Saving Society
badge, a Gilt RLSS Medal 1910, cased. A silver
hallmarked St Johns Medal at Alfred Owen.
£260 - £280
434
Group to Cpl D T Hardy (L8207669) RAF. Medals -
GSM QE2 with Northern Ireland clasp, Accumulated
Campaign Service Medal (silver hallmarked), and RAF
LSGC Medal QE2 (DEI: GRATIA). GVF (3)
£450 - £500
435
Group to District Superintendent A H G Close Punjab
Police. Medals - Afghanistan Medal 1881 (POL, LOCl
Lt A H G CLOSE TRANS DEP), and India Medal 1896
with bar Punjab Frontier 1897-98 (Dist Supdt A H C
Close Pjb Police. Also entitled to the 1903 Delhi Durbar
Medal. nEF (2)
£500 - £550
436
Group to James Arthur Mihell ORD HMS Monarch.
Born Portsea, Hants. With copy service papers, served
24/11/1879 to 14/8/1919. Medals - Egypt Medal dated
1882 with Alexandria 11th July clasp, 1915 Star Trio
(110649 J A Mihell CPO RN), QV Naval LSGC Medal
(J A Mihell P.O. HMS Duke of Wellington) and
Khedives Star 1882. Naming polished on Victorian
Medals. Fine - VF (6)
£300 - £350
437
Group to JX.712651 D D Joyce AB RN (HMS Bulwark).
Medals - War Medal, GSM QE2 with Malay Peninsula
clasp, and Naval LSGC Medal QE2 (DG) (number
corrected on LSGCM). EF (3)
£60 - £65
438
Group to J.115305 C J Strudwick AB HMS Berwick.
Medals as worn - 1939-45 Star, Atlantic Star, Pacific Star
+ Burma clasp, Defence & War Medal, Naval LSGC
Medal GVI, Dunkirk Medal, and Soviet 40th
Anniversary Medal with Certificate. With matching
miniatures. Plus his Royal Irish Rangers Ass Card and
Medal.
£90 - £100