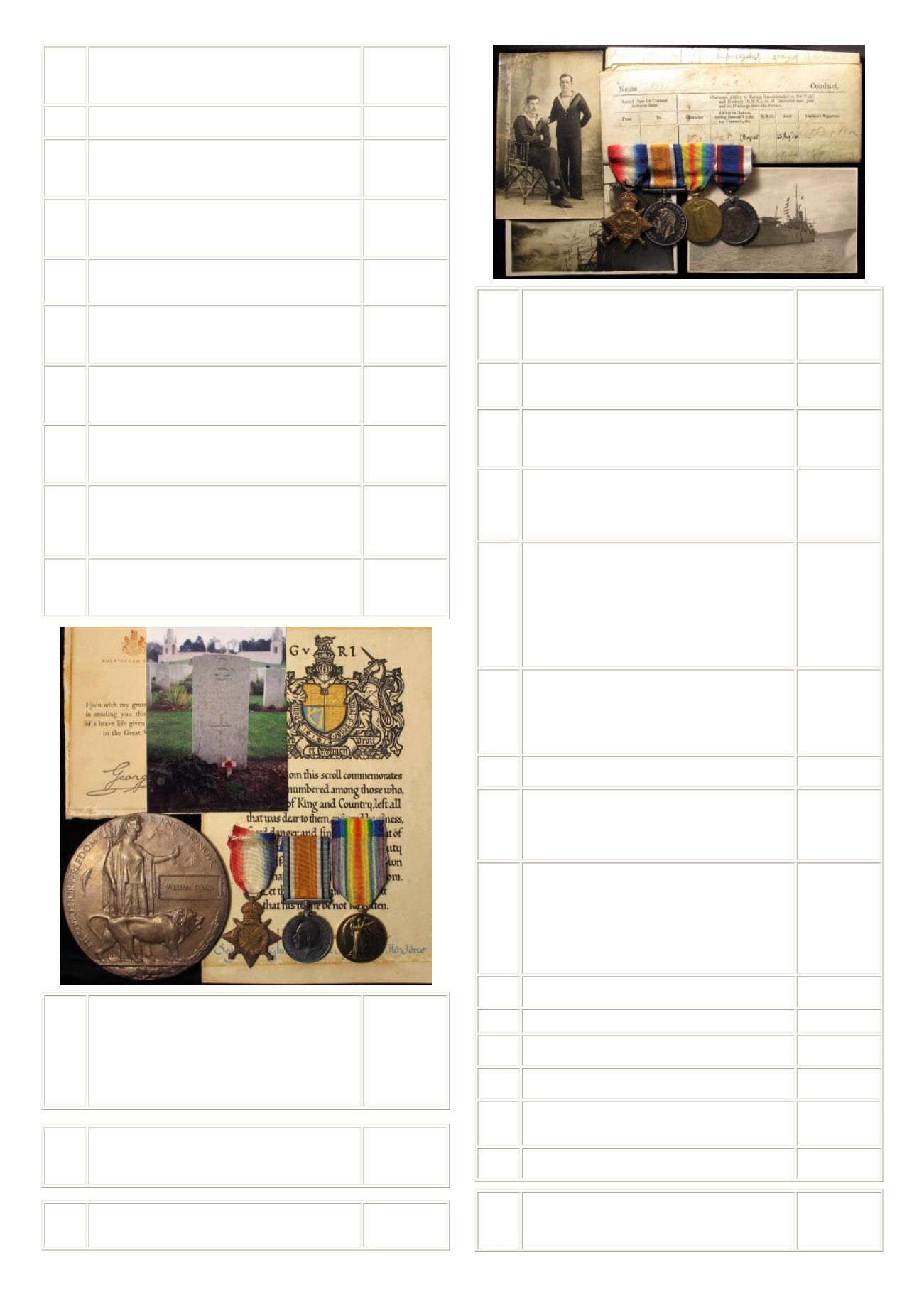 5
31
1915 Star named Pte N Elman 6th Infantry, Victory
Medal (South African reverse) to Pte N Elman 4th S.A.I.
Died 11/9/1916, buried Quatre-Vents Military
Cemetery. GVF (2)
£40 - £45
32
1915 Star to 109691 Pte J M Wood 4/Can: Mtd: Rif. EF
(1)
£25 - £30
33
1915 Star to 3121 Pte Joseph Swindley Lanc Fus. Killed
In Action 20/9/1917 while serving as 203803 with the
2nd/5th Bn Lanc Fus. Born Ashton-on-Mersey, Lancs.
On the Tyne Cot Memorial. GVF (1)
£30 - £35
34
1915 Star to 4701 Pte Ernest James Thorn Middlesex
Regt. Died of Wounds 21/9/1916 with the 1/8th (T.F.)
Bn. From Newbury. Buried St Sever Cemetery, Rouen.
VF (1)
£40 - £45
35
1915 star to cpl n m harrison sherwood rangers (scarce)
with victory medal to 2 lieut n h harrison RAF comes
with id cards and some research
£90 - £100
36
1915 Star to Y-801 Pte James George Donovan
K.R.Rif.C. Killed In Action with the 4th Bn on
23/4/1915. Born Bethnal Green. Buried Oosttaverne
Wood Cemetery. VF (1)
£40 - £45
37
1915 Star Trio and Death Plaque to 16942 Pte Charles
(Dixon) Archbold North'D Fus. Died of Wounds 15th
May 1916 with the 1st Bn. Buried Bailleul Communal
Cemetery. Born South Shields. GVF (4)
£160 - £170
38
1915 Star Trio and Death Plaque to 21877 Pte William
Dunn Matson G. Gds. Killed In Action 29/3/1916 with
the 3rd Bn. Born Brotten, Yorks. Buried Lijssenthoek
Military Cemetery. GVF (4)
£160 - £170
39
1915 Star Trio and Death Plaque to 4-6917 Pte
Frederick Norris Bedford Regt. Killed In Action
30/6/1918 with the 2nd Bn. Born Watford. Buried
Warloy-Baillon Communal Cemetery. Medals and
Plaque polished/worn (4)
£140 - £160
40
1915 Star Trio and Death Plaque to 7636 Pte Thomas
Duncan Driver Lincoln Regt. Died of Wounds with the
1st Bn on 23rd March 1915. Born Wandsworth, Surrey.
Buried Boulogne Eastern Cemetery. EF (4)
£160 - £170
41
1915 Star Trio and Death Plaque with Casualty Scroll to
305 Cpl William Dixon ASC (pair named 2.Lieut W
Dixon RAF). Commissioned into the Seaforth
Highlanders, attached as an Observer 25th Sqdn RAF,
credited one Kill recorded, a shot down E.A. Wounded
in Action 8/6/1918. Died of Wounds 23/6/1918 aged
22. Lived Handsworth, Birmingham. Buried Etaples
Military Cemetery. EF (4)
£600 - £700
42
1915 Star Trio and GV Meritorious Service Medal to
16204 Pte W J Symonds ASC (MSM named 245770 Cpl
W J Symonds RE). MSM L/G 3rd June 1919 (Guist,
Norfolk). GVF (4)
£120 - £130
43
1915 Star Trio and GV Meritorious Service Medal +
named ID Tag to M2-102669 Pte H A Lines ASC. MSM
L/G 18th Jan 1919. VF (4)
£120 - £140
44
1915 Star Trio and GV Royal Fleet Reserve LSGC
Medal to J.29094 J Gooch BOY.1.RN. (J.29094
(CH.B.20523) J Gooch LS RFR). Nice lot with various
photos, postcards, and original Certificate of Service,
born Norwich, Norfolk.
£90 - £100
45
1915 Star Trio and GV Territorial Force Efficiency
Medal to 1140 Pte H Ralph RAMC (spelt Relph on Star)
and (473011 Pte H Ralph RAMC on the TFEM). VF (4)
£80 - £85
46
1915 Star Trio and India General Service Medal with
Afghanistan NWF 1919 clasp to 2497 Pte W J Fitzgerald
Middlesex Regt (290734 on IGS). Entered the war
24/12/15 Bay of Bengal. GVF (4)
£140 - £150
47
1915 Star Trio and Silver War Badge 'RN46719', to
LZ1266 W H Day AB RNVR. With original RNVR
Service Certificate. Wounded In Action three times 5th
June 1915 serious face injury, 13/11/1916 GSW, and
30/12/1917 WIA. GVF (3+1)
£70 - £75
48
1915 Star Trio Memorial Plaque and Scroll, to 16665
Pte John Henry Turner 1st Battalion Royal Dublin
Fusiliers, DOW at Gallipoli 4.7.15. Remembered on the
Helles Memorial. Medals mint in boxes of issue and
paper packets with original folded ribbons . Memorial
plaque in card envelope. Scroll with minor distress (no
losses) with some research and original issue slips. An
exceptional group as we commemorate the centenary of
the ill fated Gallipoli Campaign.
£450 - £500
49
1915 Star Trio mounted as worn to Lieut J A S Trydell
Yorks L.I. (pair named Lieut J A S Trydell). John
Anthony Stuart Trydell served with the 1st Bn KOYLI.
and then with 2 RAF Cadet Wing as Lt T/Capt. Lived
Wattisfield Croft, Suffolk. Medals nVF but with traces of
glue ? (3)
£80 - £85
50
1915 Star Trio named PO.16593 Pte H M Garner
RMLI. VF (3)
£60 - £65
51
1915 Star Trio plus EDVII Royal Naval Reserve LS
Medal to Lieut R. Diaper RNR. (LSM named E.2059 R.
Diaper Sea'n 1CL RNR). With copy medal roll and
service papers. Born Southampton. Served on the Yachts
Jason, Rona, Sapphire, Banshee, Latona, etc. VF (4)
£80 - £85
52
1915 Star Trio to 1056 Spr R Altson RE with ID Tag
(2nd WX RE) (Star officially corrected). Plus WW2
group to Pilot Officer Ralph Abbey Altson RAF, a Far
East Prisoner of War and eminent Microbiologist (son of
a famous Australian Artist) inc named ID Tag, 1939-45
Star, Pacific Star, War Medal and 2nd International
Congress of Microbiology London 1936 medal. With
research. VF-EF
£130 - £140
53
1915 Star Trio to 12840 Pte B Shaw York & Lanc Regt.
VF (3)
£50 - £55
54
1915 Star Trio to 12884 Pte C Nunn Yorks L.I. EF (3)
£50 - £55
55
1915 Star Trio to 12963 Pte C Brown D. Corn L.I. F-
VG (3)
£40 - £45
56
1915 Star Trio to 1354 Pte F J A Cooper North
Somerset Yeomanry. VF (3)
£80 - £85
57
1915 Star Trio to 1406 Pte M C Ott 2 - Rhodesia Regt
(Sgt on Pair). With a related 1915 Star named Cpl M C
Ott 7th Infantry. EF and scarce (4)
£80 - £85
58
1915 Star Trio to 1414 Pte W W Strong North Somerset
Yeomanry. VF (3)
£80 - £85
59
1915 Star Trio to 14735 Pte Joseph Daniel Nicholas
E.Lanc Regt. Killed In Action 21/3/1918 serving as
203566 with the 2/4th Bn. Born Morriston, Glam. On
the Pozieres Memorial. EF (3)
£120 - £130