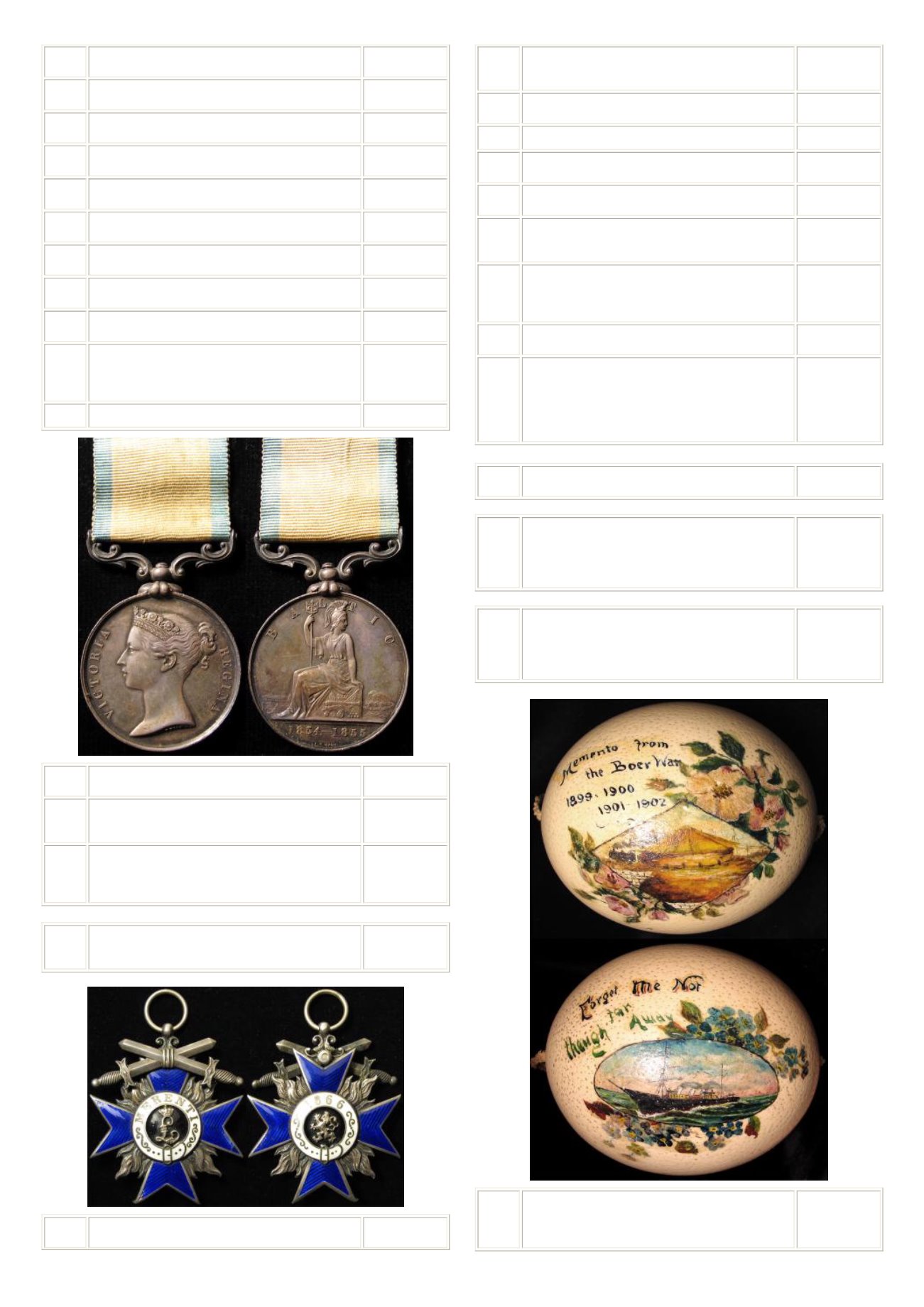 9
145
Badges a staybrite selection of mostly Cavalry units not
many duplicated, odd one a/f otherwise GVF
£30 - £35
146
Badges a staybrite selection of Regiments, mostly
different, mostly GVF
£40 - £45
147
Badges a staybrite selection of Scottish Regiments and
mixed others, mostly GVF
£30 - £35
148
Badges a staybrite selection of trade, collar & cap badges
plus buttons, mostly GVF
£30 - £35
149
Badges a WW2 selection inc Recce, RTC, RAC,
Transvaal Horse Artillery, Intelligence Corps etc
£45 - £50
150
Badges an Irish XVIII Royal Irish belt plate, looks to
have age but copies known, GVF
£30 - £35
151
Badges an old stable belt with a mix of brass / white
metal collar badges
£30 - £35
152
Badges LRDG cap badges x2 inc on campaign sand cast
made in white metal & one in brass VF
£120 - £130
153
Badges Middlesex Regiment a selection inc Officers
Bronze cap, All brass Economy & Vic Officers collars x6
£40 - £45
154
Badges: An interesting set of 16x RAF enamel badges.
All different contained in a small display box including
6x squadron badges, RAF 1937 Sports medal, RAF
Assoc. Fleet Air Arms etc. A good lot. (qty)
£120 - £130
155
Baltic Medal 1856 unnamed as issued. VF
£160 - £170
156
Baltic Medal 1856, unnamed as issued. GVF tiny edge
bump
£130 - £140
157
Banana box of mixed militaria including a Bayonet,
Bugle, peaked caps, belts, leather helmet, Red
Tunic/waistcoat /trousers, etc etc (qty) Buyer collects
£50 - £55
158
Banana box of WW2 or earlier HMSO Pamphlets, etc.
Plus an interesting roll of Maps, mainly RAF Related,
and a German Letter with interesting postmark (qty)
Buyer collects
£40 - £45
159
Battle of Britain framed set of crashed relics from British
and German air craft with framed set of photos relating
to varies air raids and section of spitfire wing
£50 - £55
160
Bavarian Order of Military Merit 4th class with swords
(ribbon missing). Tiny areas of enamel damage
£50 - £60
161
Bechuanaland QE2 Long Service GC Medal named to
1725 Tpr R Legona BECH. PROT. POLICE. Few light
contact marks VF
£120 - £130
162
Belgium 3x Orders, all Military variants, Order Leopold
I & II, plus Order of the Crown all boxed/cased NEF
£60 - £65
163
Belgium officers hat possibly WW1
£40 - £45
164
Belgium YSER medal, French medaille Militaire, and
French Croix de Guerre 1914-1918. All originals (3)
£50 - £55
165
Belt: A good George V Naval sword belt with strap circa
WW1.
£70 - £80
166
Belt: A good leather Victorian leather sword belt in red
leather with bullion wire decoration. Overall good
original condition (minor loss to one tab).
£70 - £80
167
Belt: A good Victorian/Edwardian brown leather belt
with extremely attractive clasp with central lion device
with 'LONDON SCOTTISH VOLUNTEERS'. In very
good original condition.
£70 - £80
168
Belt: Guards buff leather sword belt with good belt plate
in brass (Dieu Et Mon Droit, Lion & Unicorn).
£70 - £80
169
Benton family medals - BWM & Mercantile Marine
Medal to Henry Benton. With a 1915 Star Trio and
MID mounted as worn to 882058 Gnr E Benton RA (not
entitled to the Star or MID), plus a Defence Medal and
GVI Special Constabulary Medal Ernest H J Benton.
VF-EF (7)
£60 - £65
170
Binoculars standard British army issue with brown case.
Marked Taylor Hobson 1941 Mk 2 X6
£30 - £40
171
Binoculars: An Imperial German pair of binoculars of
the type favoured by German m/gun units. These by
'VOIGHTLANDER' appear to be dated 1908.
Contained in their leather case with instructions (strap
a/f). Optics appear good.
£50 - £55
172
Boer War an interesting old copy of the Official list of
Boer War, War correspondents inc Winston Churchill
for the Morning Post, framed & glazed, glass cracked
printed by Warwick Trading Co who sent the first cine
camera to war. (buyer collects)
£30 - £35
173
Boer War decorated ostrich egg - an interesting memento
dated 1899-1900 1901-1902 'Forget Me Not though far
away'. With a ship and campsite hand illustrated design.
Scarce
£80 - £85