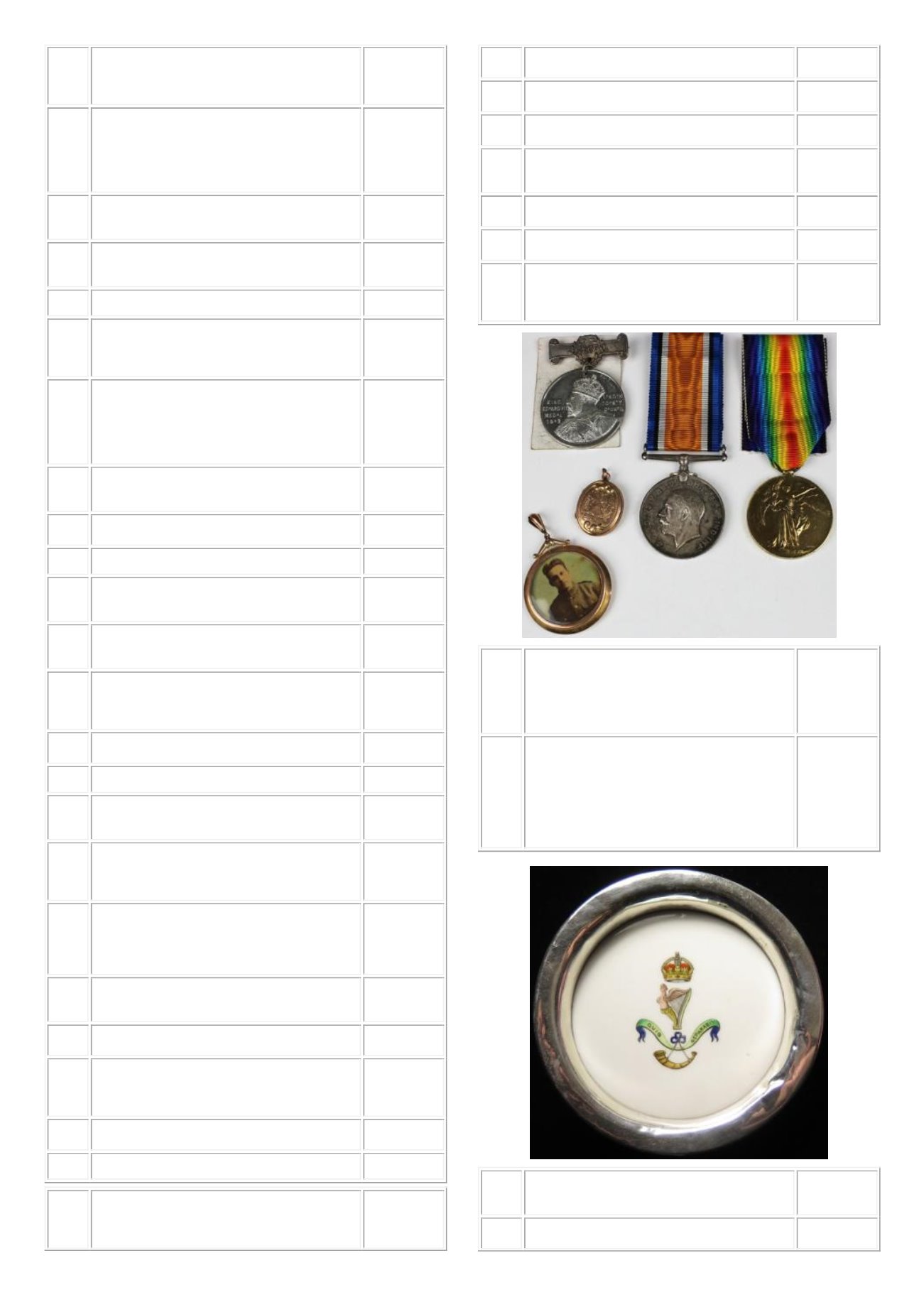 28
713
RAF Air Vice Marshals uniforms consisting of service
jacket and trousers named to H B Wrigley complete with
Pilots wings, medal bars, cuff rank with his mess jacket
and waist coat, scarce original lot
£200 - £210
714
RAF file of maps photo letters documents relating to
various RNAS sea plane bases etc., with scarce RAF
exhibition poster of war photographs and equipment at
the art gallery Swansea 1941 with various RAF WW2
combat and bombing reports pilots log book navigators
log book note books etc.
£100 - £110
715
RAF Interest a bag of mostly Officers buttons, nearly all
different makers, interesting collection, plus an Air
Ministry marked Dinghy Escape whistle, mostly GVF
£50 - £55
716
RAF Interest an old wind up Gramophone player with
RAF early Kings Crown logo painted to lid, works but not
offered as a working reliable music player ! Sold a/f
£60 - £65
717
RAF Kings crown chrome staff car mascot
£40 - £45
718
RAF LSGC (GeoV) to W/O 2 A.E.L. Endley RAF.
Albert Edward Lawrence Endley was born Wellington,
Shropshire 1897. LSGC was awarded April 1935. Scarce
(1)
£80 - £85
719
RAF Navigators Log book, RAF Service and Release
book, boxed group of medals, 1939-45 Italy Star and War
medal to 1806329 Sgt K F Carpenter served 104 Sqd
flying in Wellingtons and 40 Sqd flying in Liberates
completed 14 ops including bombing bridges factory's
troops etc.
£330 - £340
720
RAF pilots Log book to P/O P Fried, flying various
aircraft in late WW2 including Mosquitos, comes with
medals and photo
£80 - £85
721
RAF WW2 pair of MK VIII flying goggles in their
original box of issue with spare lenses
£100 - £110
722
RAF WW2 AM marked aircraft gun sight
£30 - £35
723
RAF WW2 AM marked survival whistle with Kings
crown set of pilots wings two RAF hat badges and two
RAF sleeve badges with RAF bible
£70 - £75
724
RAF WW2 defence and War medals with RAF airman's
service and release book and selection of photos relating
to 1648116 Lac W J Holmes Fabric, worker by trade
£35 - £40
725
RAF WW2 fire fighter pair of medals in box with
certificate of service with service and release book,
documents, photos, badges etc., to 652296 Cpl H W
Lowton enlisted 9-8-1939 to 11-8-1946
£80 - £85
726
RAF WW2 Officers hat with Kings crown hat badge,
padded lining
£100 - £110
727
RAF WW2 practice bomb
£80 - £85
728
RAF WW2 scarce original unused log book for Air
Gunners, Navigator's etc. with navigator's log book with
log sheets, RAF bible etc.
£80 - £85
729
RAF W/Opp log book 1939-45 Star, Burma Star and
War medals, portrait photo and a large amount of
research to 1384216 Sgt J Boston served 191 Sqd flying
in Catalina aircraft on convoy escorts in the Far East
£280 - £290
730
RAF/RNAS WW2 War & Defence medals with good
selection of service documents to 19874132 Lac J S Wicks
RAF /JX687937 J A Wicks RNAS served as Air
Mechanic both services serviced on Spitfires, Tempest,
sea fires etc., nice complete lot
£80 - £85
731
RAMC WW2 Surgeons cased scalpel set in storage case
with other examples of RAMC Surgeons implements
(please handle with care sharp)
£35 - £40
732
Regular Army KGVI LSGC Medal named 5487351 Cpl
G White Hamps R. VF
£35 - £40
733
Renamed medals - NGS KGVI with Palestine 1936-1939
clasp (JX142966 R T George AB HMS Galatea), and
Korea Medal (JX142966 R T George CPOHMS Drake).
Sold a/f (2)
£20 - £25
734
RFC Interest a Propellor tip and small generator
propellor both probably WW1 era.
£60 - £65
735
RFC original scarce set of pilots wings
£150 - £160
736
RNAS WW1 Iron carrying case for an aerial bomb.
Underneath painted '2' & 'J. MORRISON'. A brass tag
attached stamped 'J. MORRISON C.P.O. F:71 RNAS'.
A rare piece for the WW1 RNAS collector.
£30 - £35
737
Royal Air Force Aiguillettes blue and gold, seven line oris
cord with silver eagle and crown on the tags
£25 - £30
738
Royal Air Force badges, assortment of WW2 and later
(20)
£50 - £60
739
Royal Air Force Band shoulder boards, sash and
Drummers tassels (6 items)
£30 - £40
740
Royal Artillery & R.G.A. items - various (5) includes a
silver R.A. spoon, plus 2 HAC collars and a French
battlefield brooch - 8 items in all
£30 - £35
741
Royal Engineers badges blue WW2 dated Beret, Navy
colour, stamped Kangol wear, 1944 etc. GC
£35 - £40
742
Royal Engineers large metal wall grenade badge.
Measures 18cm by 10cm
£20 - £25
743
Royal Engineers, 4 cloth badges including a Division
badge for GHQ Middle East Land Forces, also includes
Pay Book, Release Book for 19029698 L/Cpl. Lancaster
& Certificate of Service etc. etc.
£25 - £30
744
Royal Fusiliers mixed lot comprising WW1 pair of medals
to 5841 C.W. Wass 1-Lond.R. In original letter envelope
plus 9ct. gold locket & 9ct gold back & front Locket. Both
have Military pictures in them. Also includes a School
medal Royal Fusiliers post card and various photographs
etc
£80 - £85
745
Royal Humane Society (unsuccessful, Bronze (38mm) to
Richard H. Jones A.B. 5th July 1911. With P.O. R.T.
Travers HMS Roxburgh at 4.45 pm on 05/07/1911, an
Able Seaman fell overboard from HMS Roxburgh at sea.
Both of the above went after him and supported him for
some time, but becoming exhausted had to let him go and
he drowned. Medal painted ? and naming weak. Sold as
found.
£25 - £30
746
Royal Irish Rifles unmarked silver & porcelain dish
marked on the base "Royal Irish Rifles Aynsley Reg.
451882". C1910
£30 - £35
747
Royal Military Academy Sandhurst Collection of Stable
Belts, Dress Belts, Ties and Badged Beret (17 items)
£50 - £60