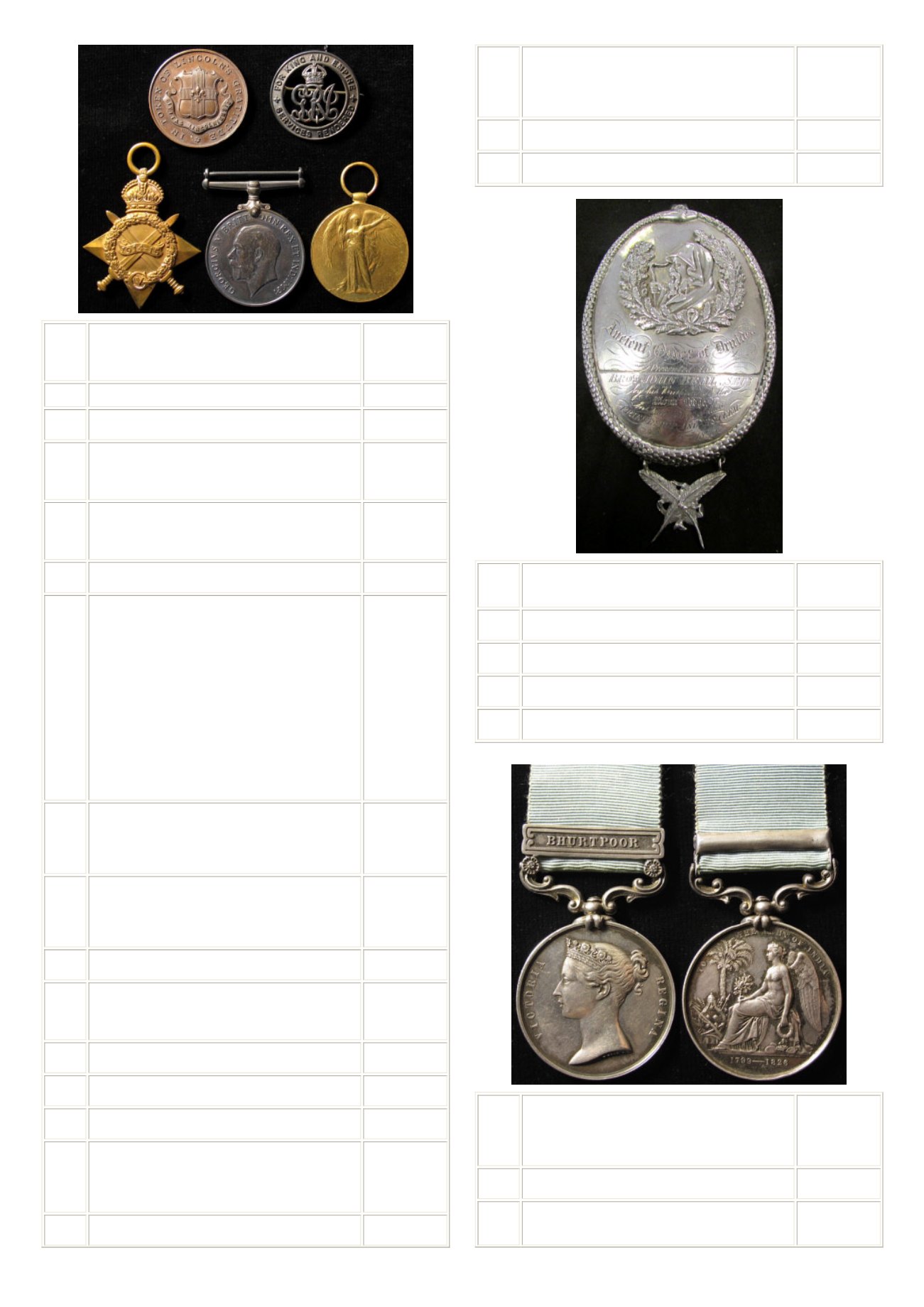 1915 Star Trio to 3991 Pte Alfred Louis Wise Lincoln
Regt, SilverWar Badge 292181 (confirmed), with a cased
LincolnGreat War TributeMedal. Plus Medal boxes of
1915StarTrio to 6761SprWA JonesRE.GVF (3)
1915 Star Trio to 86 L/Cpl Sydney Ernest Bendall 12th
LondonRegt, bornEastHam, London. EF (3)
1915 Star Trio toG-2182 Sjt Robert CecilWalsh 7thBn
R.W.Kent Regt. Killed In Action 13/7/1916 at Trones
Wood. Born Hove, Brighton. Listed on the Thiepval
Memorial.With research and a copy scroll. EF (3)
1915 Star Trio to L-8887 Sjt F EHolmes E. Kent Regt
(pair named L-8887 A.Sjt F EHolness E.Kent R). Died
of Wounds 4thMarch 1915. Born Sturry, Kent. Buried
CiteBonjeanMilitaryCemetery, Armentieres.GVF (3)
1915 Star Trio to M2-073895 Pte John Morris ASC.
1915 Star Trio to PO 15065 Pte Albert Walter Wyatt
RMLI. Born Hampshire in 1894 and enlisted in the
RMLI as a Bugler. Served on HMS Birmingham when
on the 9thAugust 1914 near Scarpa Flow it encountered
U-15 on the surface. The cruiser opened fire, them
rammed theU-Boat, which sankwith all hands. This was
the first encounter between a British Ship and German
Submarine.Wyatt was still serving on theBirmingham at
the Battle of Jutland, when she came under heavy fire
from the German battle fleet, but survived unscathed. In
1917 Wyatt was transferred to the armed merchant
cruiser Motagua, on 19/3/1918 she collided with an
AmericanDestroyer in theNorthAtlantic, the destroyers
depth charges exploded, and the explosion killed 28men
on theMotagua includingWyatt. GVF (3)
1915 Star Trio to S4-064912 Pte Albert Ernest Hazzard
ASC. Killed In Action 18th Sept 1918 with 7th Bn
Norfolk Regt. Born Fordham, Cambs. Buried Epehy
Wood Farm Cemetery, Epehy. VF small edge bump to
1915 Star Trio to SA.1530 James Tovell HD.2.RNR
(SA.1530 J Tovell SKR RNR). Born Halesworth,
Suffolk. With a cased Imperial Service Medal QE2
named to Edward Sidney Tovell L/G 2/2/1971 a
Postman atKings Lynn.GVF (4)
1915 Star Trio to TS.2419 J Anderson ENGM RNR.
Togetherwith a photobelieved tobe of Anderson. VF (3)
1915 Star TriowithDeathPlaque andCasualty Scroll to
SussexZ/22Arthur JamesDavidge P.O.HoweBnRND
RNVR. BuriedDozinghemMilitaryCemetery.Mounted
AbstinenceMedals, one with bars, the other with a glass
Afghanistan Medal 1881 (silver) no clasp, named to
SepoySoolhaPing 30thRegtN.I. Fine+
Air Force Cross - and old tailors example, with traces of
light castingmarks. Sold a/f
Aircraft wreckage a panel from an Me109E No.5283
shot down over Brabourne Kent 12-10-1940 according
to label on rear and has remnants of Squadronmarkings
to obverse inc a gunsight pointing at England, interesting
Aldis Signalling Lamp in original box and aNaval signal
American Paratroopers Helmet WW2 with early D-Bale
strap fittings, possibly minor replacements / repairs to
straps but overall a good examplewith dusty interior and
loose fitting camo netting with white ace of spades to
American Pilots Wings an old pair in Sterling silver by
American WW2 Helmet with Captains rank bars and
MP to front, early fixedbale strap fixings, surface rust.
Ancient Order of Druids large silver hallmarked badge
presented to Bro John Beal fromMona Lodge 2ndApril
Anglo-Boere Oorlog (War) Medal named to Burger C P
FrankenVF small edge bump
Army Catering Corps buttons and badges, plus cloth
Army LSGCMedal GV named to 6189483 Pte S Dark
Army LSGCMedal named to 837TP SG'tMaj J Byrne
Army of India Medal (long hyphen) with Bhurtpoor
clasp, impressed naming to Joseph Moore 14th Foot.
Surname should read 'Moors', he appears on the
Musters, joined from England 25/9/1813, served until
31/1/1832.With copied reasearch.NVF
Artillery fuse setting tools scarce used for setting timer
Artillery shells cases with heads all deactivated including
WW1 6ld / WW2 2ld /40mm and 1½ wooden drill