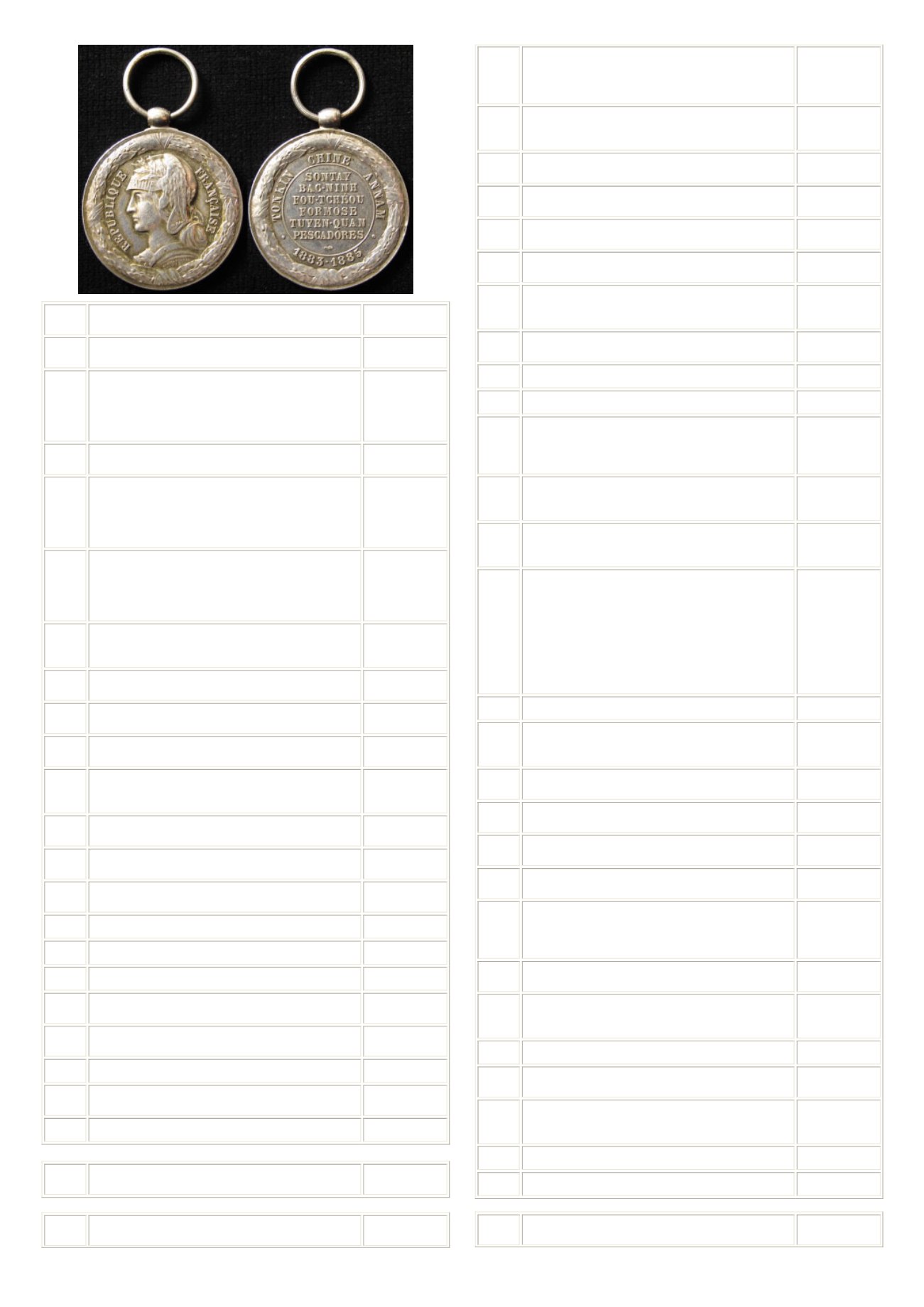 France, Naval medal TonkinChine Annam 1883 - 1885
Free FrenchWW2 Forces badges x4 inc F.F.L aviation,
FrenchRedCross BritishVolunteerWilliam JMTaylor
who served as a mechanic, BWM & Victory
W.J.M.Taylor Medaille of Honour France, French war
Medal, unknown French Red Cross service medal,
Foreign awards not checked.GVF
French WW1 Legion de Honour with French Medali
Militare and 1914-1917Croix deGuerre
Gallipoli interest - a hand made Oak Stool - made in
dedication to "FredBaker of Bilton, Rugby 1st Feb 1959,
served on Gallipoli in 1915 and with Home guard in
WW2". Top, underside and legs carved with
information. Very unusual
George Medal Geo.VI miniature group to Lt.
Commander Percy Grant GM,VRD awarded for Bomb
Disposal work at Dieppe Harbour in 1944 with long
write up and citation details plus two small lapel badges.
German 'Bender' books, Foreign Legions of the Third
Reich by David Littlejohn. Complete set of 4 values.
German 'SS' items including IDTag, collar tab, shoulder
German E-Boat badge 2nd type, maker marked
German 1943 datedmetal snuff box with screw lid. Base
engraved, withmedal pattern to lid
German 3rd Reich postcards including propaganda,
military portraits and groups, artist cards byWillrich, etc
German 40 year Faithful Service medal nice example in
German Aeroplane fuselage with large painted swastika,
very impressive piece, seewebsite picture.
German Afrika Korps sidecap with usual red lining,
worn, reddishpink piped, rather grubby.
GermanAirGunners badge by Junker Berlin,GVF
German armband and clothbadges
GermanArmbands x2 incArmyHelper andSS type.
German badge & button selection, 6x inc scarce
LuftwaffeCivilianOfficers cap insignia
German Cavalry officers Service Dress cap, yellow
piping, nice examplewith some servicewear
German close combat war badge late hollow type
German Coastal Artillery badge in zinc late war
GermanCoastal artilleryWar badge
German death cards WW2 10x various dates all with
German Fallschrimjaeger tin helmet, many good copies
now exist soofferedA/F completewith strap& liner.
German Golden Wound badge, hollow type, maker
markedL11 andwith rare preliminary certificate toSergt
Johannes Baader of the Luftwaffe for one severe wound
leaving him invalided 7April 1945,GVF
GermanHelmet but based on a transitionalWW1-WW2
style & with Swastika to side, possibly fire brigade inc
German Hitler Bomb Plot Wound badge July 1944,
presumed tobe a very good copy of this rare badge,GVF
German Hitler Youth Armband and 2x different lapel
badges incMarine type inblue,GVF
German Hitler Youth buckle, Ski-Badge & 2x Lapel
German Imperial 1900 China campaignmedal, possibly
German Indian Volunteers "Azad Hind" medal &
Eastern Peoples "Ostvolk" decoration in bronze with
German Infantry Assault badges x2 Bronze & White
metal, bothhollow type, plus stick pin for same,GVF
German IronCross 1st class
German IronCross 2nd class inpacket
German Iron Cross 2nd class WW2 & award certificate
to Friedrich Siedler Sgt Infantry, signed by General
MajorGraessner aKnightsCrosswinner, whoDOW16-
German Iron Cross 2nd class WW2 & award certificate
to Unteroffizier Burckhardt signed by General
Commanding 254 InfantryDiv 15th July 1942GVF
German Iron Cross WW2 1st class pin back with light
rusting to centre & 1st class spange, this with loss of
GermanKnights Cross of the IronCross an immaculate
unusual nickel silver example stated by vendor to have
belonged to Vernon Bowmanwho wrote a history of the
Iron Cross and who ordered this example from an
original maker in the 1970's at considerable expense
using an original set of dies, it is marked 935 /maker 4
and is on an original ribbon we understand. A scarce
copy of Vernon's outstanding book on the Iron Cross
GermanKregsMarineNavalOfficers jacket
German Kriegsmarine cap tally in frame depicting the
interior of a WW1 U-Boat, tally reads "
German Kriegsmarine E-Boat badge 1st type, by
German Kriegsmarine High Seas Fleet War badge by
German Kriegsmarine High Seas Raiders badge, finish
German Kriegsmarine Torpedo Boat sidecap with
Totenkopff skull, small size, rather grubby.
German Kriegsmarine U-Boat badges / U-Boat base
badges 5x different types, inc "La Pallice" U-Boat base
worker, assumed to be latermade examples of these very
German Kriegsmarine U-Boat close combat clasp in
German lapel badges a scarce Belgian & French
employees type, no pin, a/f and a JewishWarsawGhetto
German lapel badges etc various types 10x total,
German lapel badges etc various types 9x and a small
German lapel badges in enamel, 2x onemade by Apollo
Jewellery Brooklyn NY & Transport badge Luftwaffe,
German lapel type badges 10x various types
German largeWW2 original flag
German Luftwaffe Air Sea Rescue badge, scarce, no