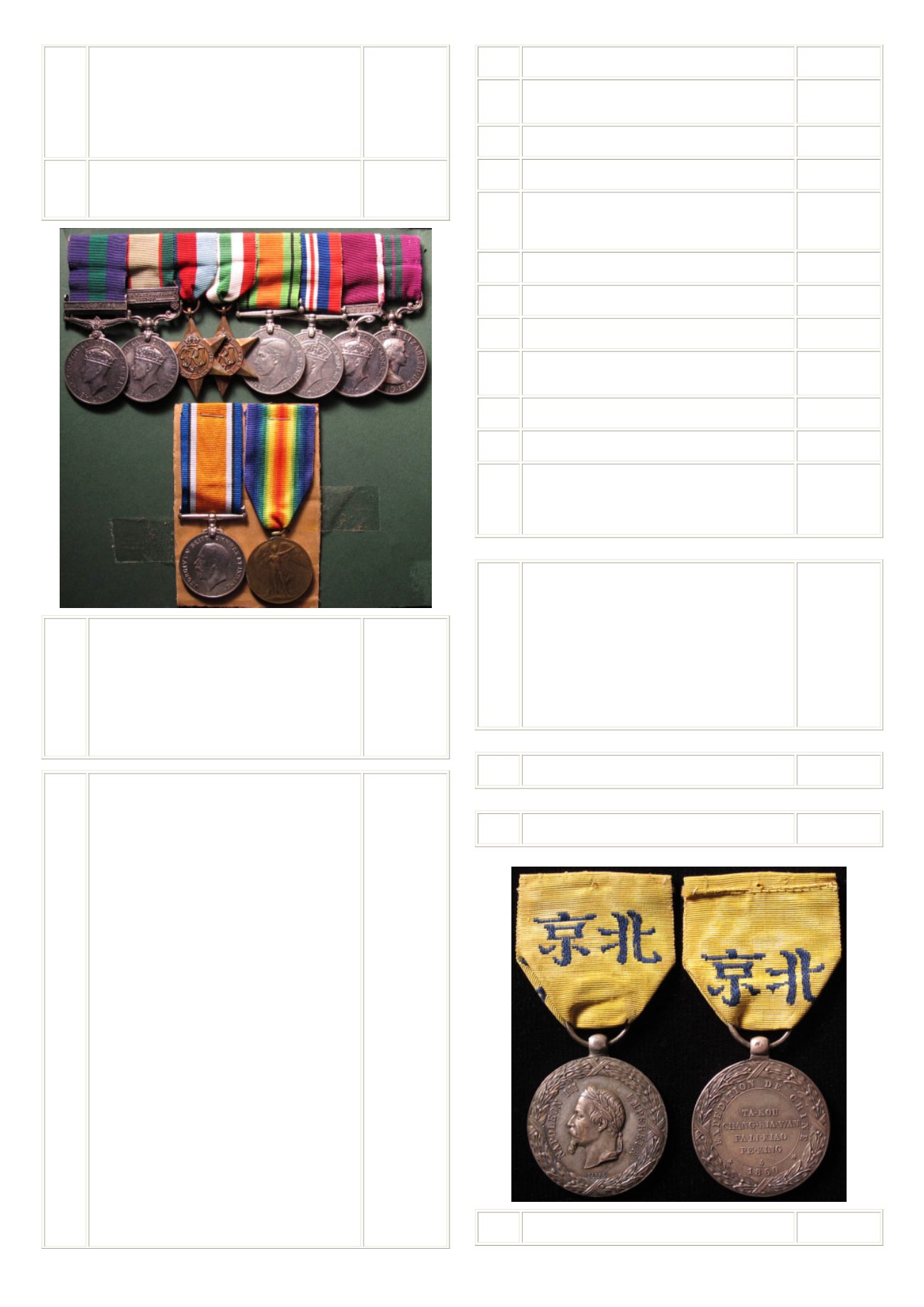 Familymedal groups - 1915StarTrio+DeathPlaque to
13715 L/Cpl George Frederick Lilley 9th Bn Suffolk
Regt. Killed In Action 10/10/1916. Born Fornham All
Saints, Suffolk. Listed on the Thiepval Memorial.
Together with a 1915 Star Trio and Defence Medal
named 13713 Pte William R J Lilley Suffolk Regt (his
brother). They enlisted together with almost consecutive
Familymedals - BWM&VictoryMedal to 175877SgtC
HGouldRAF, withDefence &WarMedals plus box of
issue to D R Gould of Fisherton St, Salisbury. Plus a
Family medals - BWM & Victory Medal to T/325431
Pte TMcKimm ASC, plus a superb group to 7010681
Cpl Charles Richard McKimm Royal Ulster Rifles,
medals - GSMGVI with Palestine clasp, IGS GVI with
North West Frontier 1937-39 clasp, 1939-45 Star, Italy
Star, Defence&WarMedals, GVI Regular ArmyLSGC
Medal (7010681 Sjt C RMcKimmM.P.S.C. (surname
corrected), and scarce QE2 Australian Meritorious
Service Medal (engraved 3110428 Sgt C R McKimm
ARA).Gazetted20/2/1958. VF-GVF (10)
Fighter Aces group to Lt. Colonel Andrew "Andy"
BosmanDSODFC a ten victory ace of Desert & Italian
campaigns comprising 39-45,Africa & Italy stars,
Defence & War medals, South African Overseas War
service medal, all named to P.102696 A.C.Bosman
mounted court style forwearwith small remnant of DSO
& DFC ribbons. He was born 16-5-1917 in Bloemhof,
Transvaal, enlisting pre war into the SAAF. By 1941 he
was a Captain with 3 Sqn SAAF in the Western Desert
and became their leading scorer. Awarded the DFC in
1942, he was then posted as Sqn Commander to 2 Sqn
SAAF before having a rest fromOps.Then attached to
72 Sqn RAF.Later he became sweep leader as a Wing
Commander of 7 Sqn SAAF until he completed his
second tour inOctober 1944 andwas awarded theDSO
(one of only 34 South African Airforce personnel to win
theDSO andmuch rarer in a combinationwith aDFC).
Very sadly after such a distinguished career he was killed
with all his Squadrons Pilots on 17th April 1947 whilst
being flown from Khartoum to collect a new batch of
Spitfires for his Squadronwhen theVentura theywere in
dived into the ground. He claimed ME109"s destroyed
on 23-11-1941, 12-5-1941, 12-12-1941 (two), Me109s
damaged 12-12-1941 (two) an Me110 destroyed 16-12-
1941, Me109f damaged 18-12-1941, Ju87s damaged &
destroyed 22-12-1941, a half kill Ju88 30-12-1941, a
probable Me109 7-1-1942, Ju88 destroyed 16-1-1942, a
shared Ju88 4-5-1942, destroyed Me109s (two) 27-5-
1944, a sharedMe109 27-5-1944, destroyedMe210 2-8-
1944 and Fiat 156 9-8-1944 which makes 19 definate
combat reports but in addition he is mentioned several
times in two books which come with the group and has
many mentions on the Internet. A very researchable
group, his DSO &DFC were detached many years ago
but when replacedwouldmake a fine group.GVF
Fire Brigade a set of London Fire Brigade cap badges,
First World War original 1914 or 1914-15 trio ribbon
approx 18 inches of each (enough for 3x trios) &TFWM
First World War Victory medals, Portugal, Belgium,
Brasil, SouthAfrica,DvrC.W.T.SWilliams S.A.S.C. VF
Framed 4th Bn Northamptonshire Regt WW1 Tribute
Certificate named toGGDean.
Framed Statement re the shooting down of a German
Aircraft on 23rd Jan 1943 at BeachyHead byBrenGuns
mounted for A.A. use. Cpl W S Sansom, Pte C A
France - good collectionofMilitary andCommemorative
Medals, all originals (approx 28)
France 6x various WW1 (mostly) medals inc scarce
Evaders/Escapersmedal with1914-1918Bar,GVF
France 8x WW1 mostly medals inc Croix de Guerre &
MedaileMilitaire,mostlyVF+
France a Vichy era Legionaries Croix de Guerre for
Volunteers fighting in Russia, Vichy emblem on ribbon,
France a Vichy? French Croix de Guerre 1939-1942
dated reverse, Vichy emblemon ribbon, boxed,GVF
France a "Giraud" North Africa type Croix de Guerre
France an unusual casualty pair, Medaile Militaire &
Croix de Guerre 1939 plus award certificate
(Posthumous) to Jacques Pierre Petit who was Killed in
Action at La Frimbolle,Moselle district of France 20-11-
France Legion de Honneur WW2, Croix de Guerre
1939, Member of the British Empire attributed to
Edouard JaninVidil withmodern paperwork concerning
the possible recipient who had a most interesting &
eventful life born into a Military French Family his
Grandfather was General Janin who served at the
General Staff School in Mykoliov, Russia 1909-11,
endingWW1 as Commander of Czech Forces in France
& Revolutionary Wars. His Grandson served in the
French Resistance until smuggled to England (see other
Italian decorations attributed to him in this catalogue),
France Vichy a 1939-40 reverse dated Croix de Guerre
withVichyParty emblem to ribbon,GVF
France Vichy French "Etat Francais" Croix de Guerre
1944dated, bronze star on ribbon, boxed,GVF
France, medal for the Expedition to China 1860.
Original silver issuewith ribbon. EF