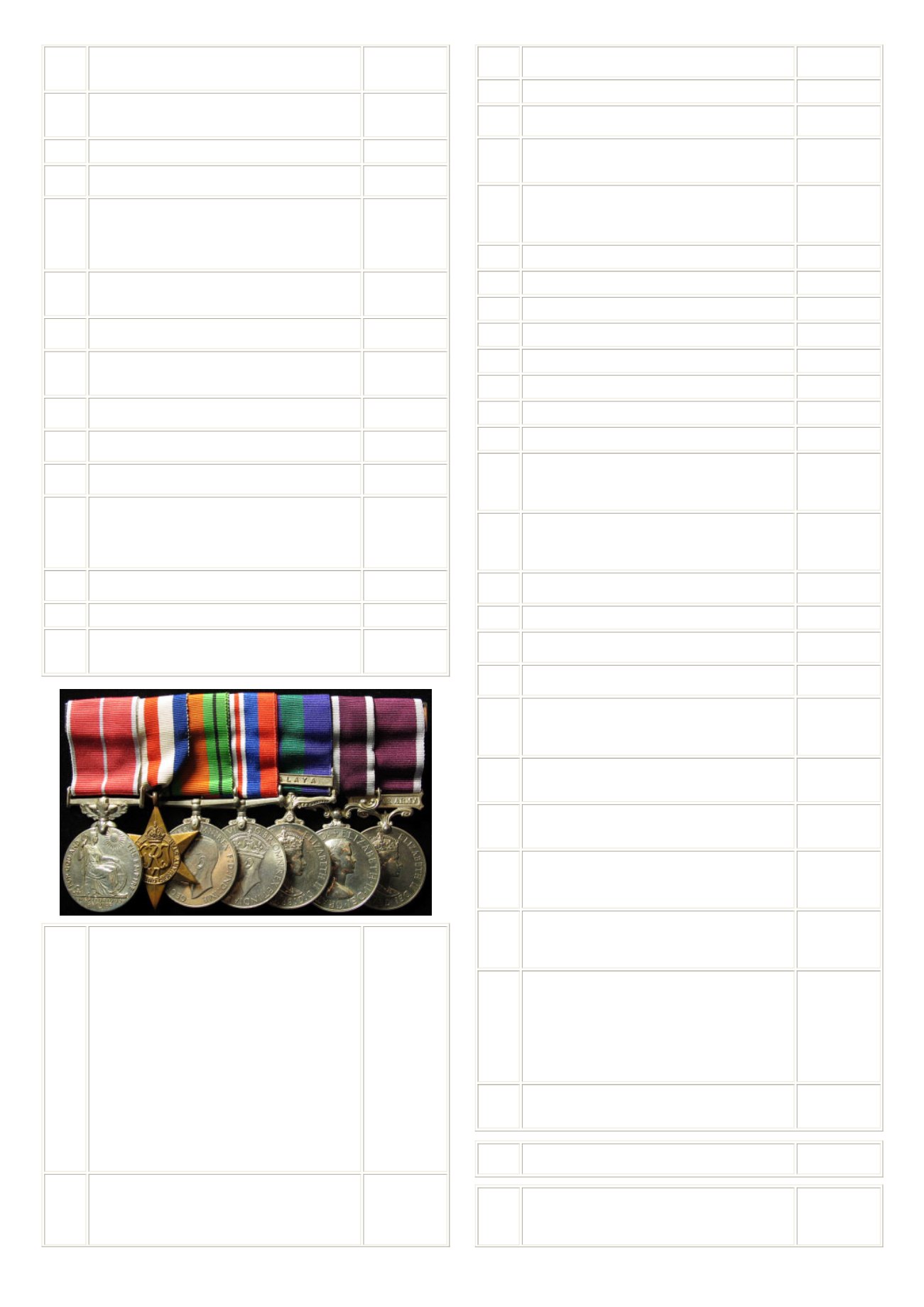 Ashantee Medal with Coomassie clasp named to J L
Healey ORD HMS Barracouta 73-74. Medal but not
Claspnot confirmed to roll.GVF a/f
Ashantee Medal, no bar, named to A (Alfred) Milford,
DOM.3.CL HMS Amethyst 73-74. With copy service
records, bornDevonport.GVF
Australianmilitary capbadges, collars andbuttons (qty)
Austro-Hungarian Empire 10x Orders & medals inc
enamelledOrders, various types / examples,mostlyGVF
Aviation andMilitary books - a large assortment covering
all periods, better noted includes several volumes of
Aircraft In Profile (approx 100 books) Four boxes, Buyer
Collects. Being sold on behalf of the MartleshamHeath
Badges 3x early Cameron Highlanders (pre Cameron
title), two HP Centre type one on slider for Pugaree
(Devonshire) &MiddxRegiments,GVF
Badges aVictorianLocal ForcesMilitiaGlengary badge,
2xLight Infantry&Victorian96thRegt 4x,GVF
Badges an Oxfordshire Veterans Reserve lapel badge,
East SuffolkPoliceReserve lapel badge& a silver? Spoon
for theKolarGoldFields Battn. VF
Badges lapel badge for British Union of Fascists
numbered 19016Birminghammaker,GVF
Badges Lonsdale Battalion 11th Bn Border Regt &RFC
Officers bronze badgewithblades,GVF
Badges, Surrey VTCWW1 good selection of badges &
buttons inc 1915VTCdatedOfficers badges,GVF
Ballard family medals - BWM & Victory Medal to M-
351514 Pte C J Ballard ASC, plus two school medals.
WW2 group 1939-45 Star, Africa Star, Defence &War
Medals plus named Casualty Medal Slip to Pte A
Beaufort War Hospital Christmas 1915, canvas wallet.
Belgium -RareOfficersVeteransCross 1865-1909.GVF
Belgium Orders & medals some boxed, inc order of
lepold & order of Crown etc, plus Young Volunteers
BEM group to W/134840 Staff Segt Dorothy Briant
WRAC. This rare and possibly unique group with BEM
GVIR (Mily), France &Germany Star, Defence &War
Medals, GSMQE2withMalaya clasp, QE2Meritorious
Service Medal, and QE2 Regular Army LSGCMedal.
BEM L/G 1/1/1952. 'Sergeant BriantWRAC has been
my PA since 1 Sept 1949. During this time she has been
whole heartedly devoted to her job, brining to it a
standard of work and sense of responsibility quite beyond
that normally shown by either male or female NCO's of
her rank withinmy experience. For long periods she has
acted also as Chief Clerk of the Branch during the
absences of the Chief Clerk on leave or courses and has
gone beyond the limits of duty in all that she has done in
this branch. She has at all times shown an example of
devotion of duty for younger clerks to emulate'. Served as
PA to Chief Education Officer BAOR. With copied
Benjamin Gilson a Litho Machine Minder, Ordnance
Survey, Southampton. Awarded Imperial ServiceMedal
GV (cased) L/G 18th Sept 1934, with 1911 Coronation
Medal in silver (replacement suspender, disc loose)
named 177Corpl BGilson5thHantsRegt.GVF (2) a/f
Binoculars WW2 British Naval (x7) with range finder
BoerWar cast ironHorse&Rider figure
Boer war scarce Boar regiment hat to the only official
Boer War Suffolk Regt QSA Cape Colony,OFS,
Transvaal &KSA SA 01 & 02 to 3124 Pte F.Larkins 1st
Book - The History of the 89th Brigade 1914-1918. By
Brig-Gen F C Stanley. Pencilled on the inside cover
'Donald Watson 19th The Kings (Liverpool) 80th Bde.
Books 10xmedal researchbooks
Books 10xmedal researchbooks
Books 10xmedal researchbooks
Books 10xmedal researchbooks
Books 10xmedal researchbooks
Books 10xmedal researchbooks
Books 10xmedal researchbooks
Books 10xmedal researchbooks
Book: The Great War Medal Collectors Companion by
Howard Williamson. The definitive reference work on
WW1medals signed by the author and numbered 3312.
Box of mixed items including Regimental mounting
boards formedals, a file ofNursing research, small boxof
gaming counters, Field Service Pocket Books Lieut FW
Charles 1st Londons, and aVictorianMilitary cap (qty)
Box of mixed militaria inc Officers sashes / part of an
unmadeWilkinsonSwordhandle / small badges etc
Boxwith instruments for navigation inc compass x4
Box with instruments for navigation inc Compass /
Box with instruments for navigation inc Compass /
Boxed Clarinet of military Bandsman 3655253 T E
Housley 4thBn S.Lancs Regt. BornHigher Ince,Wigan.
Lot includes Soldiers Service & Pay Book, Diary, photos,
Boxed WW2 group to Captain D.G.Gent of Romford
Essex inc 39-45 & Africa stars, Defence &War medals,
Boxed WW2 group to Captain W.L.Robinson, London
Colney Herts inc 39-45 star, Defence & War medals,
British Empire Medal (Mily) to 2375589 L/Cpl John
Barnett Markham R.C.S. L/G 9th Jan 1946. With box
of issue, Buckingham Palace letter. Lived Skegness,
British First pattern Paratroopers helmet with leather
straps & liner, this dated BMB 1942 but possibly a
composite piece so offered A/F but very good display
piecewithRAMCBadging flash to side.
BritishResidents Association of China - interestingWW2
lot including red armband 'B 2465' and stamped inside
'BRA' and 'BritishResidents Association of China'. Plus a
folder of original ephemera mostly relating to Amy
Jagger, a British Missionary Nurse, inc. Red Cross
Letters, ID Papers with photo, letters referring to the
Japanese Occupation of Shanghai, etc etc. A very
interesting andunusual lot (qty)
British tin helmet with Polish Armoured Div signs and
Polish cap badge painted on it, owners name inside rim.
British TinHelmet withWVSCivil Defence emblem on
front 1939dated, unusual. VGC
British Union of Fascists cap? A black old British made
peaked cap with Army & Navy Supply London stores
label & Fascist badge to obverse, cap certainly of the
periodbut badge possibly later added ?