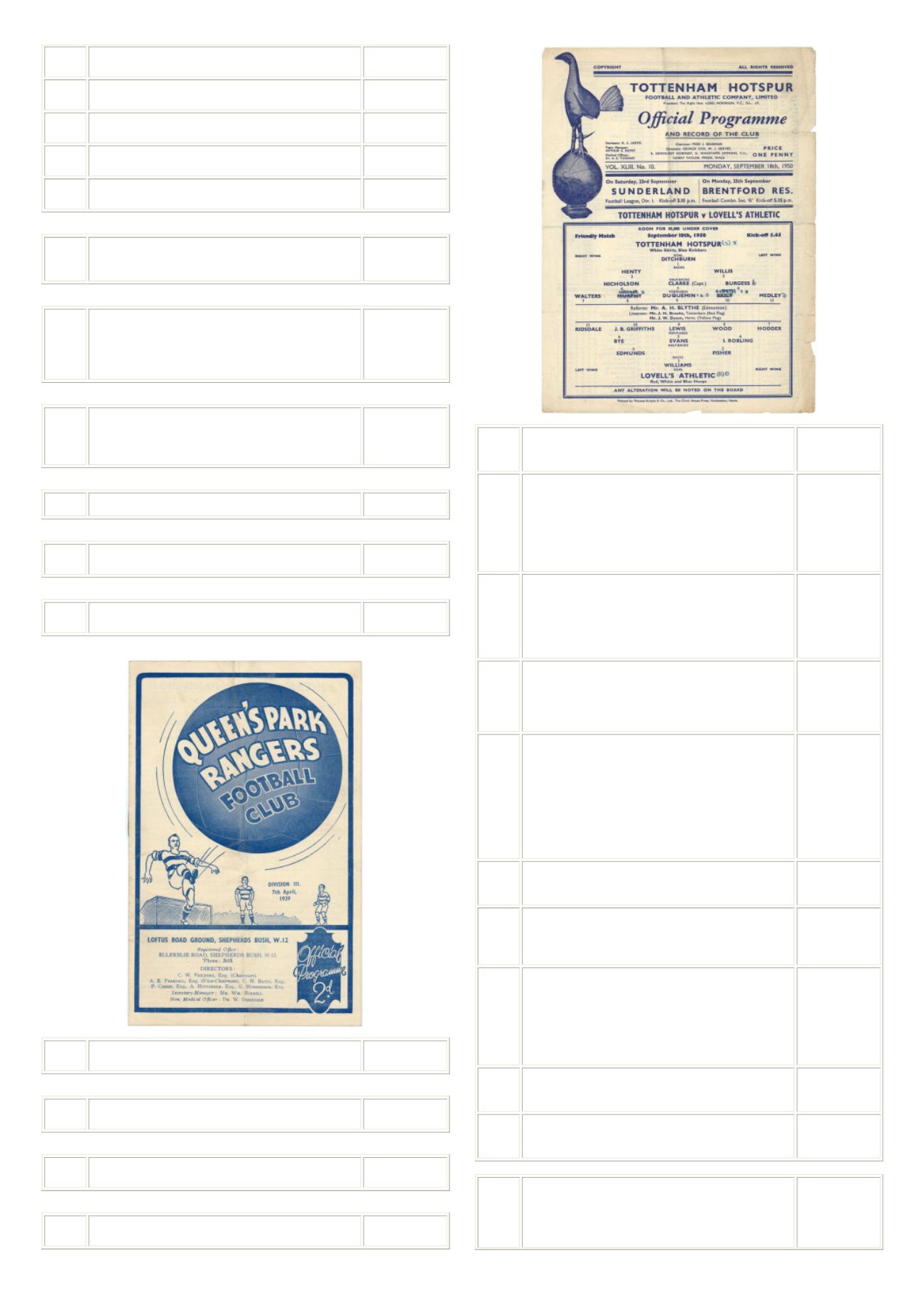 40
969
Football - Ipswich v Watford 13/4/1946 F/L 3 South
Cup
£20 - £22
970
Football - Ipswich v Watford 24/5/1947 Combination
Cup
£20 - £22
971
Football - Ipswich v West Ham United 20/4/1946
London Combination
£20 - £22
972
Football - Ipswich v West Ham United 30th August 1947
Combination
£20 - £22
973
Football - Ipswich v West Ham United 30th August 1947
Combination
£20 - £22
974
Football - Leicester v Wolverhampton FA Cup Final
programme + Ticket, and 1948 Olympics Football Final
at Wembley programme (2+1)
£40 - £45
975
Football - mixed collection of various programmes and
annuals from the late 1940's to early 1970's, several
Ipswich noted. Plus London 1948 Olympic Football
programmes, one with Ticket, and some cigarette cards
(qty)
£60 - £65
976
Football - mixed lot of various old programmes inc Hull
homes, 1950's England Home Games, various Luton
homes 1950's, plus a 1966 World Cup Final Programme
(reprint) (approx 27)
£35 - £40
977
Football - Norwich v Millwall 29th Oct 1938 F/L Div 2
£60 - £65
978
Football - Plymouth Argyle home games c1948 to 1951
(9)
£20 - £25
979
Football - Queens Park Rangers home game c1945 to
1951 inc 1947 Practice Match Whites v Blues (approx 92)
£60 - £70
980
Football - Queens Park Rangers v Ipswich Town
7/4/1939 Div 3
£70 - £75
981
Football - Royal Navy v Army 17th Feb. 1945 at
Portman Road, Ipswich
£35 - £40
982
Football - Royal Navy v Army 17th Nov 1945 at
Portman Road, Ipswich
£35 - £40
983
Football - Torquay United home games c1947 to 1953
(mostly 1940's) (approx 34)
£70 - £80
984
Football - Tottenham v Lovells Athletic 18th September
1950 Friendly Match Single Sheet, pen changes and tears
but Rare
£200 - £250
985
Football Autographs collected at Portman Road, Ipswich
by the vendor c1939-1948 when the ground was used for
various wartime games including many famous players
such as Stanley Mathews, Alf Kirchen, Frank Swift, Joe
Mercer, Albert Stubbins, Eddie Hopgood, Johnny
Hagen, Len Goulden, Denis Compton, Tommy Lawton,
etc etc. A good lot worth viewing (qty)
£80 - £85
986
Football Cup Finals - Chelsea v Millwall F/L South Cup
Final 1945, Blackpool v Bolton FAC Final 1953 and
Ditto but Souvenir issue, Blackpool v Manchester United
FA Cup Final 1948, Leicester v Wolves FA Cup Final
1949, Arsenal v Newcastle 1952 FA Cup Final,
Blackpool v Newcastle FA Cup Final 1951 (7)
£100 - £120
987
Football good mixed collection of 1940's and 1950's
programmes including Southend, Wolverhampton,
Arsenal, Preston North End, Reading, Tottenham,
Stoke, Swansea, Manchester City, etc etc (approx 64)
Needs viewing
£90 - £100
988
Football Medal, silver hallmarked, to front North Berks
Challenge Cup Competition 1908/09 with green/yellow
enamel centre; to rear F.T.F.C. 1908/09 & monogram
player initials? P.B.S. this related to Farringdon Town
Football Club, a nice item, PLUS Football Medal:
Hallmarked silver d.32mm in original box (lid damaged),
enamel to centre front: Birmingham Works Amateur
Football Association, engraved to rear G.K.N. Ltd F.C.
League Winners 1932-33 S. Richards. (2)
£50 - £55
989
Football programmes nice clean collection. 50's/60's
(early) includes Liverpool v Rotherham 57/58, Man City
v Leicester 57/58, Swansea v Blackburn 57/58, etc (30)
£30 - £35
990
Football scrapbooks. Large scrapbooks nicely presented
packed full of cuttings neatly laid down. Good Midlands
interest. Circa mid 50's comprises 3x books which have
not been picked and are as produced. Nice item. (3)
£25 - £30
991
Football, unusual handbook 64 pages for 1948/49: Story
of Chelmsford City Part 2 The Meteoric Rise of
Colchester United, rare publication produced locally.
Plus Magazines: Soccer Star Magazines from c 1965-
1967 (approx 120), and Sport Magazine issued for
seasons 49/50, 50/51. Better covers noted (approx 30)
Buyer Collects.
£20 - £25
992
Football/Athletics/Cricket, etc interesting mixed lot of
various brochures, magazines, programmes mainly from
c1940's and 1950's (qty)
£50 - £60
993
Gilbert and Sullivan Theatre Poster for the Yeoman of
The Guards 22" x 32", c.1910 by Stafford and Co.
Framed with plastic glass (Buyer collects)
£40 - £45
994
Girl Guides, collection of 53 Postcards and Snapshots
corner mounted into contemporary album, for 1937 Girl
Guides Jubilee inc. plays, Scottish Camp, Groups, mass
gathering from the collection of District Commissioner
Mrs Edwards of Crieff and Comri
£22 - £24