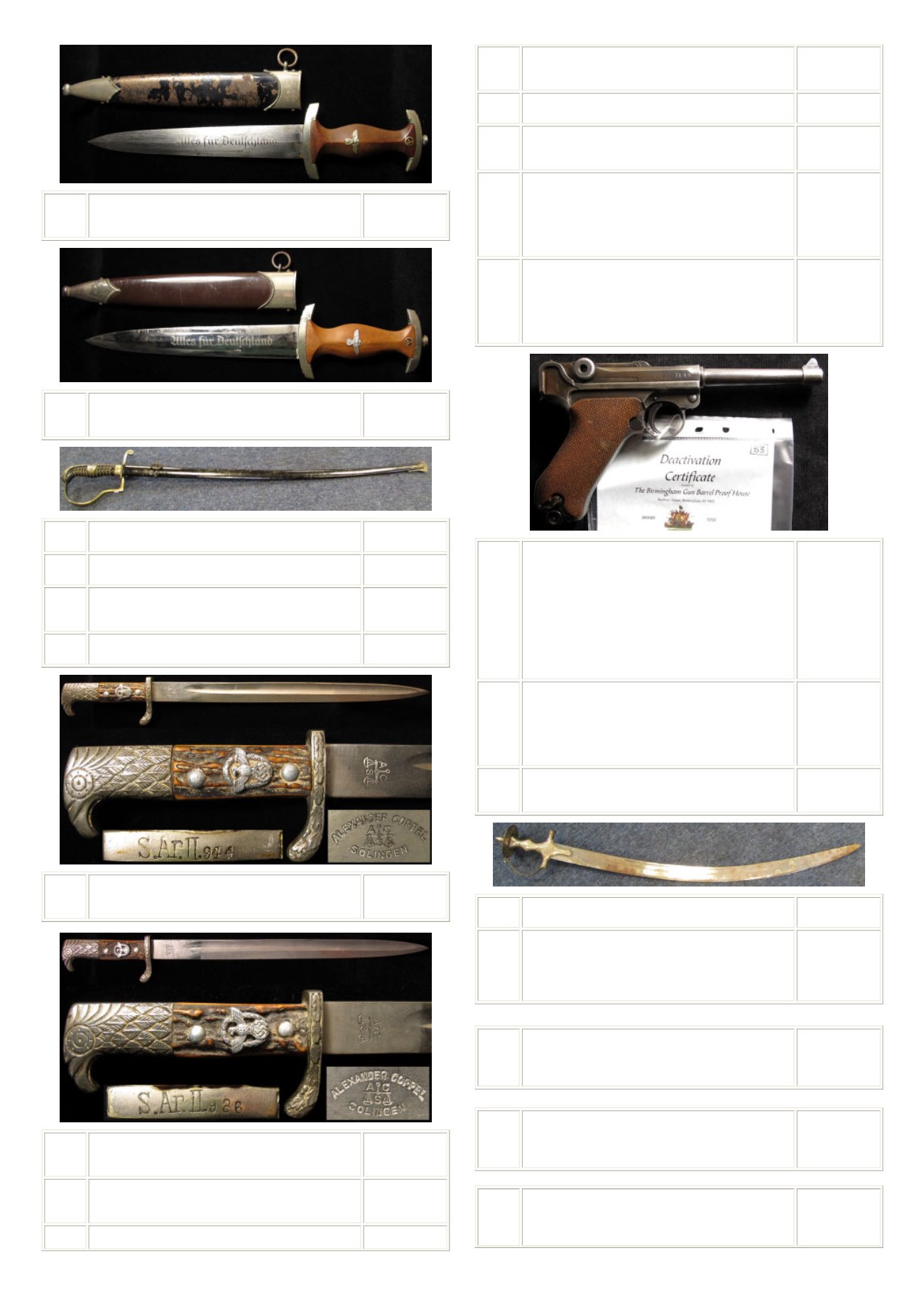 44
1103
German SA Dagger with black painted scabbard (most of
paint missing), blade maker marked 'Gust. Weyersberg
Nachf. Solingen'. Cross guard stamped 'NS'. Scruffy
£240 - £260
1104
German SA Dagger with dark brown scabbard, blade
maker marked 'RZM M7/1/38'. Blade and handle
pitted, small chip to handle
£240 - £260
1105
German WW2 Army Officers dress sword blade made by
F W Hollier Soligen in its black painted scabbard
£160 - £170
1106
German WW2 dagger spanner for securing the nuts on
SA SS & NSKK daggers makers code marked
£35 - £40
1107
German WW2 Hitler Youth Dagger with metal scabbard
and leather frog, blade maker marked 'RZM M7/51/40'.
Nice original piece
£140 - £160
1108
German WW2 Hitler youth knife back of grip replaced
also with Hitler Youth arm band and badges
£120 - £130
1109
German WW2 Police Bayonet (no scabbard) blade
maker marked 'Alexander Coppel Solingen', cross guard
stamped 'S.A.r.II.944' and '633'.
£180 - £220
1110
German WW2 Police Bayonet (no scabbard) blade
maker marked 'Alexander Coppel Solingen', cross guard
stamped 'S.A.r.II.986' and '640'.
£180 - £220
1111
German WW2 Red Cross Enlisted Man Hewer with
black scabbard. Overall showing its age with rusting all
over, blade maker marked. Original piece a/f
£240 - £260
1112
German WW2 trench knife in its correct scabbard
£65 - £70
1113
German ? WW1 Trench or Fighting Knife - an unusual
composite piece (tip of blade missing), scabbard made
from SMLE parts.
£120 - £140
1114
GRV Rifle Brigade Officers sword complete with leather
field scabbard
£150 - £160
1115
GV British Infantry Officers Sword with leather field
scabbard, blade named 'H A Hett Army Service Corps
from his father & mother June 1915'.
£240 - £260
1116
Holsters: A 3rd Reich Walther P.P.K. auto leather, flap
top holster stamped 'EISENTUM DER WIEN
SICKERHEITS - WACHE'. Inner flap with Nazi Eagle
issue stamp, AND a WW2 webbing holster for the .38 cal
service revolver, stamped inside the flap 'M.E.Co. 1930'
Both very good condition. (2)
£30 - £35
1117
Imperial German Great War trench/fighting knife.
Blade 6". Ricasso with inspection stamp and marked
'Gottlieb Hammesfaht. Solingen. Foche'. Broad, deep red
coloured, walnut grip with 9 grooves. In its field green
painted steel scabbard with leather belt loop and
retaining strap. A good collectors example.
£120 - £140
1118
Imperial German Luger by DWM with breech marked
'1918'. This pistol sold to Finland in 1920 and rebelled by
the Tikka Arsenal. Matching numbers 134. With its
WW1 chequered wood grips and Finnish magazine.
These pistols were issued to Finnish officers and saw
extensive action in the winter war with Russia in 1940. In
excellent working order and very good condition. (small
loss to locking button). Full Imperial markings and
Finnish mark to barrel. Collector's lot. With D'Act
Certificate
£600 - £650
1119
Imperial German Model 1871 Prussian Infantry NCO's
bayonet. Made at Erfut in 1878. Blade 18", worn and
pitted. Brass hilt with S quillons. In its matching brass
mounted leather scabbard. Regimentally marked to the
80th Infantry Regiment. Worn overall, scabbard leather
dry, stitching a/f in parts.
£35 - £40
1120
Imperial German sidearm c1870's, brass hilt regimentally
marked, large heavy blade, complete with leather & brass
scabbard (top mount a/f)
£70 - £75
1121
Indian 19th Century sword very nice example with silver
inlayed hilt
£100 - £110
1122
Indian sword: 'Tulwar' iron hilt with long langets. Disc
pommel. Curved blade 33" in its velvet covered wooden
scabbard (Worn & a/f with losses to chape). Traces of
coloured decoration to hilt. Appears to be of some age.
Interesting item.
£50 - £55
1123
Japanese Katana. Blade 26" (good condition). Iron
Tsuba. Field service leather cover to wooden saya.
Rayskin same with brown tape and menuki. Worn
overall, likely WW2 vintage. Viewing recommended.
£100 - £120
1124
Japanese sword Katana blade 27" (tip broken off). Iron
Tsuba tape bound grip. Wooden Saya with simple
lacquered design (some wear & losses). An interesting
sword of some apparent age. Viewing recommended. a/f
£80 - £85
1125
Japanese sword Katana. Blade 26". Solid Tsuba.
Wooden saya with plain brass mounts. Cloth bound.
Rayskin hilt with plain brass Menuki. Button release for
blade.
£100 - £150