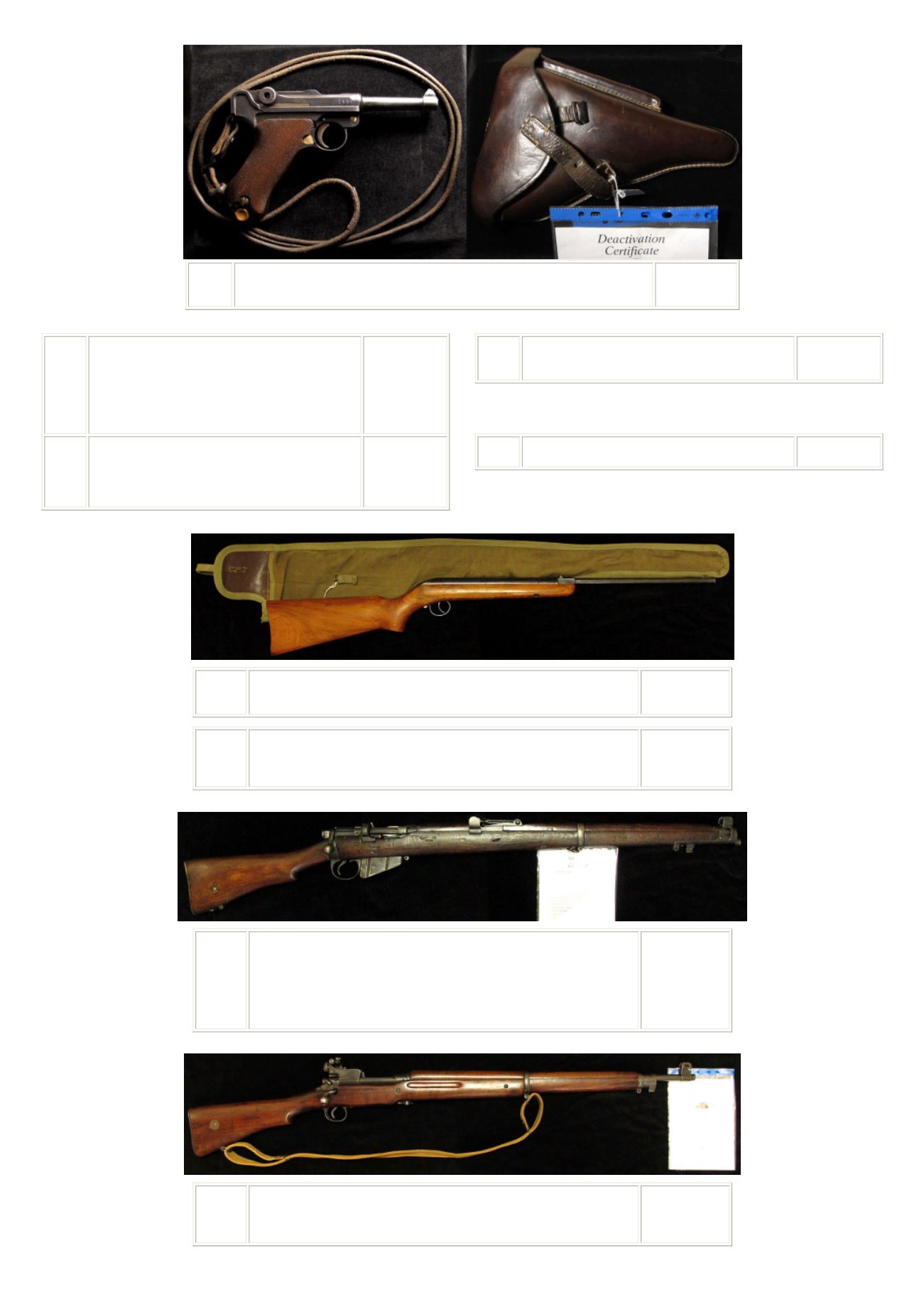 46
1151
Pistol: A good Imperial German Luger by DWM & dated 1917. Matching numbers. In
its leather holster with stripping tool and lanyard. Good working order and condition.
With its certificate of deactivation.
£900 - £950
1152
Pistol: A Great War Webley & Scott Ltd. 1" brass signal
pistol. W/D marked and with issue marks for 1916.
Mounts with surface rusting. Walnut grips (R.H. grip
minor chip to heel) with lanyard ring. The standard
WW1 trench signal pistol. G.W. order and sound
condition. An untouched example. With d/act
certificate. No licence required.
£120 - £140
1153
Pistol: A Poacher's double barrelled .410 shotgun pistol
of Belgian manufacture. Twin hammers & double
triggers. Chequered walnut grip. Circa 1890. An
interesting countryside artefact. Barrels 10". Retains
much original blue with light rusting.
£60 - £65
1154
Pistol: A Webley 'Senior' .22 Cal: Air Pistol in its original
carton. In good working order and condition. (Has been
tested, please do not dry fire as this could damage it)
£70 - £75
1155
RAF. Aircraft 1945 dated scarce military marked escape
knife very nice example
£60 - £65
1156
Rifle: A B.S.A. .177 'Cadet' Air Rifle. Action in working order (spring weak). T/G
nut replacement. In a carrying case. Fixed rearsight. Overall good condition -
some wear.
£25 - £35
1157
Rifle: a dummy training rifle circa WW2 (or before). Rifle simulates a model 1903
Springfield service rifle. Spring bolt. Trigger clicks when pulled. Overall length
42". Worn overall but would restore to original condition. Complete with canvas
sling. An unusual & scarce item.
£60 - £70
1158
Rifle: A good Great War S.M.L.E. .303 service rifle. Matching numbers to breech,
barrel, rearsight , woodwork and nose cap. SN: W:34069. Original walnut stock.
Magazine cut-off. W/D ordinance marks. Action marked GR: 1917 SHT LE III
& S.S.A. (Peddled scheme: standard small arms) These rifles assembled at the
Enfield factory for the Armies in France. Butt marker disc shows "E.K." for East
Kent Regiment. In good working order and condition. Light bruising overall
commensurate with service use.
£350 - £400
1159
Rifle: A good .303 P.14 service rifle by Winchester. WD. marked. Volley sights
removed. Rear sight replaced with a Parker Hale MK VII rear peep sight marked
Patt '14. Excellent walnut stock with a webbing sling. Deactivated with a 2001
certificate. V.G.W.O and condition.
£250 - £300