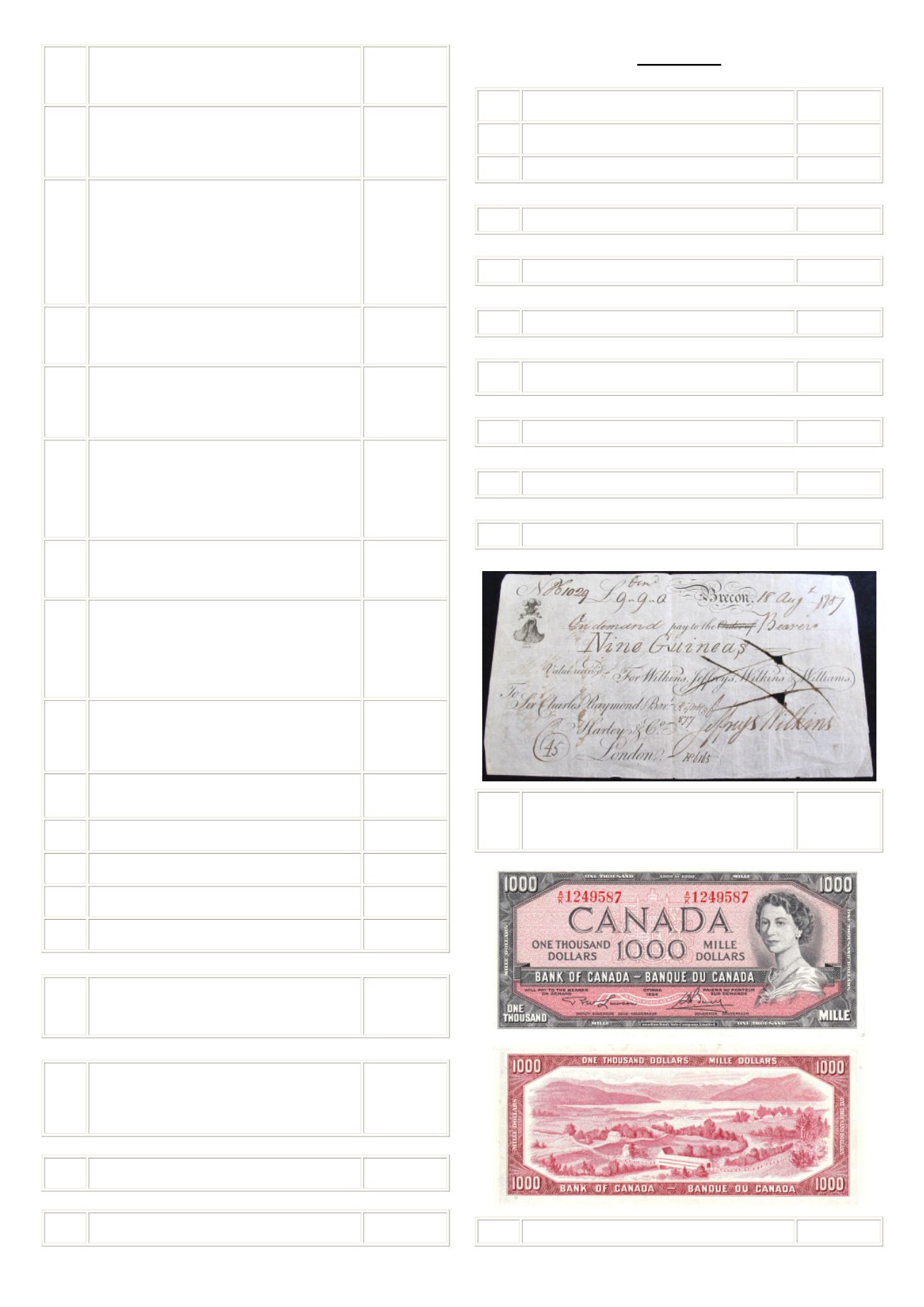 48
1178
Swords: Small unmarked sword (possibly for cadets?). In
its steel scabbard. Phrygian type pommel wirebound grip
AND two unmarked cavalry type swords both without
scabbards. Worn overall. (3)
£40 - £45
1179
Swords: theatrical type swords; possibly of Victorian
vintage: Medieval type sword with drooping quillons and
ball pommel, and Spanish type rapier with button on end
of blade. Neither have their scabbards. Worn and rusted
overall but decorative. Worth a look. (2)
£20 - £30
1180
Sword: 19th century Sudanese sword 'KASKARA'
Broad, straight blade 34", decorated with inscriptions,
possibly from the Koran. Straight crossguard with central
langets. Wooden hilt with central circular disc pommel
covered in snakeskin (some wear, losses), lizard skin or
crocodile skin. These swords were favoured by the
'Mahdists' (The Mad Mahdi of Khartoum fame).
Interesting artefact. With crocodile skin scabbard (broken
in tiny pieces) A/F
£40 - £50
1181
Sword: A 19th century all steel Tulwar with a Kora
blade. An 'all seeing eye' decoration to both sides of
blade, Heavy steel construction. Interesting sword. light
rust and some pitting but will clean up well.
£30 - £404
1182
Sword: A Pattern 1856 Light Infantry Drummers sword
MK1. In its brass mounted leather scabbard with leather
frog (possibly a reproduction frog). Plain, unfullered
blade 22". String bugle motif to crossguard. In good
condition overall.
£100 - £120
1183
Sword: a WW2 Period Prussian Artillery Officers sword.
Ribbed ebony (?) hilt with brass stirrup guard. In its
blued steel scabbard. Guard marked underneath '1025' &
'CE./39' (Carl Eikhorn 1939) with code WA - 268 below
eagle. Makers mark to ricasso. Blade with fuller 32".
Scabbard matches sword with number '1025'. A good
example.
£120 - £140
1184
Sword: An 1854 Pattern Infantry Officer's sword. VR
logo. Etched blade. Has every appearance of a quality
reproduction. In its steel scabbard with two rings. Overall
good condition. a/f
£30 - £35
1185
Sword: Austrian Pioneer/Artillery M1850/53 sidearm.
Wooden hilt, straight steel crossguard marked 'F.SP.1.-
187' & '3J.R'. (Jaeger Regiment?). Double-headed eagle
stamp and 'FEUWIETE?' to ricasso. Heavy blade 18.5".
In its steel mounted leather scabbard (leather worn, a/f
with losses & stitching a/f). Otherwise sound and better
condition.
£100 - £120
1186
Sword: WW1 German Artillery Officer's sword. Polished
blade 33.5" by W.K.C. Solingen. Wirebound ebony (?)
grip. Stirrup guard (light rusting to plating). In its steel
scabbard with hanging ring (some surface rust). Overall
good condition.
£90 - £100
1187
Tools: Vickers M/Gun bore inspection tool brass WW2,
two combination tools, bore inspection tool. 303 SMLE,
WW1 brass SMLE oil bottle.
£20 - £25
1188
US 19th Century centre fire obsolete cal pocket revolver
barrel stamped unique C S Shattock Hatfield mass
£100 - £110
1189
Vickers "303" Gun Sights Luminous 1 set', in original
small box of issue
£20 - £25
1190
Victorian 1895 pattern Infantry Officers sword very nice
example in its metal dress scabbard with sword knot
£200 - £220
1191
Victorian Naval Petty Officers sword with pipe back
blade c1850 in good condition with part scabbard
£160 - £170
1192
WW1 bayonets: Butcher 98/05 German. 1916 by P.D.
LUNSSCHLOSS. Good blade, pitted mounts. Ross rifle
MKII. Polished overall. Worn. U.S. P'17. Worn,tip
rounded. All lack their scabbards. (3)
£30 - £40
1193
WW1 Casualty Officers sword name on the blade Adrian
G Hubbard 10th March 1915 Second Lieut Adrian
George Hubbard the Buffs(East Kent Reg) was K in A
on the 30-8-1916 and buried Corbie Communal
cemetery Somme France
£180 - £200
1194
WW1 scarce 1918 dated machete complete in its original
1918 dated scabbard
£80 - £85
1195
Zulu fishing spear ? (one barb missing) plus a Zulu War
Spear Hear (2)
£25 - £30
Banknotes
1196
GB (45) Pounds x 25 with Ten Shillings x 20, mixed
grades with some GEF
£40 - £50
1197
Australia $10 (10) All P49b "AB" Unc consecutive
numbers
£80 - £120
1198
Australia $10 (3) all P45e Unc
£40 - £60
1199
Australia $10 (7) All P49a Unc in the presentation folder
£40 - £50
1200
Australia $2 (2) both P38c Unc
£40 - £50
1201
Australia $20 P41c Unc
£80 - £100
1202
Australia $5 (4) P44e, P44g, both Unc with P50a (2) "AA
& AB" VF - EF
£35 - £40
1203
Beale Ten Shillings (3) all B266 VF - GVF
£28 - £32
1204
Bradbury One Pound T16 "D48" Fine
£30 - £35
1205
Bradbury Ten Shillings T15 "Dardanelles" "Z19" Fine
£350 - £400
1206
Brecon Bank (Wilkins, Jefferys, Wilkins & Williams), 9
guineas, 18 August 1787, serial number 1029, (Outing
266c), ink cancelled with a few tiny pinholes and larger
holes where cancelled otherwise about Fine (rare)
£200 - £250
1207
Canada $1000 Pick 83d GEF
£600 - £700