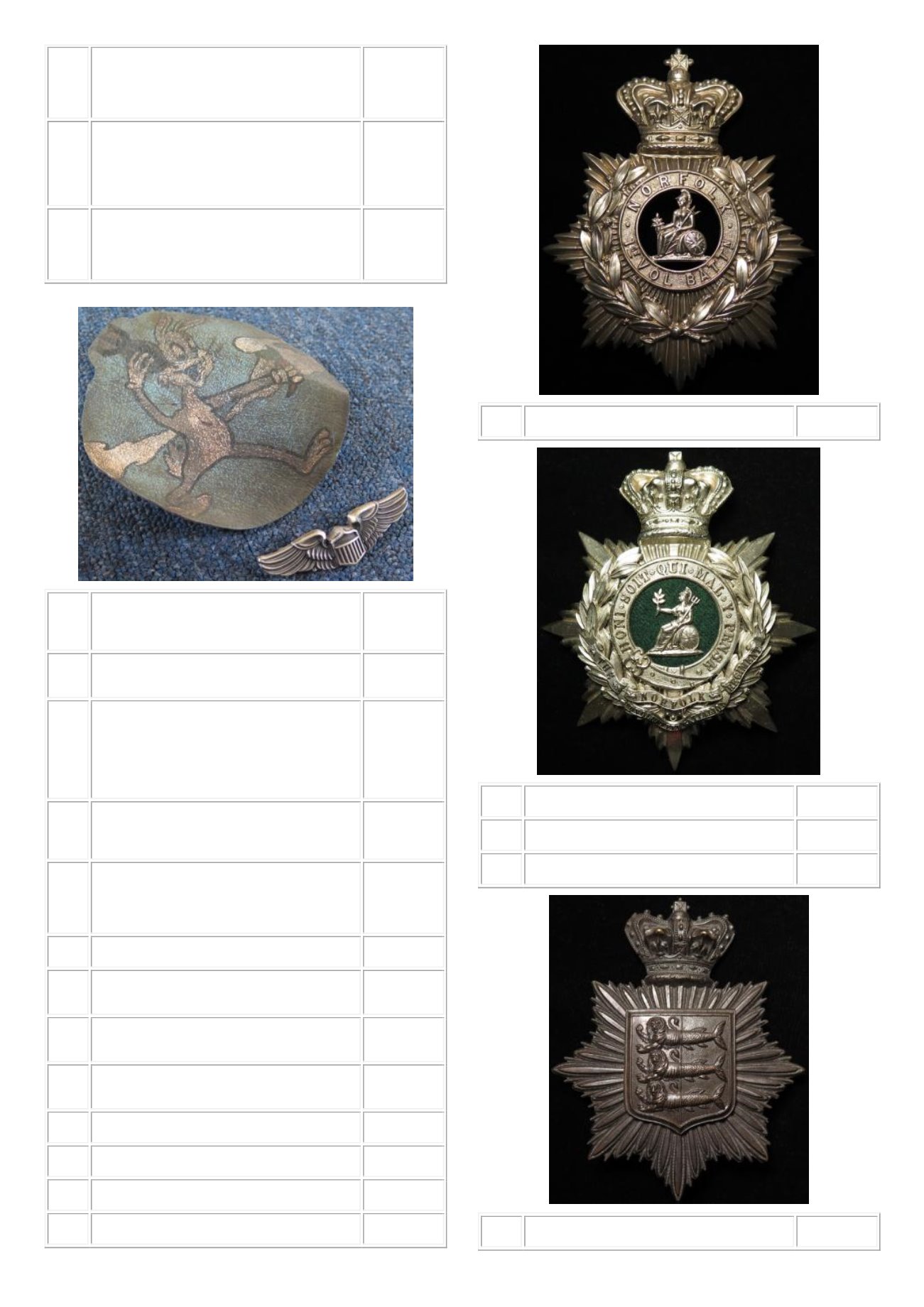 10
130
American Legion of Merit named Dudley L.Carlson
possibly who was a Captain in the US Navy awarded
whilst serving on Flagship USS Blue Ridge 1978-1980
and again a second award in 1982 with partial citations
from internet, NEF
£90 - £100
131
American partial Vietnam era group Air Medal named
PFC G.T.Padilla U.S.Army, Good Conduct medal,
Vietnam medal (also awarded Posthumous Purple Heart
and South Vietnam war medal) KIA as Cpl. 174th AHC,
14th Bn, Group, 16th AVN Group, born Nov.7th 1949,
KIA March 3rd 1971 as Helicopter Aircrew NEF
£90 - £100
132
American Soldiers Medal a scarce Bravery award when
not in action against an enemy (like George Medal)
named Sgt. Willie F.Hastings and awarded for saving a
recruits life who had mis-thrown a live hand grenade,
June 28th 1966.
£90 - £100
133
American Squadron patch for 486th Squadron based
sometime at Great Waldingfield, Sudbury March 44 to
July 46, they flew 191 missions over occupied Europe plus
a General aircrew pair of wings. VF
£50 - £55
134
An assorted bag of interesting militaria as follows: Trench
art lighter and match case, pincer mould, U.S. Poppy,
A/F badge & coins, 6 assorted bullets. A good lot. (qty)
£20 - £25
135
An early and rare Naval Morse Code hand held signal
lamp Mitchell's Patent and dated 30.10.1907. Makers
badge 'Player & Mitchell', Attwood passage, Cambridge
Street, Birmingham. All brass case, oil lamp within. Most
likely for use in ships small boats circa WW1. An
attractive and rare item of early signalling equipment for
the Morse Code. A collectors lot.
£100 - £150
136
Answers Medal for Heroism 1892, issued by The Answers
Newspaper for Heroism, listed in Medal Yearbook L16
but listed in silver at £400-500 but this example in bronze
and NEF
£160 - £180
137
Anti Gas dated 1917, training BRCS medal named 6145
P.M.Copleston, unusual as usually WW2 dated, plus a St
Johns Ambulance silver Service Cross with bars 1915-
1916-1918 on a watch fob fitting, named to Adolfus
E.Nande
£50 - £55
138
Army Air Corps, Fleet Air Arm & Royal Air Force wings
badges (approx 42 items)
£40 - £45
139
Army LS & GC Victoria, 5234 Gunnr H.J.Norgrove, Cst.
Bde.R.A, unusual name, an attempt has lightly been
made to erase naming, but can all be clearly seen. VF
£60 - £65
140
Army LSGC Medal QV issue, named to 491 Pte W
Hooton Rl Highlanders. William Hooton was a native of
Oxton, Nottingham. VF
£60 - £70
141
Army Pay Corps an interesting assortment of items inc
Africa star group all relating to 7663157 S/Sgt
G.W.Gibbons
£60 - £65
142
AUG 5th to NOV 22nd 1914 medal bar attached to 1914
star medal ribbon
£40 - £50
143
Australia 3rd Bn silver hallmarked (1916) and enamel pin
badge, tiny areas of enamel damage noted
£20 - £22
144
Australia & New Zealand Army cap badges (approx 26
items)
£25 - £30
145
Badge - 32nd Foot, (Cornwall Light Infantry) original
pork pie style brass badge.
£40 - £45
146
Badge - 1st Volunteer Battalion Norfolk Regt o/r helmet
plate c1883-1901
£240 - £260
147
Badge - 2nd Volunteer Battalion The Norfolk Regiment
Officers helmet plate c1883-1901
£240 - £260
148
Badge - 3rd. Queen Alexandra's Own Gurkha Rifles hat
badge, solid brass version.
£30 - £35
149
Badge - 3rd. Queen Alexandra's Own Gurkha Rifles, pair
of unmarked silver Officer's collar badges.
£40 - £45
150
Badge - 4th Norfolk Rifle Volunteer Corp Shako Plate
c1859-1860. Rare
£120 - £140