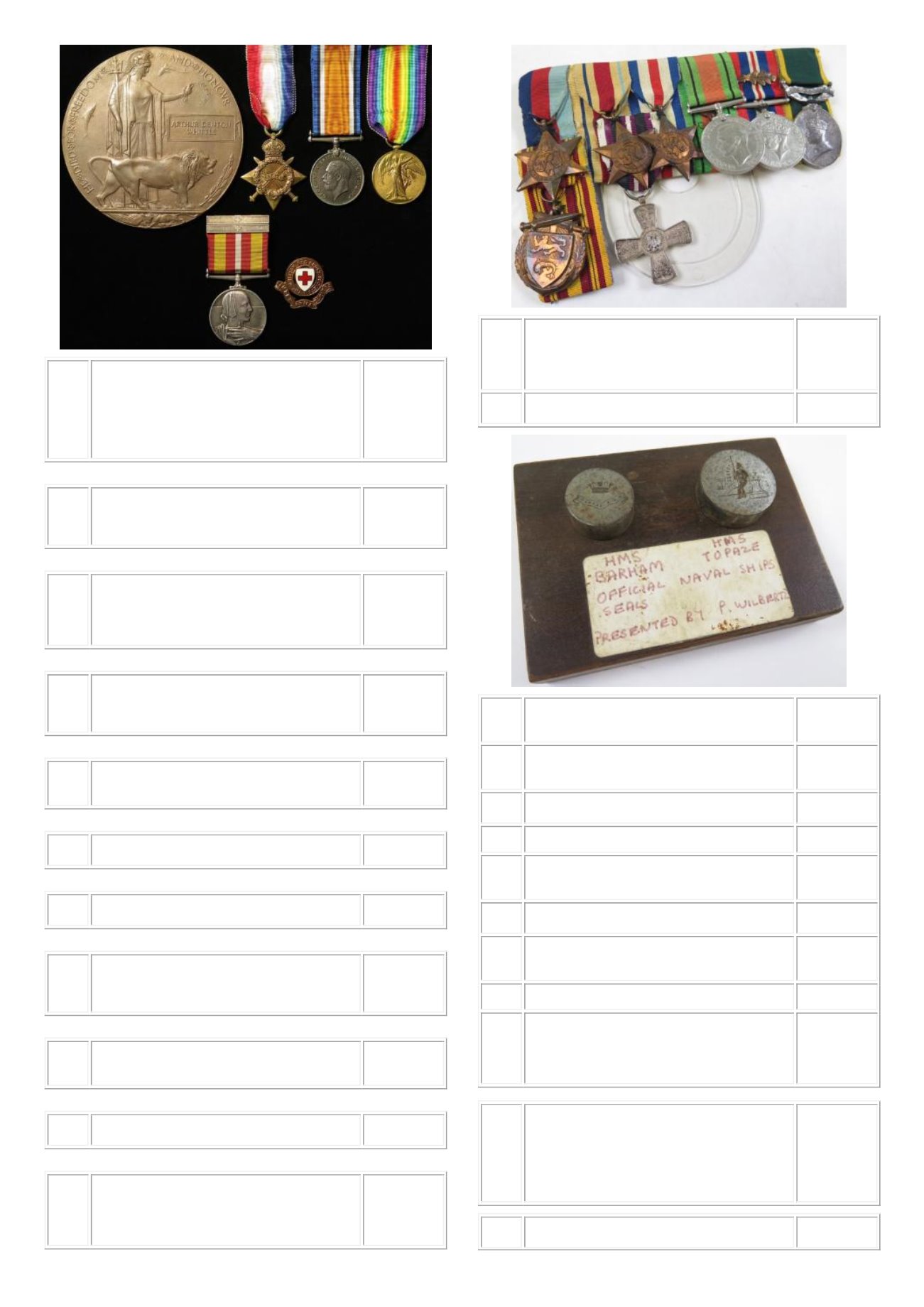 9
106
1915 Star Trio (2.Lieut A D Whittle Durham L.I.) and
Death Plaque (Arthur Denton Whittle). With a Voluntary
Medical Service Medal in silver with 2x bars (Gertrude A.
E. Whittle). Killed In Action with "C" Coy 10th Bn D.L.I.
On the Thiepval Memorial. Lived Bromley, Kent. With
much copied research inc photos, newspaper reports, war
diaries, service records, etc (qty)
£600 - £650
107
1915 Star Trio + Death Plaque and Scroll in tube to
13298 Pte C Freegard Som L.I. Charles Freegard was
Killed In Action with the 8th Bn on 28 April 1917. Born
Swansea. On the Arras Memorial. VF (4+1)
£140 - £150
108
1915 Star Trio + Death Plaque to 19377 Pte F Banwell
Welsh Regt. Frank Banwell Died of Wounds with the 8th
Bn on 25 April 1916. Born Pontywain, Mon. On the
Basra Memorial. Medals EF, Plaque with fixing clips to
reverse (4)
£140 - £150
109
1915 star war medal and memorial plaque casualty letter
and box of issue in named envelope to 13918 Pte James
Angel 8th Bn Suffolk Reg died 20-11-1915 buried
Hallstead cemetery Essex
£160 - £180
110
1915 Star (1898 Pte B Blaney Bedg Yeo), and Victory
Medal (1898 Pte B Bleaney Bedf Yeo). Note odd spelling
to Star. VF (2)
£30 - £35
111
1915 Stars to 93392 Spr J Pearson RE and 091710
A/SGT G Gregory ASC
£40 - £50
112
1915 Stars x4 to J Jones RAMC / R E Williams ASC/ C
A Ford RN / and C H Evans wounded 8-11-1916
£80 - £100
113
1915 to Captain Mathew Henry Matthews commissioned
Royal Engineers comes with copy set of service papers
was wounded whilst defusing a shell fuse September
1916
£140 - £150
114
1915 trio in original boxes of issue, 9/11323 Pte
W.Watson North"d Fus, he landed France 15-7-1915,
NEF
£65 - £70
115
1915 trio to 4821 Pte E Holt Rifle brigade comes with
original certificate of discharge and character certificate
£80 - £100
116
1915 trio with GSM Iraq to 72171 Gnr F R Purvey RFA
with WW2 1939-45 star Atlantic star Africa Star Italy
Star Pacific Star and War medal with good selection of
original service documents served RFA in WW1 and
Merchant Navy in WW2 (victory medal a replacement)
£220 - £250
117
A 'Walter Mitty' type group mounted as worn with a
correctly named GVI Efficiency Medal with Territorial
clasp (2047706 Spr E Flaherty RE). There is an MiD (not
entitled), original and copy WW2 Stars, a copy Polish
Medal, etc. Sold a/f
£45 - £50
118
A box of inert cannon shell cases, m/gun belts etc with a
tin box with inert rounds etc. Job lot. (qty)
£20 - £25
119
A rare pair of Royal Navy ships seals: 1) Seal for HMS
Barham. 2) Seal for HMS Topaze. Both mounted in a
wooden block.
£20 - £25
120
Africa General Service and GSM medals mounted for
wearing to Lieut J C Kirkland Gloucester Regt comes
with good selection of research
£450 - £480
121
Africa three different awards inc Ethiopia, Iraq King
Faisals War Medal etc GVF
£60 - £65
122
Air Crew Europe Star. EF
£180 - £200
123
Airborne WW2 shoulder titles & 1st & 6th Airborne
divisions formation sign badges, plus a parachute
shoulder title badge (7 items)
£50 - £55
124
Airship wooden framework from an unknown Airship,
very lightweight, probably researchable.
£70 - £75
125
Album containing various Falklands War related
ephemera and photographs including Government Rex
Hunt liberation letter and propaganda leaflets (qty)
£100 - £120
126
American 'US' shoulder belt plate (Civil War period) a/f
£30 - £35
127
American Bronze star group with Army Commendation
medal (both with original certificates of issue) to J.M.Bean
US Army for Vietnam with citation for 1 Feb.1970 to 31
Oct.1970, both medals named, plus Vietnam service
medal. GVF
£90 - £100
128
American DFC named to Robert Franklin Weimorts
USN who was awarded two DFC's in Vietnam, the
second Posthumously, serving with 85 Bombing Sqn he
attacked Qui Vinh railway and continued after his plane
was hit by flak, the second DFC was awarded as a gold
star for 19 April 1966 when he was brought down and
KIA by ground fire.
£80 - £85
129
American Helicopter pennant shows a pair of aircrew
wings on a blue background, probably 1970-80"s date
£30 - £35