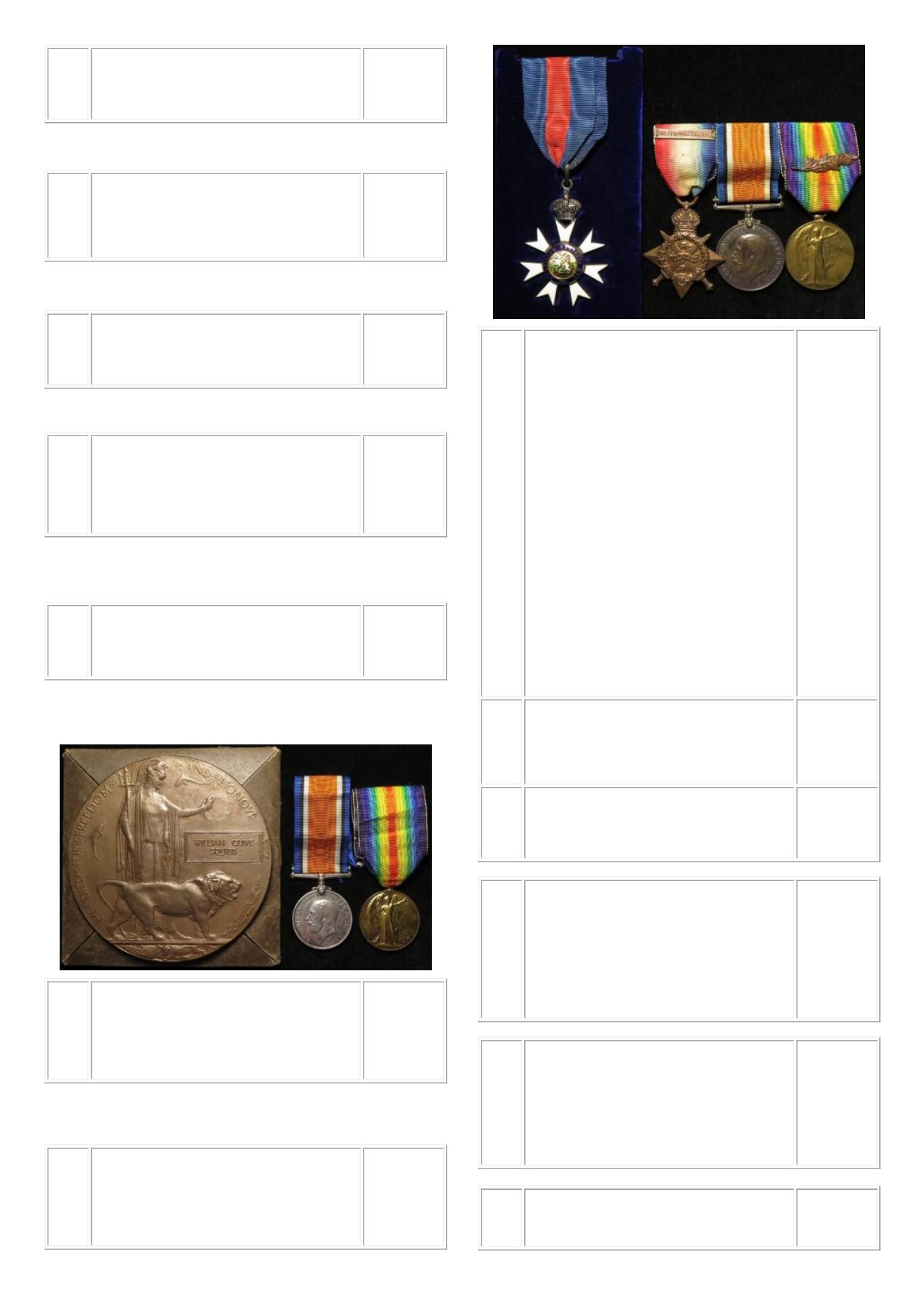 6
45
BWM x 3 - 206123 Pte Leonard H. Haines Devonshire
Regiment. 205173 Pte Thomas Leach Devonshire
Regiment, 25651 Pte Lionel Veal Dorset Regiment plus
a Victory Medal to 1014 Pte Daniel Keyland
Northumberland Fusiliers (4)
£35 - £40
46
BWM& Victory Medal, Death Plaque and Scroll, framed
and glazed (full entitlement) to 79347 Pte. William
Francis. 9th Battalion Royal Fusiliers. Killed in Action
8th September 1918, Buried Epehay Wood Farm
Cemetery. From Broughton, Lancashire. Previous service
as no. T4/235476 Army Service Corps (fragile)
£100 - £120
47
BWM (entitled to 1915 Star Trio and Silver War Badge)
to 9665 Pte Reginald W.Crane, 1st Battalion Dorset
Regiment and Victory Medal (entitled to BWM and
Territorial War Medal) to Capt. Robert Daniel Newill.
Royal Horse Artillery, attached to 290th Brigade RFA (2)
£20 - £25
48
BWM (entitled to 1915 trio) to 7326 Lance Cpl. Patrick
Ryan 2nd Battalion Irish Guards. Killed in Action 2nd
May 1916. Buried White House Cemetery, Ypres. From
Doon, Co.Limmerick (see page 77, Kipling, The Irish
Guards in The Great War). 'Machine guns filling the dark
with bullets - killed one of our corporals and wounded a
couple of Coldstream'.
£25 - £30
49
BWM, Territorial War Medal and IGS with Afghanistan
NWF 1919 clasp. (Entitled to Victory Medal) to
429/355233 Pte Charles Hall 9th Battalion (cyclists)
Hampshire Regiment. Service in India, Afghanistan and
Siberia
£80 - £100
50
BWM, Victory Medal and Death Plaque to 37997 Pte
William Clive Squib 2/4th Battalion Royal Berkshire
Regiment. Killed in Action 21st March 1918, buried
Vadencourt British Cemetery, Maissemy. On this day the
commanding officer Lt Col. Dimmer VC MC, attempted
to rally the battalion whilst seated on his white charger.
Sadly he also lies with his groom in this cemetery
£100 - £120
51
Casualty, British War and Victory Medals (only
entitlement) to 18745 Pte Frank Oldfield 10th Battalion
(1st Hull, Commercial) East Yorkshire Regiment, killed
in Action 3rd May 1917, commemorated Arras
Memorial Oppy Wood. The Black Day for the Hull Pals.
From Hatfield Woodhouse, named on the Hatfield
Memorial
£60 - £70
52
CMG, 1914 Star and Bar Trio, with MID (trio mounted
for wear) to Lt Colonel Philip Claude Tresilian Davy,
Royal Army Medical Corps. Captured 16th September
1914 whilst serving as a Major with the 2nd Battalion
Royal Dublin Fusiliers. He was repatriated on the 1st July
1915 and thereafter served with the EEF. He
commanded the RAMC detachment at Gardelegen
POW Camp, during the typhus outbreak in 1915 and
wrote a damning account for the official report of
October 1916 (copy with the medals). Also see article
published by DNW ref A/Sjt Simpson DCM. A further
reference can be found by Major J D Sainsbury, in then
OMRS journal, Autumn 1981. Taken from The British
Journal Of Nursing, November 11th 1916. WELL
DESERVED HONOURS. "The King has been pleased
to confer the following honours on officers of the RAMC,
in recognition of their distinguished service and devotion
to duty during the typhus epidemic at Gardelegen
Prisoners of War Camp, Germany, during the spring and
summer of 1915: C.M.G (additional member), Major
Philip Claude Tresilian Davy, M.B., RAMC.
Distinguished Service Order, Captain Augustus Scott
Williams RAMC. Captain Arthur James Brown, RAMC
Special Reserve. Never were honours better bestowed.
The story of the self-sacrifice of these three officers is a
glorious page in our national history." His Father Colonel
Sir Henry Davy was High Sheriff of Exeter 1887.
£500 - £600
53
Death Plaque and Original Scroll in metal frame to
Rifleman Robin Luck N.Z.R.B. Commemorated at
Caterpillar Valley (New Zealand) Memorial. Plaque with
special wall mounting attachment. 23/1511 Rfn R.Luck
1/3. N.2. Rif Bde. Killed in Action 15th September 1916
Somme. Nice lot
£50 - £60
54
Death Plaque to 2nd Lieutenant Reginald Donaldson
Abbiss 2nd Battalion King's Own Yorkshire Light
Infantry. Died of Wounds 2nd December 1917, Buried
Mendinghem Military Cemetery. Reginald Donaldson
Abbiss, born 1887, in Cambridge.
£50 - £70
55
Death Plaque (unique name) to 101106 Pte Henry
Chapman Goldie. East Riding of Yorkshire Yeomanry
and 20th Squadron Machine Gun Corps (Cavalry) Died
of Wounds 3rd December 1917, commemorated Ramleh
War Cemetery. A native of Hull, son of Capt. William
Henry Joshua and Emily Rose Goldie of Ashfield,
Marlborough Avenue, Hessle, Hull. Enlisted in East
Riding of Yorkshire Yeomanry 1915, transferred to
Machine Gun Corps (Cavalry). Commemorated on the
Hull Grammar School Memorial
£40 - £50
56
India Medal with three bars, Punjab Frontier 1897 - 98,
Samana 1887 and Tirah 1897-98 (1646 Serjt. M.C.Ellis
2nd York and Lancaster Regt.) China War Medal (1646
Serjt. M.C.Ellis 2nd York and Lancaster Regt.), 1915
Star (3-4072 C.Sjt. M.C.Ellis York and Lanc. R), British
War Medal (Capt.M.C.Ellis) and Victory Medal with
Oak Leaf on the ribbon (MID) (Capt. M.C.Ellis). Sold
with a folder full of original documents and photocopied
research.
£400 - £500
57
Large framed Great War Commemoration Scroll to Pte.
Thomas Kisby MM 12th Bn. Durham L.I. Note: MM
L/Gaz 23.03.19 for Gallantry during The Battle of the
Piave 27.10.18
£20 - £25