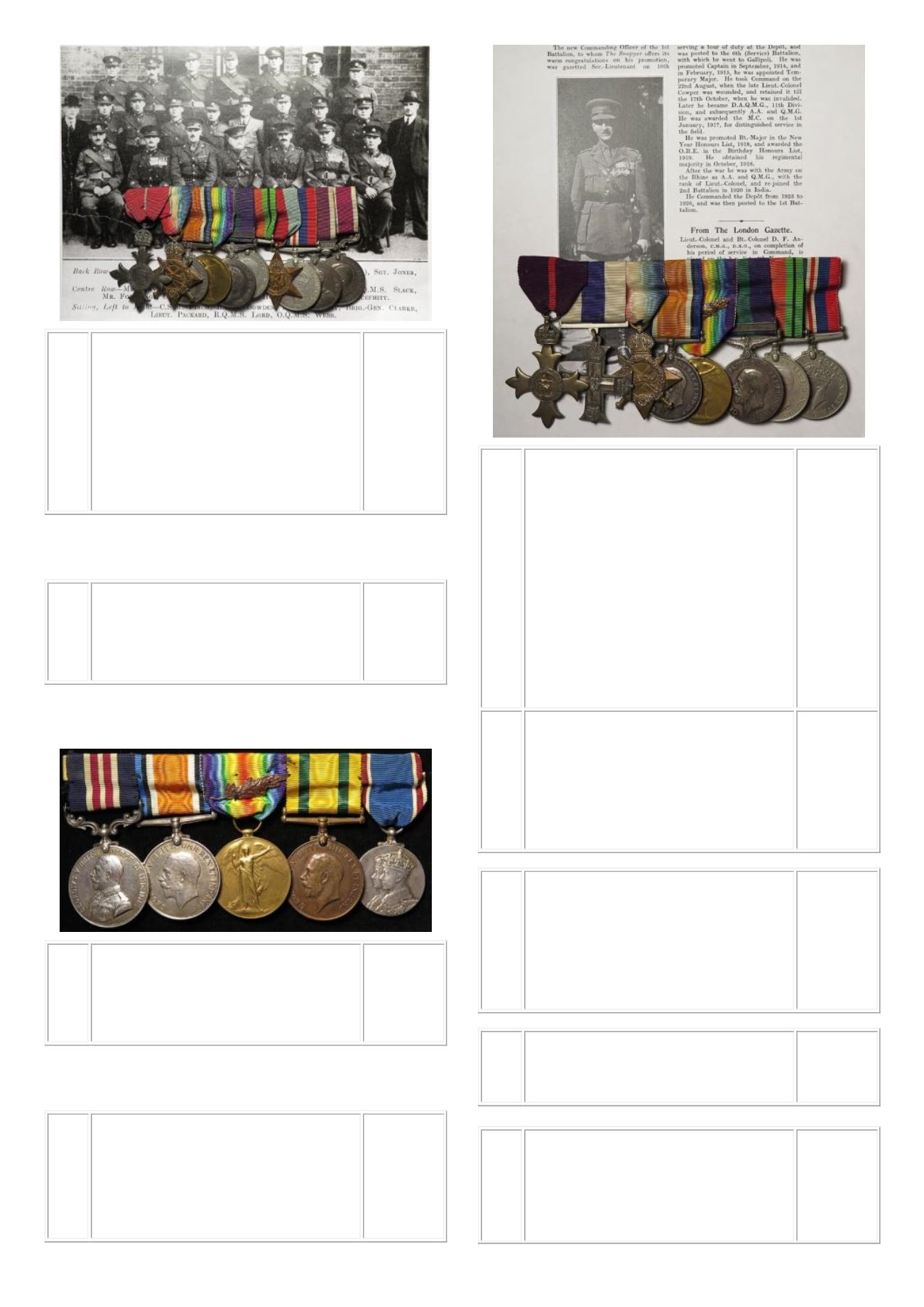 7
58
MBE, 1915 Star Trio, GSM (Iraq Clasp), Defence Medal,
39-45 Star, War Medal, LSGCMedal and MSM (George
VI) to Major George W.Lord M.B.E., M.S.M Royal
Tank
Regiment.
Previous
service
as
2891/59237/4335660 Pte 4th and 2nd Battalion East
Yorkshire Regiment. Taken Prisoner at a date not known.
Transferred to the 2nd Battalion and served in Iraq
1921/22. RQMS at the East Yorks Depot, Beverley
1936, commissioned in 1940 into the King's Regiment,
later transferring into the RTR. MSM awarded in 1952,
at this time he was Chairman of the Hull Branch of the
Regimental Association. (comes with an extensive
research file).
£380 - £400
59
Memorial Scroll and Letter from the King. Encased in an
attractive bronzed finished frame, with the badge of the
Derbyshire Yeomanry to 43068 L/Cpl William Fielding
Best Finney 14th Battalion Durham Light Infantry.
Killed in Action 7th January 1917, Buried Cambrin
Churchyard Extension. Previous service as no. 2039
Derbyshire Yeomanry
£20 - £25
60
MM Pair, Territorial War Medal, 1937 Coronation
Medal and MID Oak Leaf (mounted for wear) to
966/850126 Sjt Arthur Baker, Royal Field Artillery (1st
Brigade Wessex Division) From Jubilee Road, Southsea,
Hampshire. MM L/Gaz 17.06.19. Award for Gallantry
in September/October 1918 (Poss Hindenburg Line)
62/Howitzer Bde 12th Div, MID not confirmed
£500 - £550
61
OBE, 1915 Star Trio, RSPCA Bronze Life Saving Medal
(with miniature medals mounted for wear) to Lt. Colonel
Alfred Stanley Henry 15th Battalion (Transport Workers)
South Lancashire Regiment. Pte on 1915 Star, Major on
War and Victory and Lt Col on RSPCA (rank also noted
on MIC) Previous Service as 25953 Pte 14th Canadian
Infantry. Arrived France February 1915 (M.I.C), noted as
age 50 on return to Canada in 1920, died St Agnes,
Conrnwall 1951.
£240 - £260
62
OBE, MC, 1915 Star Trio (with MID) GSM (Iraq Clasp),
Defence and War Medal to Lt Colonel Eustace Arthur
Bray, OBE., M.C. 1st Battalion East Yorkshire
Regiment. Born in 1884, 2nd Lt, East Yorkshire Regt,
1903; Lt, 1905; Capt, 1914; served at Gallipoli, 1915, and
in Egypt, 1916; Deputy Assistant Quartermaster General,
11 Div, Egyptian Expedition Force, 1916 and British
Armies in France, 1916-1918; Maj, 1918; Assistant
Adjutant and Quartermaster General, 11 Div, British
Armies in France, 1918-1919; Assistant Adjutant and
Quartermaster General, British Army on the Rhine,
1919; served in operations in Iraq, 1919-1920; Lt Col,
1931. Commanded the 6th Battalion at Gallipoli from the
22nd August till 17th October when he was invalided.
MID Three times, MC awarded on the 1st January 1917,
distinguished service in the field. OBE in the Birthday
Honours List 1919. Commanded the honour guard at the
wedding of King George VI (then Duke of York) 25th
April 1933 (with an extensive research file).
£1200 - £1400
63
Queens
South
Africa
Medal
with
bars
CC/OFS/TR/LN, Kings South Africa with Bars
SA01/SA02, 1915 Trio, GV Special Constabulary
L.S.M, War Medal, Defence Medal to 5794 Sjt. Edward
Ford 5th Battalion Dorsetshire Regiment. Served with
the 2nd Battalion during the Boer War, continuous
regular service until his discharge in May 1918. M.I.C.
notes theatre of war first served as 2b Balkans (Gallipoli).
Served with the 5th Battalion. A photo of him is held at
the Dorset Regimental Museum, Dorchester
£180 - £200
64
South African War Casualty, Queens South Africa Medal
with bars CC/OFS to Pte. Herbert Hebb 2nd Volunteer
Battalion East Yorkshire Regiment. Died of Enteric fever
on 22nd June 1900 at Senekal, Orange Free State. Aged
22, he was a member of B Company whose drill station
was at Leven. One of 120 Volunteers who formed the
Volunteers Service Company of the East Yorkshire
Regiment, three dying during the campaign. He is
commemorated on brass plaques in the village church,
Leven and Beverley Minster
£80 - £100
65
Victory Medal to 10/1323 Pte Herbert Rawlings 1st
Battalion Wellington Regiment, N.Z.E.F. 11th Taranaki
Company. Killed in Action 17th September 1916.
Commemorated on the Caterpillar Valley (New Zealand)
Memorial
£20 - £30
66
Victory Medal to Captain John German Harrison Royal
Field Artillery (TF) 'X' 32nd Trench Mortar Battery.
Died of Wounds 11th April 1918. Buried St. Sever
Cemetery, Rouen. Age 27, son of Major J.G.Harrison, of
Whitchurch, Salop. Mentioned extensively in Trench
Mortar Memories - 32nd Division "Tuesday, April 9th
Poor dear old Harrison had been very severely wounded
in the head on the way up".
£25 - £30