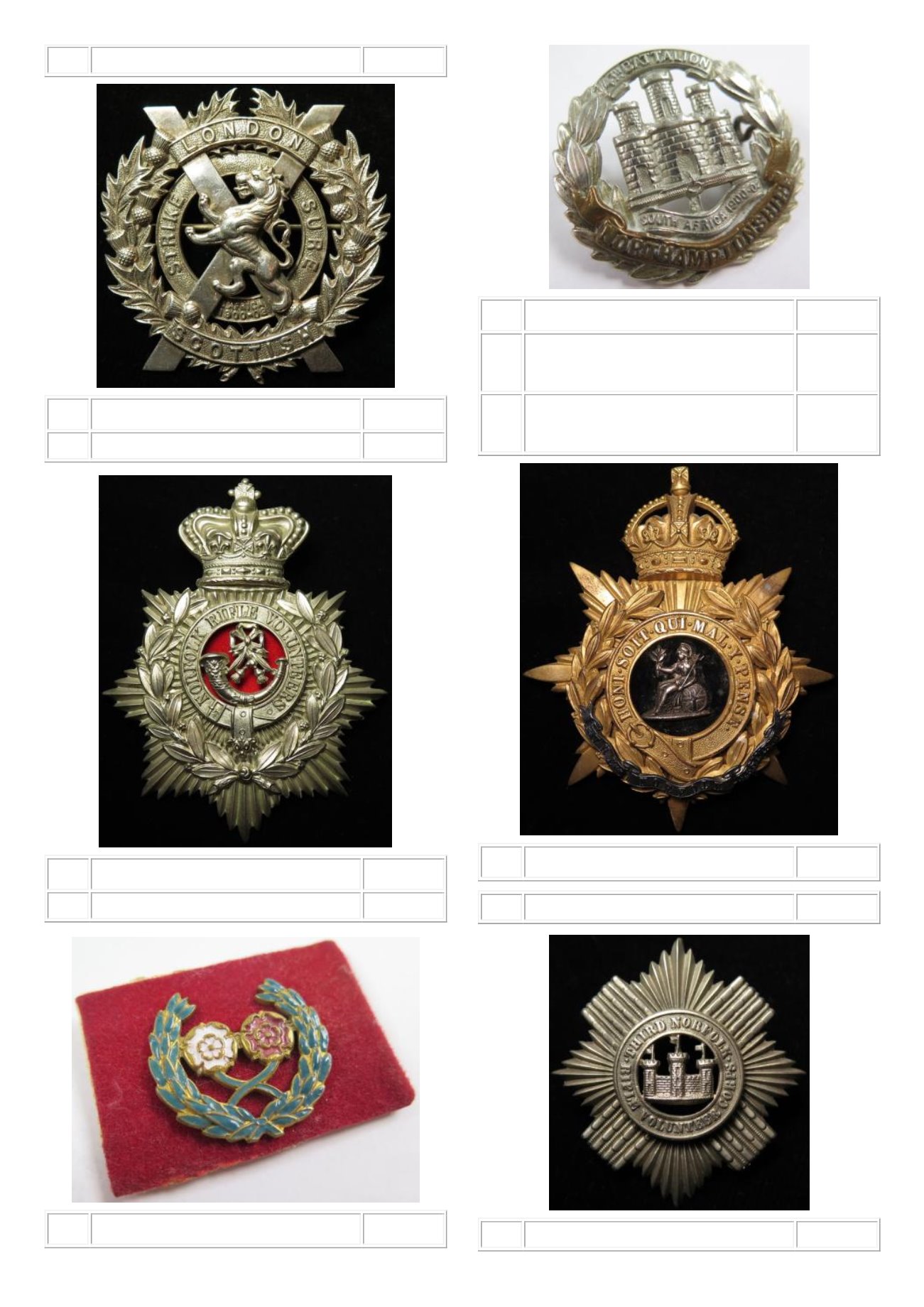 12
161
Badge - large Royal Artillery helmet plate, KC
£20 - £25
162
Badge - London Scottish Officers badge maker marked 'J
& Co'. Tests as sterling silver
£80 - £85
163
Badge - Norfolk Regiment o/r Helmet Plate c1881-1901
£120 - £140
164
Badge - Norfolk Rifle Volunteers o/r Victorian helmet
plate
£140 - £160
165
Badge - Norfolks Sergeant Pagri Cap badge c1890-1901
£30 - £35
166
Badge - Original 31st Division WW1 Battle badge. This
Division was made up of Yorkshire & Lancashire troops.
£100 - £110
167
Badge - Original 4th Battn. Northamptonshire hat badge
has South Africa 1900-02 title.
£50 - £55
168
Badge - Queen's Own Cameron Highlanders, original,
unmarked silver Officer's badge. It is polished. Has a stout
pin fitting on the reverse which looks original. Scratched
on the back is the name "A. Callan".
£50 - £55
169
Badge - Royal Marines Labour Corps rare WW1 cap
badge. Badge looks old, has had a repair to one lug but it
does not have a strengthening piece to the reverse of the
ship.
£50 - £55
170
Badge - The Norfolk Regiment Officers Helmet Plate
c1902-1914
£240 - £260
171
Badge - The Norfolk Volunteers cap badge
£24 - £26
172
Badge - Third Norfolk Rifle Volunteer Corps cap badge
£40 - £50