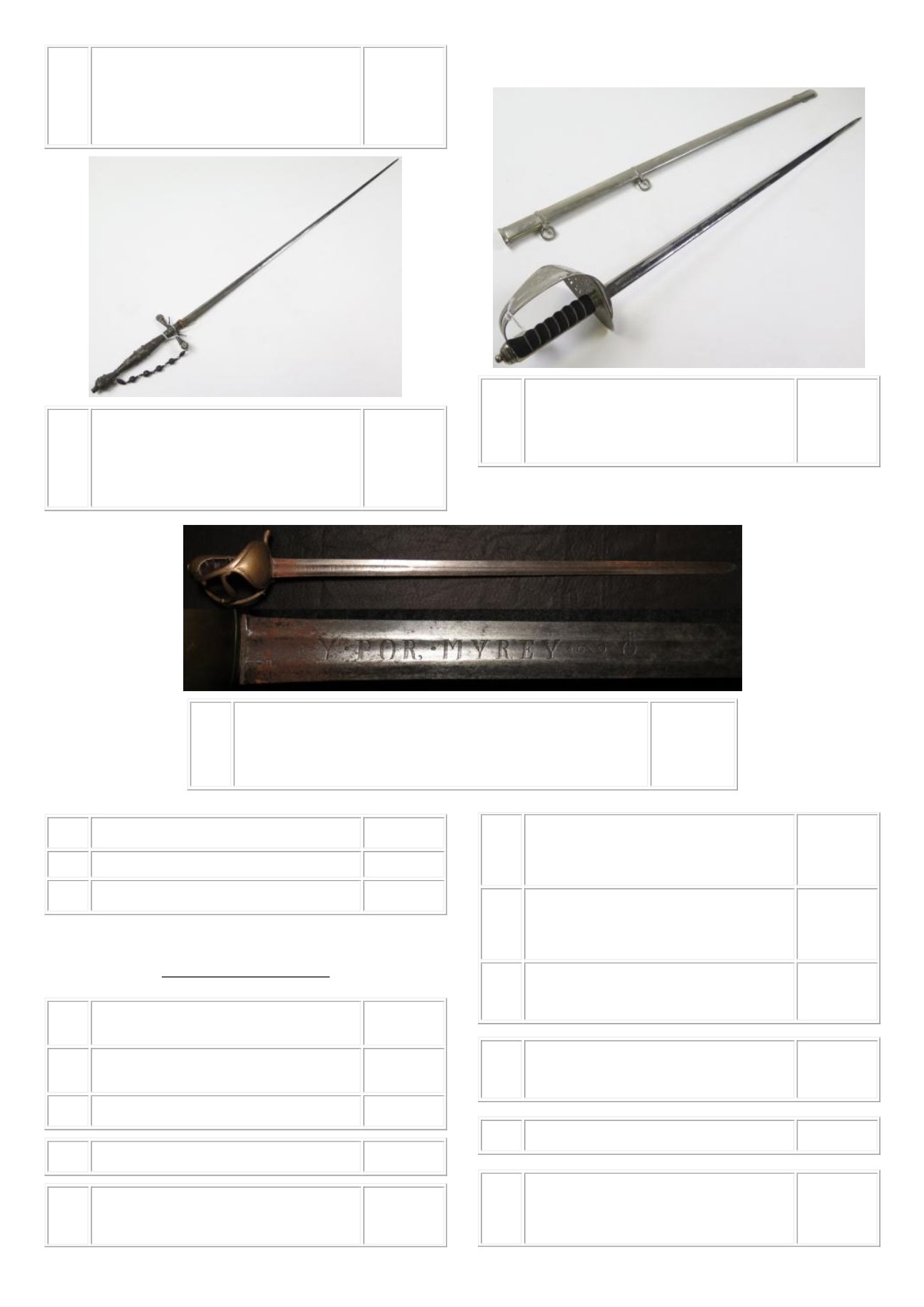 13
151
Sword: An Indian Tulwar of some age. All steel
construction. Heavy curved, unfullered blade 34" single
edged. Wheel pommel with long flattened langets. Rose
(?) finials to crossguard. Sheet iron guard. Traditional
diamond shape grip. The sword is sound and complete
with light rust & pitting overall. This is a working sword
of the 18th or 19th Century in original - a sleeper.
£100 - £120
152
Sword: An interesting 18th century small sword/mouring
sword (?) possibly for a boy. Blade 32" of hollow,
triangular section. Straight crossguard with Rosary type
chain connecting with the Urn pommel. All steel
construction with simple berry decoration. Blade with
typical floriate decoration found on 18th century sword
blades. An interesting & attractive sword. No scabbard.
£100 - £120
153
Sword: An QE2, 1897 Pattern Infantry Officers sword by
Henry Wilkinson Co. (Wilkinson Sword Co.) Wirebound
fishskin grip. Polished steel guard with QE2 logo. Finely
etched blade 32" with QE2 cypher & Wilkinson logo. In
its polished steel scabbard with two hanging rings. This
sword is in fine condition.
£150 - £160
154
Sword: unidentified European (?) sword of an the 18th century or possibly earlier? Plain
brass two bar guard with double shell type crossguard with protruding quillon. Brass
backstrap with plain, leather-bound grip (couple of worm holes). Double edged blade
with central fuller 31" (tip rounded). Blade with armourers mark (sceptre?) and the letters
'POR MYLEY' on one side and 'Y POR MYREY' to the other. Sword appears of some
age and is in worn but sound condition overall.
£150 - £200
155
US WW2 aircraft survival knife blade marked Camillus
complete with blade cover
£70 - £75
156
US WW2 M3 fighting knife
£100 - £110
157
WW1 1916 dated military marked and maker marked
spring bayonet practice rifle nice clean example
£200 - £210
Medals & Militaria
158
BWM & Victory medals to 265961 Pte J Reeder Royal
Scots fusiliers in box of issue with discharge documents
portrait photo Kings medal his comb and whistle
£80 - £85
159
17th Century Casbanet formed from one piece C. 1600
with turned over brims in good condition rivets around
side missing
£500 - £520
160
1914-15 star an original unnamed example and scarce,
GVF
£40 - £45
161
1914-15 star ribbons, 10x old silk sets for 10x trios, some
show age, VF
£90 - £95
162
1914 casualty trio with original Aug Nov bar to 6725
L/Cpl Sydney Roberts 1st Bn Lincolnshire Reg
remembered Sheffield (Burngreave ) cemetery born
Greenwich London
£350 - £360
163
1914 Star named 1996 Pte J Finnigan R.Lanc R. (tiny
correction to naming noted). MIC shows entitlement to
Mons clasp. Killed In Action 1st May 1915 with the 1st
Bn. Born Everton. On the Ypres Memorial. (CWGC &
Soldier Died list him as John Finegan). GVF (1)
£60 - £65
164
1914 Star Trio to Lieut G.E. Balfour 98th Infantry (Capt
G E Balfour on pair), Died on 5th Sept 1917 with 98th
Indian Infantry. On the Karachi War Memorial. Buried
Quetta Cantonment Cemetery - all in small frame GVF
(3)
£450 - £480
165
1914 Star Trio with original Mons bar (confirmed) to
32409 Gnr Ernest George Weston RFA. Killed In Action
1st July 1916 with 68th Bty RFA. Buried Mailly Wood
Cemetery. With addressed envelope of issue. EF (3)
£350 - £400
166
1914 Star (entitled to Mons Clasp, but this missing)
named 14760 Pte T W Hankinson 1/G.Gds. Killed In
Action 29/10/1914. On the Ypres Memorial. Born
Oldham. GVF (1)
£80 - £85
167
1914 trio to 165215 Pte L F Lloyd 1/1 North Somerset
Yeomanry
£220 - £230
168
1914 Trio to 42701 Gnr. R. Goodchild 39th Battery
R.F.A. (served 14th Brigade) To France on 16.8.14.
Covered the retirement at Le Chateau 26.8.14. Made a
famous stand on 3.5.15 at 2nd Ypres. On original
ribbons, entitled to bar. (absent).
£75 - £80