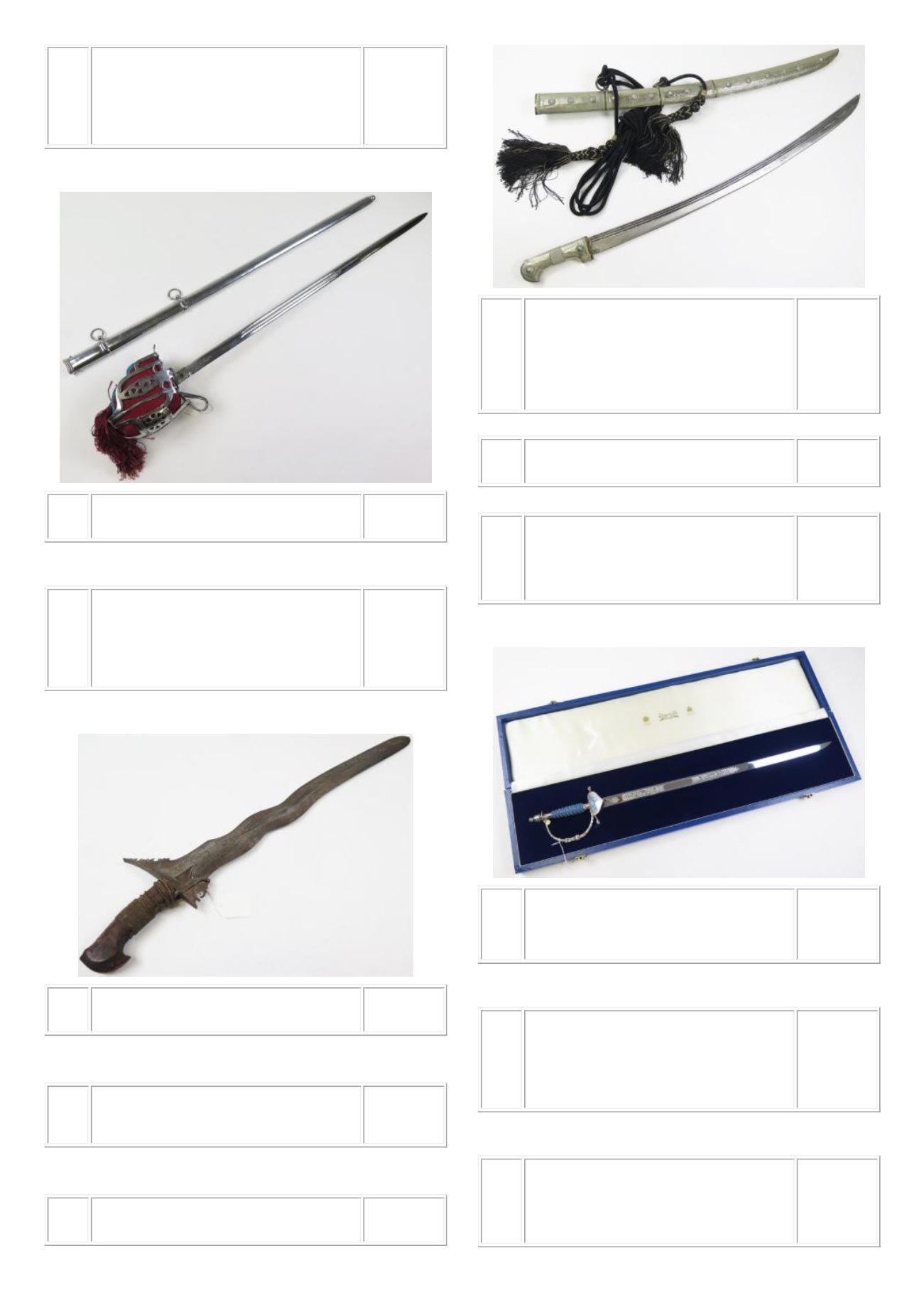 11
127
Sword: A good North African (?) sword. Cylindrical grip
with square knucklebow and snake cobra quillon. Slightly
curved blade 24". Hilt resembles the SAYF type. The
leather scabbard is of typical Sudanese form with the
lower half swelling out to a leaf shape. With its leather
carrying strap. A good blacksmith made 19th century
native sword in good untouched condition.
£80 - £85
128
Sword: A modern basket hilted officers Scottish
broadsword. Straight d/edged blade 31". VR Cypher. In
good overall condition.
£50 - £60
129
Sword: A modern Commemorative sword by The
Wilkinson Sword Company & bearing their trade logo
and address to the ricasso. Straight crossguard and
circular pommel. Blade D/E with central fuller 35.5".
Shaped polished wood grip. Polished steel blade to
mounts. An attractive piece. (No scabbard). This sword
made in the Medieval Renaissance.
£60 - £70
130
Sword: A Moro (?) Kris. Wavy blade 22". Wooden grip
with rattan binding (a/f). Some rust to blade. Worn
overall.
£20 - £25
131
Sword: A Prussian Type Great War Artilleryman's sword.
Brass stirrup hilt with wirebound, fishskin grip (g.c). Plain
single edged, double fullered blade 29". No scabbard.
Overall good clean condition.
£40 - £45
132
Sword: A relic Napoleonic Cavalry sword believed found
in a church. Left there to use in meeting the expected
invasion!
£25 - £30
133
Sword: A silver mounted Eastern sword (in the Shasqua
type pattern) Heavy single edged blade with triple fullers
to top of blade (31"). Hatchet type point. Hilt and
scabbard decorated with silver coloured sheet metal. With
plain circular raised decoration. Silver coloured wire
bounding. Good quality overall with black & gold bullion
knots. A decorative piece in good condition. Age wear to
blade.
£80 - £85
134
Sword: A Victorian Gothic type small court sword.
Diamond section blade 23", plain crossguard, ivory
coloured (?) hilt steel pommel. No scabbard.
£25 - £30
135
Sword: A Victorian pattern 1845 Infantry Officers sword
by JOHNSTONE Sackville Street. London & Dublin VR
Crown & logo to etched blade, 32". Wirebound fishskin
hilt. In its slim steel scabbard (lightly rusted). Would
benefit from a little t.l.c. In sound untouched condition.
A 'sleeper'.
£80 - £85
136
Sword: A Wilkinson commemorative presentation
marriage sword in the design of an 18th century small
sword. Polished steel blade with vacant panel for details.
Blade 24". Contained in its blue fitted leatherette type
case. In good condition overall.
£40 - £50
137
Sword: A Wilkinson Sword Co presentation sword in the
Medieval style with down turned brass quillons. Brass
Urn Pommel, plain wood grips. Polished steel blade 30".
Made with a polygon shaped plate by overhanging the
crossguard for an inscription (currently blank). G.C. with
light wear. Note that these swords were made without a
scabbard
£20 - £35
138
Sword: A Wilkinson Sword Co presentation sword in the
Medieval style with down turned brass quillons. Polished
steel blade 28". Made with polygon shaped plaque
overhanging the crossguard for an inscription (currently
blank). G.C. with light wear. Note that these swords were
made without a scabbard
£20 - £25