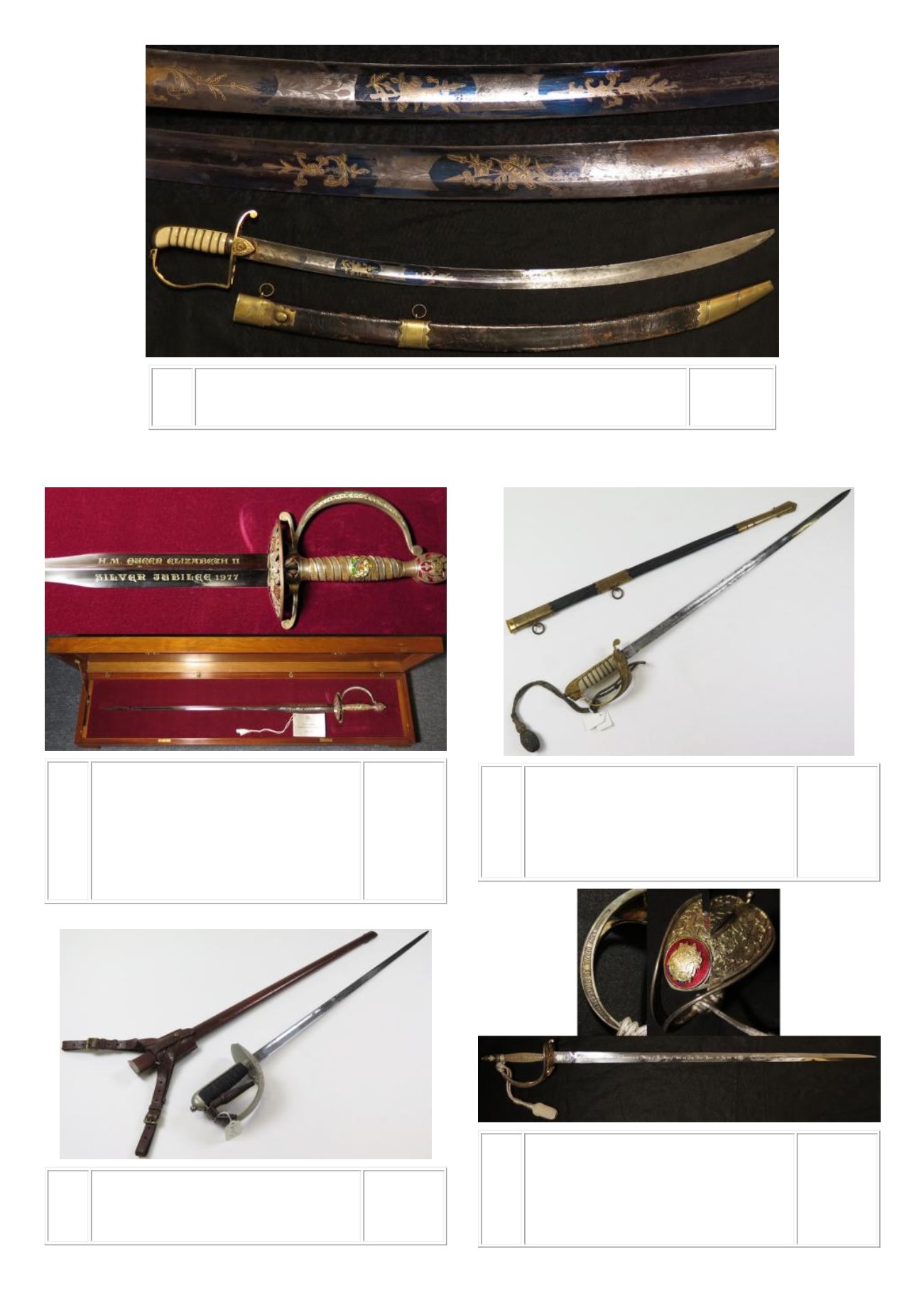 10
122
Sword: A fine stirrup hilted Naval Officers sword circa 1800. Curved blade 30" with blued/gold
decoration to blade including a stand of arms and the word 'SPIES' in a panel (small piece of tip missing).
Bearded lion langets, ivory grip with wire binding. Smooth gilt brass backstrap & pommel. In its brass
mounted brown leather scabbard (some wear). V.G.C. A collectors lot. Viewing recommended.
£700 - £750
123
Sword: A fine Wilkinson sword Silver Jubilee
Commemorative sword. The hilt is of sterling silver and
gold with diamonds and enamel decoration. It is
numbered 89 of limited edition of 100. The silver guard
(hallmarked to hilt) is set with a row of graduating brilliant
cut diamonds (approx 2 carats) The blade 30" is engraved
'ELIZABETH II SILVER JUBILEE 1977'. Contained in
its fitted Mahogany Case (keys absent). Complete with its
Wilkinson Sword booklet. Sword in the style of a 'small
sword' 18th century
£400 - £450
124
Sword: A Geo VI 1897 Pattern, Infantry Officers sword.
Blade 33" panel engraved 'Capt R.J.V. YOUNG THE
BUFFS 20.7.41 to 8.6.46'. Blade etched with Geo: IV
cypher. In its leather field service scabbard with belt frog.
The whole in excellent condition.
£90 - £100
125
Sword: A good 1827 Pattern Naval Officers Sword. Gilt
brass guard with fouled anchor logo. Lions's head
pommel with lion's mane backstrap. Wirebound fishskin
grip. Blade 31.5" made by Owen Harriers & Co, 5 Russell
Street, Landport. Foliate engraved blade with Edward
VII (?) crown. In its brass mounted leather scabbard.
Complete with bullion knot. A good example of this
attractive sword.
£130 - £140
126
Sword: A good limited edition Wilkinson Sword in the
style of an 18th century small sword. To commemorate
the marriage of Prince Charles & Lady Diana Spencer
29th July 1981. Engraved steel blade 32" wire bound grip
enamel & brass pommel (ICH DIEN) with silver bullion
knot. (No scabbard made for these swords). In good
overall condition. Sword numbered '0354' of a limited
edition of 1000. An attractive & decorative sword.
£80 - £100