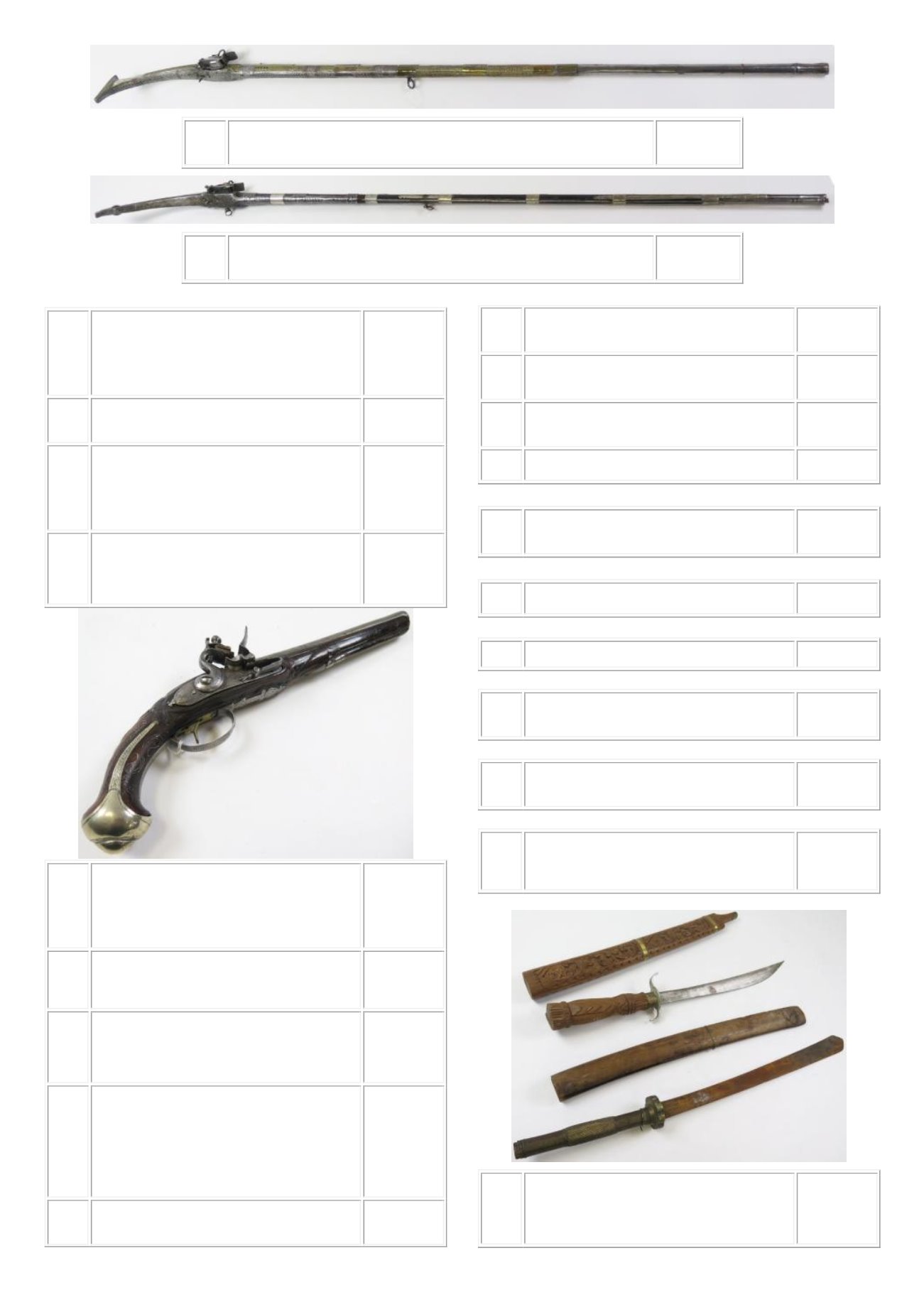 8
92
Moroccan snaphaunce Kabyle gun from North Africa. 18 bore. Barrel 50". Well made &
attractively decorated with mother of pearl & fine filigree type brass work. A quality gun
lock in w/order. Circa 19th century. Viewing recommended.
£30 - £35
93
Moroccan snaphaunce Kabyle gun from North Africa. 18 bore. Barrel 53". Well made &
attractively decorated with silver (coloured) sheet metal. A quality gun of some age lock in
w/order. Circa 18th/19th century. Viewing recommended.
£30 - £35
94
Pistols: A pair of Flintlock boxlock pocket pistols by
Ketland & Co. London, so engraved on side panels.
Sliding top thumb safety, ring necked cocks, concealed
triggers, slab walnut grips. G.W.O & condition. English
proofs. Turn off barrel 2". A good original pair circa 1815
in working order & good condition. Recommended. (2)
£220 - £240
95
Pistol: A 19th Century percussion belt pistol circa 1840.
Barrel 9", 28 bore (approx). Wooden stock with captive
rammer. Iron furniture. Worn overall.
£25 - £30
96
Pistol: A flintlock pistol in the Light Dragoon type pattern.
Walnut stock with brass furniture. Badly fitting lock. Ring
neck cock. Traces of EIC logo to lock face. Ramrod
missing. Working lock. Barrel 9". With British proof &
view marks. Sound condition overall. Will improve with
t.l.c. A/F
£120 - £140
97
Pistol: A short percussion Indian 'Lancer' type pistol. Lock
marked 'Tower' 'VR' and '1843'. Worn overall (ramrod
missing). Barrel 6". Brass furniture. Lock a/f. Screw
missing from lock. Sound condition overall. Lanyard ring
replaced.
£25 - £30
98
Pistol: An Eastern Flintlock belt pistol of good quality.
Approx 16 bore. Barrel 8". Silver (?) coloured furniture
with simple decoration. Turkish letters to barrel. Seat
does not engage the cock, mainspring strong. Stock in
good condition, (ramrod channel filled?). This is a nice
pistol which will improve with a little tlc.
£80 - £85
99
Pistol: An Eastern Flintlock pistol (Turkish?) circa 1800.
Worn overall. Action in working order. Woodwork
covered by sheet brass (?). Some mother of pearl inlay.
Barrel 10".
£60 - £65
100
Powder Flasks: A brass bag shaped copper powder flask
by James Dixon & Sons Sheffield (Riling No 207) Some
dents to body, plus a leather shot flask embossed with
hunter (sporting a Sporran!) with his dogs. Worn overall
(Tab & ring missing) circa 1800. (2)
£20 - £25
101
Revolver: A Colt Model 1849 percussion revolver serial
number 273733 (matching numbers) which dates it to
1865. Barrel 6". Top flat marked 'Address Col. Saml Colt.
New York. U.S.A..' Brass T/G & Backstrap. One piece
walnut grips (minor chip to r.h rear toe). Calibre .31.
Smooth overall patina. No cylinder scene. Good crisp
action. No licence required. A decent late U.S. Civil War
pocket revolver.
£600 - £650
102
Spears A short Zulu Assegai long leaf shaped blade (tip
off) 16". Raffia bound wooden grip. Overall length 38".
Plus two longer more detailed types (3) (Buyer collects)
£80 - £85
103
Spears: A pair of African (?) hunting spear heads with
reverse barbs (mind your fingers when viewing). Of some
age, possibly 19h century. Good condition for age. (2)
£20 - £25
104
Stick: A silver (coloured) top to a Royal Scots, swagger
stick. Cane body brass ferrule. Overall length 28". In
excellent condition. With an ebony walking stick (a/f) (2)
£20 - £25
105
Sword Victorian 1895 pattern Infantry Officers sword
blade engraver to the 2nd BN South Stafford Shire Regt
made by Hobson London in its brown leather case
£220 - £230
106
Sword 1896 pattern ERII infantry NCO dress sword nice
clean example
£120 - £130
107
Sword 1897 pattern GRV Infantry Officers sword blade
named to R Ridding 12th Royal Sussex Reg in its metal
dress scabbard
£180 - £190
108
Sword continental infantry sword with brass hilt fish skin
grip in its brown leather scabbard
£80 - £85
109
Sword German WW1 cavalry sword
£120 - £130
110
Sword scarce 1796 pattern Officers Heavy Cavalry dress
sword made by Henry Wilkinson Pall Mall London the
scabbard and hilt have been chrome plated
£280 - £290
111
Sword scarce 1899 pattern cavalry troopers sword
engraved on the back of the grip 21L E L ELLISS 21
LANCES RES SQD
£280 - £290
112
Swords: A pair of ceremonial swords possibly of German
origin. Slim engraved blades 34" marked 'F.H'. (F. Hoster
& Co?) In their steel mounted leather scabbard with single
hanging rings. Both in good condition. (2)
£80 - £85
113
Swords: . A Native sword. Round cylindrical grip. Flat
blade with broad spear tip tapering to narrow ricasso. In
a plain wooden scabbard. Rusted overall. Plus A Tourist
sword/dagger from India with its wooden grip and
scabbard. Fairly basic construction. (2)
£20 - £25