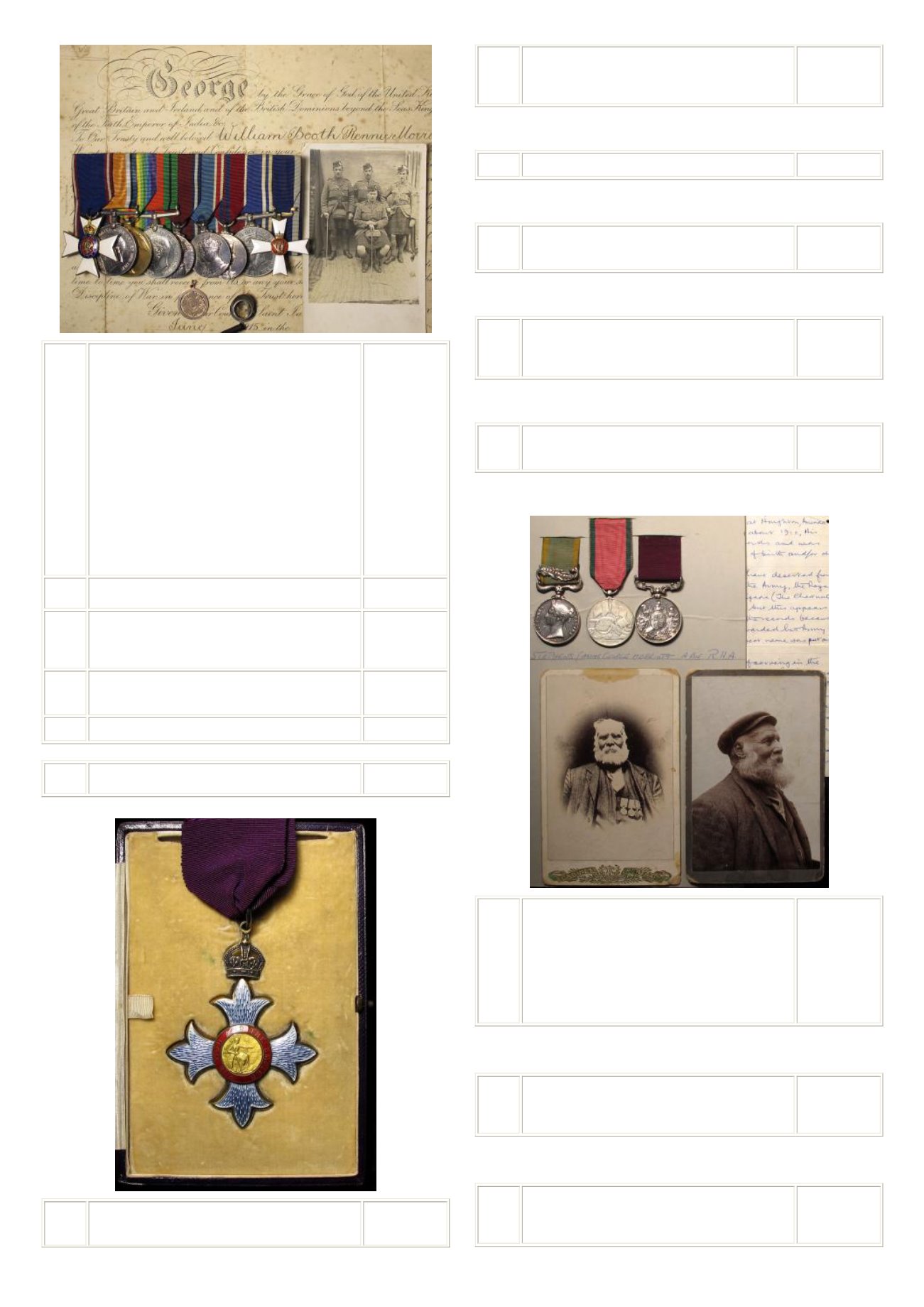 10
244
Chief Constable Sir William Booth Rennie Morren
(Edinburgh City Police). MVO (No 1378) awarded 1937,
BWM & Victory Medal (Lieut W B R Morren, served
with Royal Scots), Defence Medal, 1935 Jubilee Medal,
1937 Coronation Medal, 1953 Coronation Medal, GVI
Police LSGC Medal, and King Haakon VII Liberty
Cross. Entitled to the CBE (1943). Chief Constable of
Edinburgh from 1935, ARP Controller Edinburgh 1940-
45. Born Aberdeen 1890. Appointed Deputy Lord High
Constable of Scotland during Royal State Visit 1953.
King Haakon VII Liberty Cross of Norway 1947,
entitled to Swedish Police Sports Assoc Gold Medal of
Honour 1952. Lot also includes a 9ct Gold Royal Scots
fob, and a silver miniature hat with photo. With a folder
of original WW1 photos, WW1 Commission Scroll, etc.
Superb lot which needs viewing (See also fathers
miniature group in this sale).
£1600 - £1700
245
China Medal 1900 (silver) named to Captain E F
Harding 23rd Madras Lt Infantry. nVF
£400 - £450
246
Civilian WW2 Gas Mask issued for use by Hospitals and
the Wounded (Rare Original), plus a Royal Artillery Gun
Operators Gas Mask with extra long hose (loose) in
haversack (dated 1941). (2)
£80 - £90
247
Cloth and metal badges - including WW2 Cranleigh
OTC cap badges two types, plus bronze REME, Div
Signs etc (approx 11)
£40 - £45
248
Cloth Shoulder Title 'The Light Artillery'. Scarce
£20 - £25
249
Cloth WW2 scarce printed British war correspondent
shoulder title scarce
£40 - £45
250
Commander of the British Empire (CBE) 1st Type, in
Garrard Case of issue. No enamel damage but very short
ribbon.
£200 - £210
251
Copy medals a dealers album of 36x, some unusual,
ranging from Peninsula Army Gold Cross, Empress of
India, Boultons Trafalgar, Davisons Nile, Seringapatam,
bravery, Long Service etc
£190 - £200
252
Coronation Medal 1937. GVF very tiny edge nick
£20 - £22
253
Coronation (Police) Medal 1911 County and Borough
Police to Inspector J Bancks, Lancashire. Born
Lancashire. VF few small nibble, plus small bump
£70 - £80
254
Coronation (Police) Medal 1911 County and Borough
Police to PS 1360 F Allan, Lancashire. Born Cadder,
Dunbartonshire (address 565 Police Station Didsbury
Rd, Heaton Mersey). VF
£70 - £80
255
Coronation (Police) Medal 1911 County and Borough
Police to PS 642 W McLennan, Lancashire. Born
Lochearson, Ross-shire. VF
£70 - £80
256
Crimea group to George Merriott who used the alias
William Stephens. Medals - Crimea with Sebastopol
clasp impressed to W. Stephens GR Rl Horse Aty,
Turkish Crimea Medal 'La Crimea' (Sardinia Issue).
Army LSGC Medal named 110 Gunn'r G Merriott
A.Bde RHA. An interesting group with two cabinet
photos and letter written by the original purchaser who
bought the medal from the family. Crimea very worn
with rubbed naming. F-VF (3)
£240 - £260
257
Crimea
Medal
with
bars
Alma/Balaklava/Inkermann/Sebastopol
with
contemporary engraved naming to Pte Andw Simpson
21st Regt. With research. Few edge bumps GF
£500 - £550
258
Crimea Medal with loose Alma clasp (unnamed as
issued), Legion d'Honneur, and French Medal for the
Italy Campaign 1858, mounted on French Officer style
rod bars. GF-VF enamel loss to Legion d'Honneur. (3)
£300 - £350