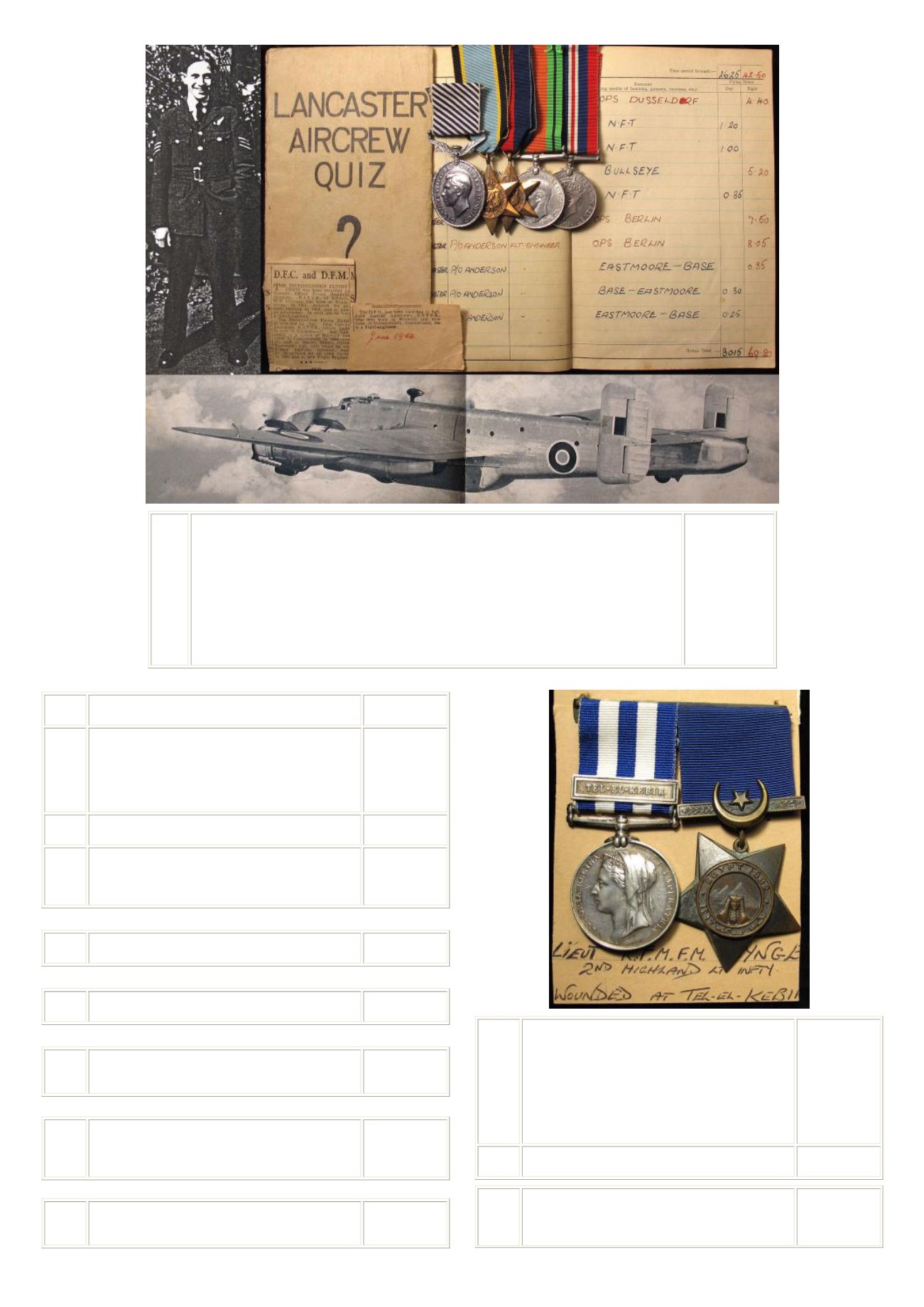 12
292
Distinguished Flying Medal GVI group to 1145797 Sgt J G Lancaster RAF. Medals - DFM GVI, 1939-
45 Star, Air Crew Europe Star, Defence & War Medal, card box of the DFM. Sgt John George
Lancaster lived at Cockermouth but was born Norwich, he moved to Cockermouth in 1940 with the
staff of Millers (Great Yarmouth) Ltd. This interesting lot also includes the original Buckingham Palace
Investure Letter 24/7/1945. Two RAF Flying Log Books. Served with 106 Sqdn 23/9/43 - 31/11/43,
and 463 Sqdn 28/3/45 - 22/9/45. Log Book notes Ops for Bochum, Hanover, Leipzig (Boomerang),
Kassel, Dusseldorf, Berlin, Stuttgart, Schweinfurt, Augsburg, Angouleme, Lyons, Essen, ME 210
Damaged and ME 109 Destroyed 30/3/1944 Nuremburg, Tolouse (landed Oakley), low level Ops
Mining Konigsberg Canal, Minibg Swinemunde, Paris, and Braunschweig. Plus his RAF Service and
Release Book, etc etc. DFM L/G 30th June 1944. Intotal he carried out 27 Operational Sorties. (qty)
Superb lot
£2000 - £2500
293
DSM a scarce EIIR Royal Mint case of issue, probably
1960-1980 era, VF
£20 - £25
294
East and West Africa Medal with Benin 1897 clasp
named to W E Thomas Pte. HMS Philomel. With old
newspaper cutting relating to the funeral of William
Edward Thomas Aged 76 of Brockhurst, Gosport. He
also served as an Air Raid Warden during WW2 in the
Borough. VF
£200 - £250
295
East Norfolk the 9th Regiment Brass Glengarry hat
badge
£35 - £40
296
East & West Africa medal with Benin 1897 clasp[ with
China 1900 and WW1 BWM all named to 181812 J
Churchill AB HMS THESEUS HMS terrible and WW1
BWM the first two renamed with some research
£300 - £320
297
Efficiency Decoration QE2 with T&AVR clasp. Dated
1971, with Miniature Medal. EF (2)
£90 - £100
298
Efficiency Medal GVI with Territorial clasp and box of
issue to 1471284 Sjt A E Burden REME. EF
£30 - £35
299
Egypt Medal 1882 with Tel-El-Kebir clasp to F. Linacre
Pte RM. With copy medal roll, medal sent to 'Crocodile'.
GVF with a few edge bumps
£200 - £210
300
Egypt Medal 1882 with Tel-El-Kebir clasp, and
Khedives Star 1882. Renamed to Major A Murray
2/Sea Highlanders. Awarded the DSO and Order of
Osmanieh, MID x2. With research. VF a/f
£340 - £360
301
Egypt Medal dated 1882 with Tel-El-Kebir clasp, and
Khedives Star 1882, named 13581 Sapr U Lewis 17th
Co RE. Few light contact marks VF (2)
£240 - £260
302
Egypt Medal dated 1882 with Tel-El-Kebir clasp, and
Khedives Star 1882, named Lieut R F M F M Synge
2/High L.I. Robert Follett Muter Foster Millington Syne
was Wounded at Tel-El-Kebir. Born 1857, Capt H.L.I.
and British Vice-Consul for Oil Rivers Protectorate,
married 1884 Charlotte Granville, daughter of Major
Gen W J Stuart RE. Lived British Vice-Consulate Oil
Rivers, East Africa. Normal light pitting to Egypt Medal
otherwise VF (2)
£300 - £350
303
Engraved Indian 1916 silver Rupee - Pt R Crawford East
Lancs Regt. France 1915/16 and Meso 17/18/19.
£40 - £45
304
Ephemera a fine Victorian photograph of an elderly
Colonel of a Regiment ? wearing KCB, Mutiny, China,
IGS, Egypt all with bars and a Khedives star, interesting
sitter and possibly researchable. VF
£20 - £25