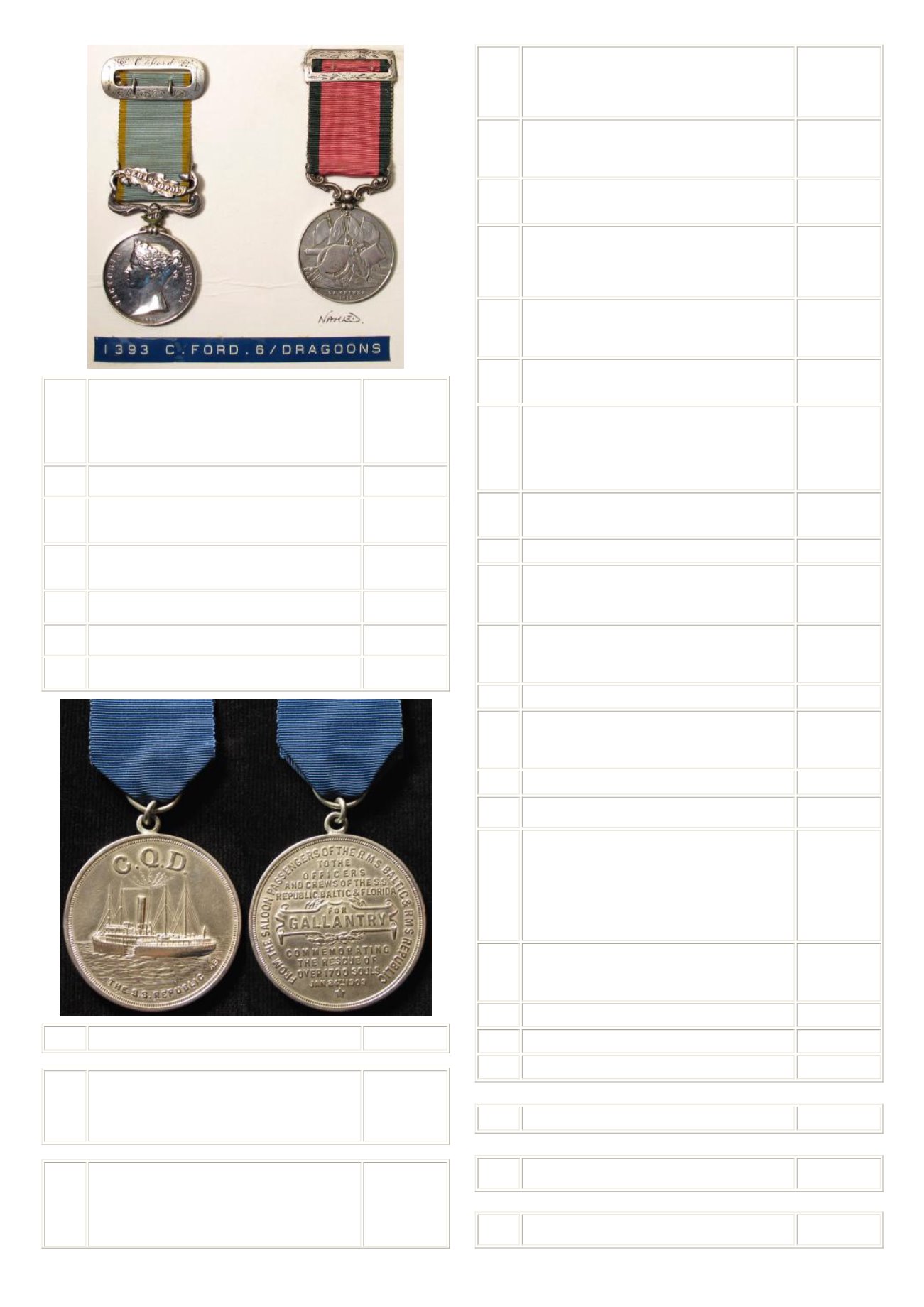 11
259
Crimea Medal with Sebastopol clasp impressed to C.
Ford 6th Dragns. With a Turkish Crimea Medal 'La
Crimea' (Sardinia Issue) engraved to 1393 C Ford 6th
Dragoons. Both medal with attractive silver ribbon bars,
one named 'C. Ford'. Turkish Medal has been plugged.
VF (2)
£300 - £350
260
Crimea Medal with Sebastopol clasp impressed to Tho's
Barwick 1st Batt'n 7 Regt. Lived Manchester. EF
£200 - £220
261
Crimea Medal with Sebastopol clasp privately re
engraved to 'Corpl G Anderson 33rd Regt 1856'. VF
Sold a/f
£70 - £80
262
Crimea Medal, no bar, impressed to Jas Wilson 43rd Lt
Infy. With Turkish Crimea Medal 'Crimea' (British Issue)
unnamed. The Crimea is renamed VF (2) sold a/f
£120 - £140
263
Crimea Medal, no bar, unnamed as issued. VF few
contact marks
£80 - £85
264
CSM Northern Ireland To 23823530 Gnr D J Whiprey
RA
£55 - £60
265
CSM QE2 with bars Radfan and South Arabia named to
23320325 Cpl M Cuerton RPC. With box of issue. EF
£80 - £90
266
C.Q.D. 1909 silver medal, unnamed as issued VF
£250 - £300
267
Death Plaque and BWM to 362678 Gnr Henry
Patterson Strong RA. Died of Wounds 29/10/1917,
Born New Cross, London. Buried Duhallow A.D.S.
Cemetery. When his will was read, his estate was noted
as £47.236:3:10d ! VF (2)
£60 - £65
268
Death Plaque and Casualty Scroll to Lieut Reginald
Arthur Butler Royal Engineers & 55th Sqdn RAF. An
Observer on Probation he was listed as Missing. Lot
includes copied service records, and original photos.
Buried Niederzwehren Cemetery, Kassel. Parents lived
Runnymede Rd, Egham, Surrey.
£140 - £160
269
Death Plaque and Scroll plus a few photos relating to
32373 Pte George Stevens 15th Bn Royal Defence
Corps. Died 11/3/1918. Lived Kings Langley. Buried
Gravesend Cemetery. (See other family group to H G
Stevens)
£50 - £55
270
Death Plaque to 11920 Pte Benjamin Burns 2nd Bn
K.O.Sco.Bord. Killed In Action 6/5/1915. Born
Berwick, Northumberland. On the Ypres Memorial.
Plaque in poor condition
£30 - £35
271
Death Plaque to 12741 L/Sgt Henry Thomas Edwards
7th Bn Norfolk Regt. Killed In Action 13/10/1915. Born
Islington. On the Loos Memorial. Unique name
£50 - £55
272
Death Plaque to 1844 Pte Frank Cecil Powell 1st Norfolk
Yeomanry. Died Home 2/8/1915. Lived/Buried New
Buckenham, Norwich. (Plaque his only entitlement).
Another man of the Regt also Died at home on the same
day - possibly connected ??. Polished (1)
£70 - £80
273
Death Plaque to 202473 Pte Maurice Whittaker 4th Bn
Lincolnshire Regt. Killed In Action 15/4/1918. Born
Halifax. Listed on the Ploegsteert Memorial. Unique
name
£50 - £55
274
Death Plaque to 362295 Gnr Herbert Walter Latham
247th Siege Bty RGA. Killed In Action 15/6/1918.
Born Seacombe. Buried Granezza British Cemetery.
£40 - £45
275
Death Plaque to 36746 Pte Henry Whittaker 7th Bn Leic
Regt. Died of Wounds 31/5/1918. Born Nelson, Lancs.
Buried Sissonne British Cemetery. Lot also includes
original Red Cross letter dated 16th Oct 1918 to Mrs
Henry Whitaker stating that he died from 'Brain
Wounds'.
£45 - £50
276
Death Plaque to 901387 Gnr Frederick Braines 40th Bde
RFA. Died of Wounds 1st Oct 1918. Born Brighton.
Buried Grevillers British Cemetery.
£40 - £45
277
Death Plaque to Alfred French. GVF
£40 - £45
278
Death Plaque to A/204128 Rfm Albert Edward Garrard
4th Bn K.R.Rif Corps. Killed In Action 25th August
1918. Born Camberwell, Surrey. Buried Gomiecourt
South Cemetery. Unique name
£50 - £55
279
Death Plaque to Captain Kenneth D'Aguilar Houston
18th Bn London Regt (London Irish Rifles). Killed In
Action 24/3/1918. On the Arras Memorial. Born
Dublin. GVF (1)
£240 - £260
280
Death Plaque to George Crawford. Verdigris noted
£40 - £45
281
Death Plaque to G/15344 Pte Sidney James Arbon 12th
Bn R. Sussex Regt. Killed In Action 31st Oct 1916. Born
Elveden, Suffolk. On the Thiepval Memorial. Unique
name
£50 - £55
282
Death Plaque to Henry Benson
£40 - £45
283
Death Plaque to Lionel Restall ?? Attempted erasure of
naming. Sold a/f
£30 - £35
284
Death Plaque to Lt Col Godfrey Bingham Hinton CMG
RHA/RFA. Killed In Action 21/3/1918 with 26th
Army Bde RFA. Buried Achiet Le Grand Communal
Cemetery. Mentioned In Despatches 22/6/1915,
15/6/1916 and 4/1/1917. Lived Doonholme, Weston
Super Mare. He was Wounded twice, and made a CMG
in June 1915. Lot includes small photo in leather case.
Plaque with mounting hook to reverse. (1)
£240 - £260
285
Death Plaque to Mate Nicholas William (Hitchins)
Rundell of the SS "Galgorm Castle" (Belfast) Mercantile
Mrine. Died 27/2/1917. Lived Tywardreath, Cornwall.
Born Par. On the Tower Hill Memorial
£50 - £55
286
Death Plaque to William Edgar Walton. Verdigris noted
£40 - £45
287
Death Plaque to William John Maisey
£40 - £45
288
Death Plaque to William Rolph
£40 - £45
289
Death Plaque to William Salmon (polished)
£40 - £45
290
Defence Medals, all originals but with various faults (9)
a/f
£20 - £25
291
Distinguished Flying Cross a scarce WW1 Pinches fitted
case (not the later Royal Mint version) about VF
£55 - £60