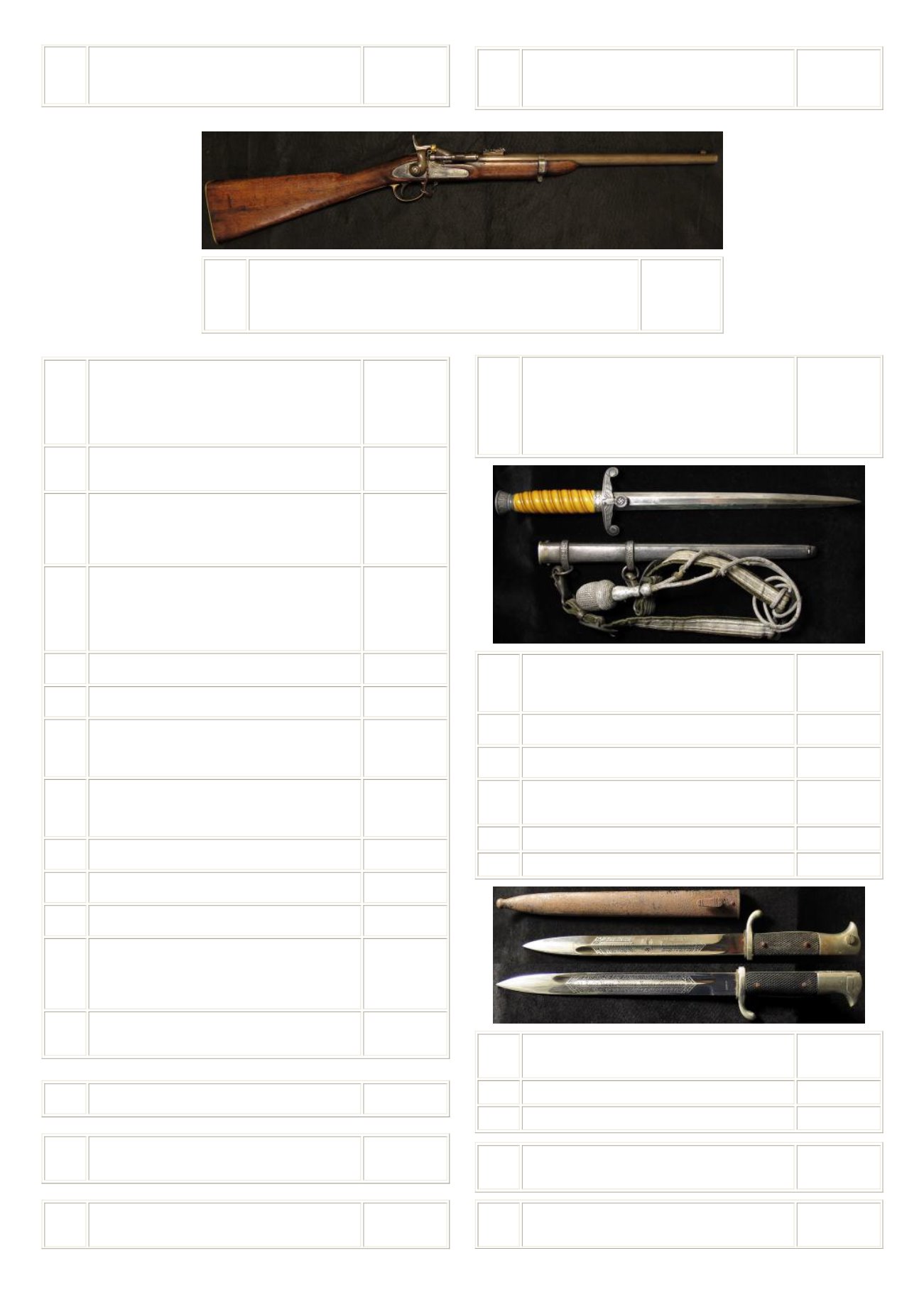 92
2441
Bayonet: P.07 SMLE bayonet by Wilkinson made
October 1917. Pommel marked 'SAP' (South African
Police) and with 5th African Govt ownership mark to
reverse of pommel.
£50 - £55
2442
Bullet Mould: A large brass bullet mould for a 24 bore
rifle. Mould marked '24' and 'J.G' (possibly Joseph
Greaves, Birmingham gun maker). Good condition.
Circa 1850.
£50 - £55
2443
Carbine: a commercial .577 cal snider action carbine by Hollis & Sons. Lock
marked 'Makers to her Majesties War Department' and 'I. Hollis & Sons'. Export
markings to barrel 28.5'. Saddle bar, brass furniture, in good working order and
condition. Walnut stock (some distressing around the lock). Brass butt plate, (butt
trap replaced). Hammer protector chain.
£300 - £350
2444
Daggers: A large Arab Jambiya horn hilt with wire
decoration. Good curved blade 9" with central raised rib.
Leather covered wooden scabbard with fine sheet and
wire silver decoration. Plus a tourist type Arab Jambiya.
Slim curved blade 5.5". Ebony type grip. In its brass
covered wooden scabbard. (2)
£40 - £45
2445
Daggers: A pair of tourist quality daggers 'KINDJAL'.
Blades 11" & 12.5". Nicely decorated and of decent
quality. (2)
£20 - £25
2446
Daggers: A Tourist Indian 'Shamshir' in its scabbard.
With A 19th century Eastern dagger. Slim blade with
false edge. Horn/bone hilt with simple decoration. In its
leather scabbard. Plus a Gurka Kukri with two small
skinning knives (of some age) (3)
£20 - £25
2447
Dagger: An Arab silver (white metal) mounted
JAMBIYA ornate traditional ring and silver wire
decoration. Curved blade 6" (approx) with central raised
rib. Wooden scabbard with fine decoration in silver. A
quality piece in its time. Leather cover to back of
scabbard. Viewing recommended.
£60 - £70
2448
Edwardian naval officers dirk with engraved blade with
anchors etc, silver hall marked 1909 cross guard
£130 - £140
2449
European Paertizan, of Italian design, known as a
Runka. (approx 83 inches) (buyer collects)
£50 - £60
2450
Flasks: A copper bodied good quality powder flask
(RILING 540) with a leather shot flask with game bird
decoration. Both in good condition and working order.
(2)
£35 - £40
2451
Flask: A simple horn flask with wooden stopper and horn
collar. Used by a sportsman circa 1800-1840. Nice aged,
original condition. Plus two pieces of old horn carved
with an 'A'.
£30 - £35
2452
French brass hilted cuirassier Officers Sword with
scabbard. Wooden handle, scabbard with some dents
£140 - £160
2453
French Lebel bayonet with scabbard, blade stamped with
a 'P'.
£25 - £30
2454
French M1888 Chassepot sword bayonet (no scabbard)
dated 1868. Crossguard stamped 'E14267'.
£25 - £30
2455
German 'Butcher' bayonet in its steel scabbard. Blade
14.25" ricasso marked 'FRISTER & ROSSMAN' &
BERLIN'. Top of blade dated 1917 (tip rounded).
Scabbard and mounts rusted and painted black. Needs a
clean.
£35 - £40
2456
German 19th century infantry mans hanger with solid
brass hilt made by p kuech regimental marked in its
leather & brass scabbard with leather frog
£130 - £140
2457
German Field Service bayonet and frog late war serial
sampled
£40 - £45
2458
German Fire Department dress bayonet, unmarked but
in excellent condition. 'S' shaped guard. No press stud or
groove. Polished blade 9.75".
£30 - £35
2459
German Hitler Youth Dagger with metal scabbard, blade
maker marked Robert Klaas Solingen. In relic condition.
Sold a/f
£70 - £75
2460
German hunting knives by F. HERDER & SONS
SOLINGEN: 1) An attractive hunting knife, blade 8".
Blade
engraved
F.
HERDER
ABR.JOHN.SOLINGEN.GERMANY. Silver mounts
on its leather scabbard. 2) A small hunting knife blade 6".
'CLEARENSE' engraved to blade (Portuguese dialect) In
its leather scabbard. (2)
£40 - £50
2461
German Nazi Army Dagger with scabbard, hangers and
pommel. Blade maker marked 'Ernst Pack & Sohne
M.B.H. Waffenfabrik Solingen'. Hangers maker marked
'D.R.G.M.'.
£300 - £350
2462
German Nazi Army dagger with scabbard. Blade has
sadly been blunted
£100 - £110
2463
German Nazi SA Dagger with scabbard and hanger,
blade maker marked Solingen.
£200 - £250
2464
German SA Dagger with brown metal scabbard (hanger
ring broken off). Blade maker marked 'Anton Wingen Jr
Solingen'.
£200 - £250
2465
German WW1 nco sword complete with scabbard
£100 - £110
2466
German WW1 trench knife with bone grips in scabbard
£60 - £65
2467
German WW2 Army bayonet with scabbard (this very
rusty), blade engraved '41 Inftr Regt. Hmbery/Bayer
Ostmark'. Nice quality
£100 - £120
2468
German WW2 army sword with black pained scabbard
£140 - £150
2469
German WW2 fireman's dress dagger nice clean example
£100 - £110
2470
German WW2 Hitler youth knife plain blade with rzm
mark in scabbard (originally swooped with a packet
cigarettes in Normandy)
£150 - £160
2471
German WW2 Luftwaffe 2nd pattern dagger with
scabbard, hangers and pommel. Blade maker marked
'SMF Solingen'.
£250 - £300