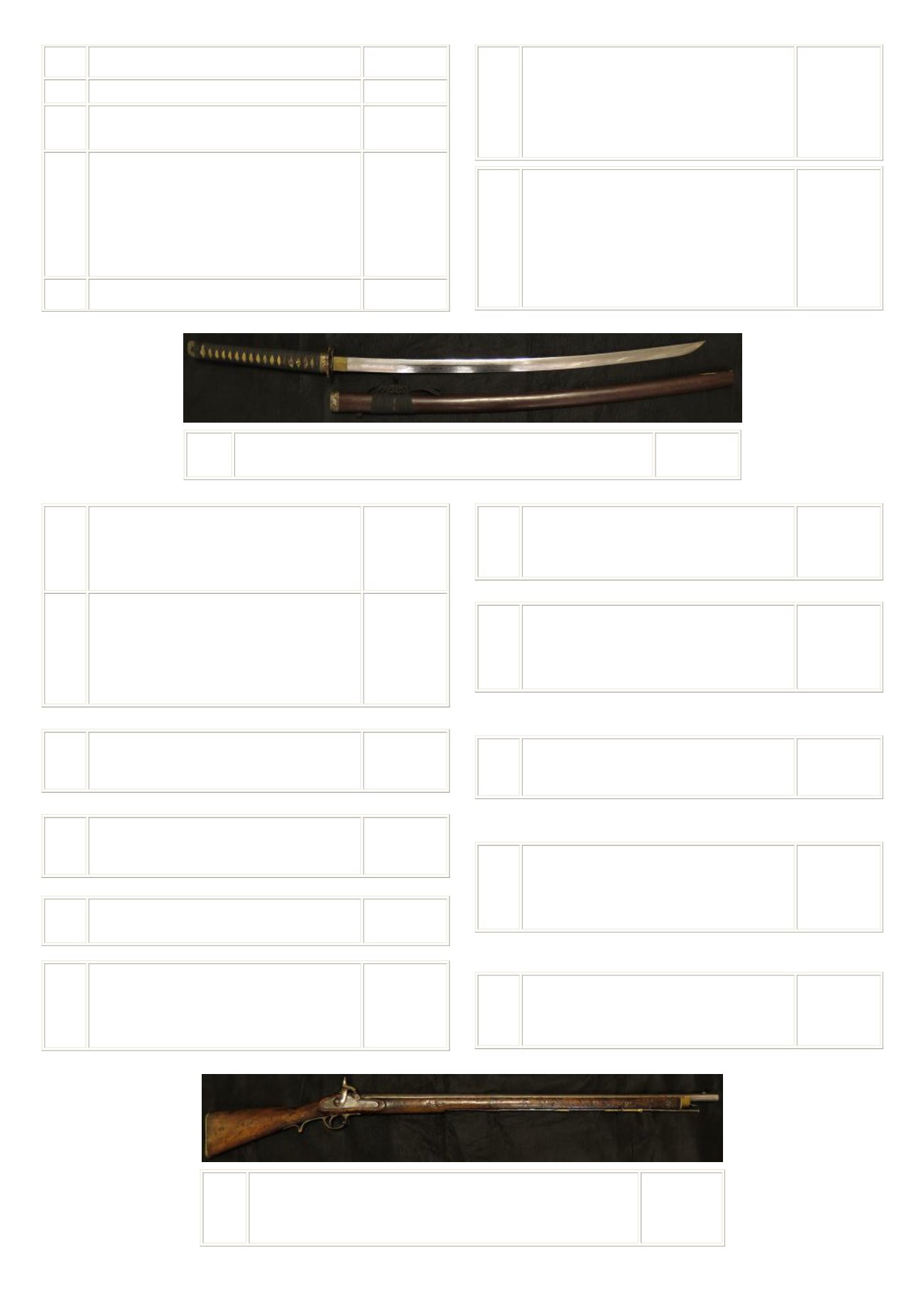 93
2472
German WW2 Naval dagger with scabbard, blade maker
marked 'E & F Horster Solingen'.
£250 - £300
2473
German WW2 trench knife in black painted scabbard
£80 - £85
2474
Good quality 19th century Officers Levee/Court Sword,
gilt hilt, silver wire bound grip, etched blade. No
scabbard
£140 - £160
2475
Gun: A fine single barrelled percussion shotgun by
'Fotherby.' Part octagonal, part round Damascus barrel
28". Good walnut half stock. German silver fore-end tip
& escutcheon. Iron mounts. Original brass tipped
rosewood ramrod. Plain acanthus scrolling to lock and
hammer. Crisp action on 1st & 2nd cock. 10 bore.
Metalwork with light pitting to a pleasing patina. Quality
walnut buttstock with sculpted check rest. This is a fine
sporting shotgun in shootable condition circa 1839-50.
£250 - £300
2476
Japanese Katan with red lacquer scabbard, iron tsuba
with lead plugs. Tang unsigned
£340 - £360
2477
Japanese sword 'Katana' blade 28.5". Blue tape to grip
with dragon menuki. Rayskin same in good condition
(handling wear). Metal scabbard with single asti. Some
losses to Khaki paint. Decorated Tsuba & Kashira.
Semigane to scabbard. Decoration on this Katana
appears to be on a tree theme. The style is a WW2 type
98 shin gunto. This is a good quality sword. The paint
flaking from the scabbard.
£300 - £350
2478
Japanese sword 'Shin Gunto' type 98 in its wooden
scabbard in which is a silver plate engraved
'SURRENDER
SWORD
16th
SEPT.
1945.
GOVERNMENT HOUSE HONG KONG.' Brown
tape (handling wear) with rayskin same & cherry blossom
Menuki, standard Kabutogane. Pierced tsuba with
cherry blossom and hearts decoration. Scabbard with
single asti and semigane. Blade 27" (VGC). A nice quality
sword with WW2 provenance in original untouched
condition. A collectors lot.
£450 - £500
2479
Japanese sword Katana. Blade 29". Hilt with black Tsuka-ito over same with two
Menuki. Pierced Tsuba with attractive horse decoration. In its lacquered wooden saya.
Attractive Kuchi-gane and Fuchi. A good quality sword.
£300 - £350
2480
Japanese Type 19 Warrant Officers sword. Wirebound
ebony type grip, brass guard. Backstrap with cherry
blossom device. Slim, fullered, slightly curved blade 31".
In a wooden scabbard with leather cover (looks more like
for storage of sword rather than wear?) The whole in
good condition overall.
£100 - £120
2481
Japanese Type 95 sword for NCO's. Numbered blade
27" No131471. (Tokyo First Arsenal blade with 'to'
character after number). Brown painted aluminium hilt
with cherry blossom MENUKI. Good blade with a
couple of minor nicks. In its steel scabbard with matching
numbers. Single ASHI. Simple pierced TSUBA.
Scabbard part repainted black. Leather field service frog
(some losses). A good original WW2 Type 95 sword.
£220 - £240
2482
Knife Pistol: A 19th Century combination arm
comprising: Barrel 7.5" with percussion nipple and spring
hammer. This is bolted to an Indian dagger 'KATAR'
blade 8.5". The whole in worn and rusted condition.
£50 - £55
2483
Knife: A post war 3rd Pattern F.S. knife, crossguard
marked 'WILLIAM ROGERS, SHEFFIELD. Blade 7".
In its brass mounted leather scabbard with elastic
retaining loop. Good condition overall.
£50 - £55
2484
Knife: A Victorian Bowie bladed knife by BOND of
Sheffield. Slim blade 10" with some etching. Stag horn
grip with silver (?) mounts. No scabbard.
£45 - £50
2485
Knife: An interesting hunting knife. Broad fullered blade
14". Horn grip, unmarked but most likely Imperial
German. Contained in brass mounted Model 1871
German bayonet scabbard (marked to 53rd Reserve
Infantry Regt.) Chape missing. Interesting piece c1880-
1918.
£50 - £60
2486
Machete: A Dutch Machete, possibly for use in the
Dutch East Indies around WW2. Made by the
Netherlands factory of P.Stevens at Maastricht. In its
steel scabbard (heavy rusting). Overall good condition
apart from scabbard!
£35 - £40
2487
Machine Gun: A German WW2 light machine gun.
Model MG-42 with bi-pod. Working action. Makers
mark 'bpt' (Johannes Grossfus Dobeln Saxony) and 'ar'
(Mauser Werke Berlin) and Waffenampt marks. Good
working order and condition. With certificate of
deactivation (buyer collects)
£400 - £450
2488
Masonic type shortsword. Wirebound metal hilt, Maltese
Cross type crossguard. Brass mounted leather scabbard.
Etched blade 30". Decent example (scabbard leather dry
but complete. (Pommel loose). a/f
£30 - £35
2489
Militaria: A small pistol powder flask. Copper body,
some wear and repair. Plus a 19th century powder
measure. Ebony handle marked 'POWDER' &
'DRAMS'. With a French powder measure marked
'GRAMMES' & POUDRE'. Nice lot, all in good
condition. (3)
£40 - £45
2490
Militaria: leather 19th century shot flasks. A bag shaped
leather flask by DIXON & Co. Sheffield hallmarks to
silver spout, leather worn. With an attractive leather shot
flask of rounded form. Unusual brass nozzle. A nice
untouched item. (2)
£30 - £35
2491
Musket: A .76 (Musket) bore, Pattern 'F' EIC Musket. Worn lock with faint crown
and marked 'ENFIELD'. Walnut stock with armours repairs and repaired fracture
to wrist. Brass buttplate marked 'IV. G. 20 & 58'. Brass furniture, Hanoverian
bayonet cateli and ramrod. Circa 1845 to 1851. With old repairs to woodwork. In
working order (1st cock only). A large and impressive Victorian musket.
£240 - £260