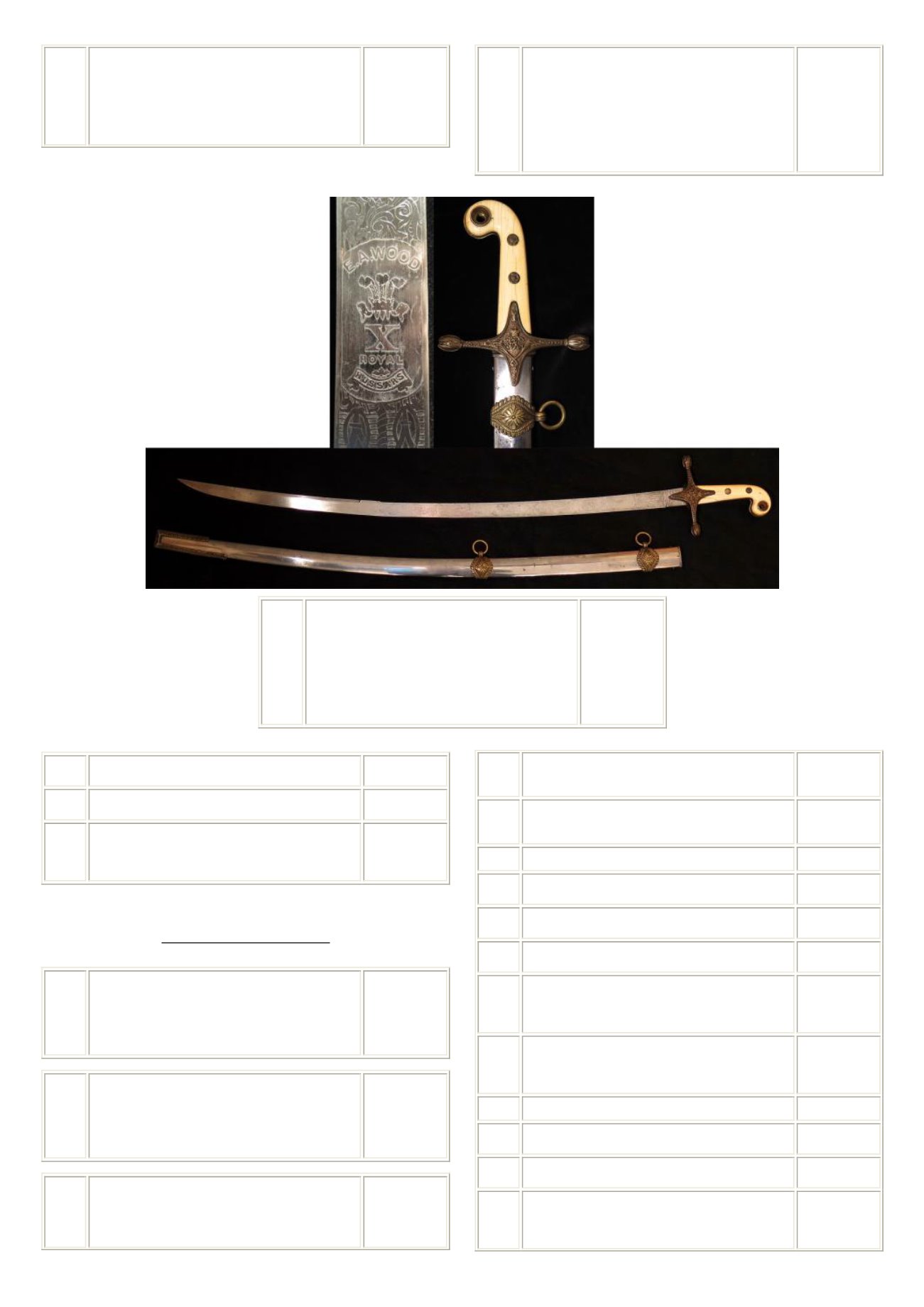 13
245
Sword: An Indian Tulwar of all steel construction.
Curved heavy blade 29". No scabbard. Blade with
pricker inscription. Dates to 19th century. Rust
patination overall. A nice piece and a working sword
AND a long Pesh Kabz dagger. Blade 17". Single
decoration. Dates 19th century. Another decent piece of
some age. Viewing recommended. (2)
£40 - £50
246
Sword: An officers Spadroon sword circa 1800. Straight
fullered single edged blade. Blade etched with GR
Cypher and simple decoration. Length 32". Ivory hilt
with brass 'Cigar band'. Brass gilt cross guard and
squared bun shaped pommel. Brass chain links pommel
and cross guard. This would appear to me to be a naval
Spadroon of the Napoleonic Wars. In good condition for
its age (blade tip rounded). No scabbard. Faint engraving
to 'cigar band'.
£200 - £250
247
Sword: fine 1831 Pattern General Officers Mameluke
sword, formerly the property of Colonel E.A. Wood.
Blade etched with Crown & 'V.R.' and 'E.A. WOOD' &
'X ROYAL HUSSARDS' two piece ivory grip (with
minor repair) polished steel scabbard with gilt mounts
with two suspension rings. Colonel E.A. Wood served in
the Afghan War 1878-9 and participated in the assault of
Ali Musjid and operations in the Leighman Valley. Nice
piece
£1000 - £1200
248
Tripod: A Lafayette tripod for the MG42 light machine
gun. Buyer collects.
£240 - £260
249
Victorian Volunteer Rifles, officers sword, with metal
scabbard
£100 - £120
250
WW2 Fairburn Smatchet with scabbard as used by the
British and American Special Forces including SOE and
the SAS. This piece is the US version and is undated as is
the norm. Tip of blade missing
£150 - £200
Medals & Militaria
251
1914-15 Trio 3064 Pte James William Hales 4/Bn.
Suffolk Regt. From Mariners Street Lowestoft. DOW
2/11/16 aged 19 years. Buried Grove Town Cemetery,
Meautte. Plus BWM & VM to his brother George Hales
of the R. West Surrey Regt who survived the war. With
additional research. (5)
£220 - £230
252
1914-15 Trio & plaque 16353 Pte Ernest Massey 2/Bn.
W.Riding Regt KIA France 12/10/1916 during the
attack on Spectrum Trench. Born Leicester.
Commemorated on the Thiepval Memorial (2nd Bn. in
action 1/7/16) 342 casualties during this attack. With
additional research. (4)
£270 - £280
253
1914-15 Trio & Plaque 241516 Pte Robert Fieldhouse
1/6 West Yorks Regt KIA 2/7/16, born Windhill,
Yorks. This battalion attacked at 4pm at Thiepval with
no man advancing more than 100 yards. They withdrew
to Thiepval Wood on 2nd July. Sold with research. (4)
£350 - £400
254
1914 casualty star to 6538 Pte Robert Samuel Purkiss
West Yorkshire Reg, D of W 4-3-1917 commemorated
Thiepval memorial Somme
£90 - £95
255
1914 casualty star to 8689 Pte Sidney Musson East
Yorkshire Reg, D of W 3-5-1917 commemorated arras
memorial
£90 - £95
256
1914 Star an original August-November bar GVF
£35 - £40
257
1914 Star and Victory Medal to 10064 Pte H Lewis
1/R.W.Fus. Medal Card notes him as a POW. VF (2)
£80 - £85
258
1914 star and victory medals to 3179 Pte C Mitchell
4/F.AMB RAMC also served lab corps
£90 - £100
259
1914 star and war medals to 233 L/Cpl J Burbidge (TF)
RAMC
£90 - £100
260
1914 star casualty to 4594 Rifleman Sydney Thomas
Brown 2nd Batn rifle brigade died 14 -3-1915
remembered le Touret memorial France born Norwich
Norfolk
£80 - £90
261
1914 Star Trio and GV Efficiency Medal with
Territorial clasp to 12708 Gnr M L Redmond RFA
(4118857 Pte M L Redmond 4-5-Ches R). F-VF contact
marks (4)
£100 - £110
262
1914 Star Trio to 58751 Dvr E T Phelps RFA. GVF (3)
£80 - £85
263
1914 trio to 9852 Pte Fred Maidment 2nd batt Notts &
Derby Regt qualifying date 8-9-1914, no clasp
£160 - £170
264
1914 trio to Dvr T/26169 W H Mayes no 6 field
ambulance ASC
£100 - £110
265
1915 Star Defence Medal to 15815 Pte W Hollyoak
S.Staff R. of Willenhall, Staffs. Plus BWM to 42310 Pte J
Perry W.York R, and Victory Medal to 14077 Gnr H
Hinks RA. Sold a/f (4)
£40 - £45