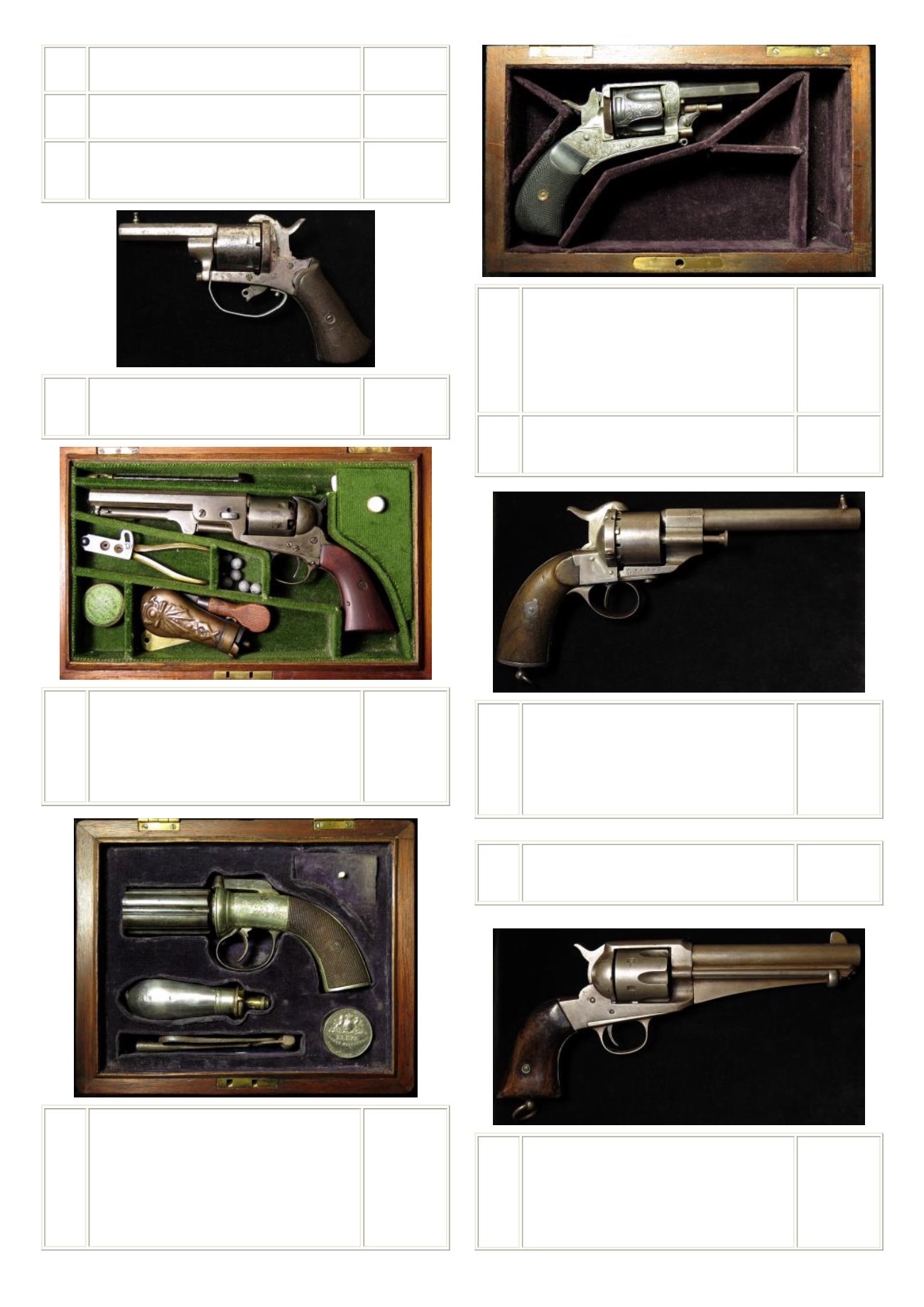 9
159
Revolver. An Italian Beretta revolver for Brazil. Cal. 22,
6 shot cylinder, wood grips. Good working order and
condition. With its certificate of deactivation.
£140 - £160
160
Revolver: A 6 shot .38 cal copy of the Colt Single Action
Army. Sidegate loading. Working order and good
condition. With certificate of deactivation.
£130 - £140
161
Revolver: A Belgian 6 shot. 9mm pinfire revolver. Action
a/f. Side ejector, sidegate missing, wooden two piece
grips. Lanyard ring missing. Octagonal barrel 5". Worth
restoring. Obsolete calibre. No licence required.
£140 - £160
162
Revolver: A Belgian pinfire pocket pistol cal .25mm.
Barrel 2.75. Home made trigger guard. Folding trigger
(lower part missing) Ejector rod absent. Plain wooden
grips. Action a/f. Worn overall. Sold as seen
£80 - £90
163
Revolver: A composite cased Colt Brevete .36 navy
revolver. Octagonal barrel 5.75. Faint Colt address and
spurious W/D mark. Heavily cleaned overall. Two piece
hardwood grips. Action in working order. In a modern
made up case with reproduction accessories including a
bullet mould, cleaning rod and screwdriver. Original
Joyce tin and old pistol flask plus key to brass bore gauge
case with distressing to lid. No licence required. a/f
£600 - £650
164
Revolver: A fine 6 shot, bar hammer, pepperbox pistol.
Top snap action. Barrels 3" Birmingham proved. Two
piece chequered walnut grips. Action, straps and
buttplate in acanthus engraved silver (?). Calibre .36.
Contained in its original mahogany fitted case (no key)
with the following accessories:- silver (hallmarked 1794)
bag shaped pistol flask, iron bullet mould (worn and
rusted) & silver (coloured?) cap box marked 'ELEYS
DOUBLE WATERPROOF CAPS'. In good working
order and collectors grade condition.
£900 - £950
165
Revolver: A five shot .320 obsolete calibre pocket
revolver circa 1875. Fluted, floriate engraved cylinder,
sidegate loading, folding trigger, octagonal barrel 2". In
very good crisp working order and condition (double
action) chequered hand rubber grips. Frame marked
'320' with SN-5586. Frame and backstrap with maple
leaf (?) decoration. Good working order and condition.
In its small mahogany fitted case (no accessories or key).
Obsolete calibre, no licence required.
£200 - £250
166
Revolver: A good Colt 'Police Positive' .32 cal. Barrel 5".
Most original blued finish. Hartford address to barrel.
Serial no. dates it to 1919. Hard rubber grips. (small chip
to one grip)
£270 - £280
167
Revolver: A good Lefaucheux large military revolver
calibre 11mm. Barrel marked 'E. LEFAUCHEUX
BRTE SGDG A PARIS'. Frame marked 'LF-96392'.
Plain walnut grip. Single action, 6 shot pinfire (no licence
required). Action crisp and pistol tight. Nicely patinated
steel finish. Lanyard ring. Pistol circa 1860. Many of
these were used in the American Civil War. Sidegate
loading with sprung ejector rod. A collectors lot.
£370 - £380
168
Revolver: A good .32 cal Colt Police pocket, positive
service revolver. Serial number dates it to 1917. Barrel
3.5". Hard rubber grips (minor chip). Good working
order and condition with certificate of deactivation.
£270 - £280
169
Revolver: A good .44/40 calibre Remington Model
1875, 6 shot single action army pistol. Barrel 5.5" with
'E. Remington & Sons LYON N.Y USA' address.
Revolver dates c1879. Lanyard ring to butt. Grey metal
finish. Crisp working order. Two piece walnut grips. This
is the scarcest short barrelled model. Six shot fluted
cylinder. A genuine 'Wild West' Remington revolver.
Deactivated with certificate. An attractive revolver.
£650 - £700